The Nigerian Meteorological Agency (NiMet) says it will deploy additional 30 automatic weather observing stations to strategic locations across Nigeria.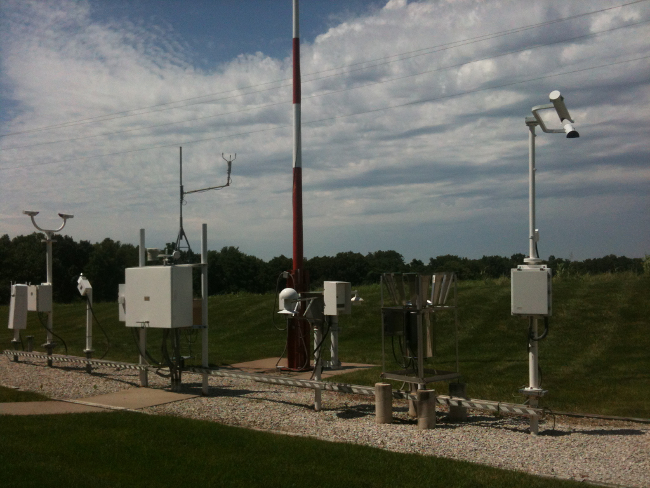 NiMet`s Director-General, Prof. Mansur Matazu, disclosed this during his keynote address at the stakeholders' workshop for the NiMet draft 2022 Seasonal Climate Prediction (SCP).
Matazu said the additional 30 stations would advance accuracy and currency in weather forecasts across the nation.
According to him, the changes in the nation`s climate have become more obvious in recent times following the observed anomalies in occurrence of extreme weather and climate events, which have become more frequent and result into hazards.
"Like flooding, droughts, heat waves, increasing temperatures, sea level rise, changes in onset and cessation dates, frequent dry spells among others; which have threatened livelihoods, human existence, food and nutrition security, infrastructures and sustainable development across globe.
"Memories of the flood of 2012, 2017, 2018, 2019, 2020 and 2021 in Nigeria remain fresh in our hearts as we try to recover from the shock and devastation of the unprecedented weather events.
"Hence, the essence of impact-based forecasting and early warnings of weather hazards.
"May I bring to your attention that the Nigerian Meteorological Agency (NiMet) has been in the forefront of providing early warning services, " he said.
Matazu said NiMet had improved capacity in its over 130 years of existence for meteorological observation, analysis and reporting through ground-based instruments, upper air instruments, satellite-based observations, modelling, forecasting and now-casting activities.
He said the agency had generated robust database of climate information across every part of the country.
He added that meteorological stations (conventional and automatic) were situated in every state of the federation including Federal Capital Territory.
The director-general said that the agency had intensified efforts at creating additional data sources by investing in over 120 tertiary and secondary educational institutions through the setting up of meteorological stations.
According to him, the agency`s mandate is to generate, analyse and develop all meteorological information for the purpose of advising decision and policymakers in all tiers of government and across all sectors of the economy.
He said NiMet offered accurate and reliable weather and climate information of early warning advisories that would assist in taking informed decisions to avert and prepare against risks associated with weather extremes and climate change phenomena.
He said such move was in line with the agency`s vision to be a world class provider of weather and climate services for safety and sustainable national socio-economic development.
"We provide services across multiple sectors of Nigerian economy including Agriculture, Aviation, Telecommunications, Power and Energy, Building and Construction, Oil and Gas, Disaster Risk Reduction and Management, Education, Defense, Marine and Maritime, Health, Finance and Insurance.
"The services provided by NiMet are essential in ensuring weather and climate hazards do not threaten the sustainable development of Nigeria but become opportunities to further expand socio-economic benefits through resilience, mitigation and adaptation actions.
"Fulfilling this mission and vision require adequate and quality data," he said.
Matazu ssaid that various weather and climate information generated by NiMet were available for clients and stakeholders across the socio-economic sectors of the country.
According to him, some of the information are contained in agency`s products such as Seasonal Climate Prediction (SCP), In-Season SCP Updates, State Downscaled SCP, Translated SCP in Hausa, Igbo, and Yoruba languages.
Others the director general listed are Decadal Agricultural Meteorology Bulletin published every 10 days, Farmers Guide, Crop-Weather- Calendar (CWC), Annual State of the Climate in Nigeria Drought and Flood Monitoring Bulletin, Climate and Health Bulletin.
He further mentioned High-Impact Weather Forecast, Heavy Rainfall Forecast ,Marine Meteorology Bulletin including Inshore and Offshore forecasts, Daily Weather Forecast, Tailored/On demand User focused products amongst others.
He appealed to the stakeholders for usual cooperation in working together with the agency toward delivering 2022 SCP on time for sustainable socio-economic benefits of Nigeria.
The SCP is the flagship product of NiMet.
The SCP is a scientific document that relies on long-term database of meteorological data, soil information, crop information and skills-sets of NiMet team of experts.
It contains information of the onset and cessation dates of the cropping season, length of growing period, rainfall amount and the temperature forecasts for the hot season (January to April).
It also contains dry spell and little dry season and socio economic implications of the predictions.
By Gabriel Agbeja