Mariam Shuaibu is one of the 845 victims of insurgency residing at the Gongola Internally Displaced Persons (IDP) Camp, in Abuja, Nigeria's Federal Capital Territory.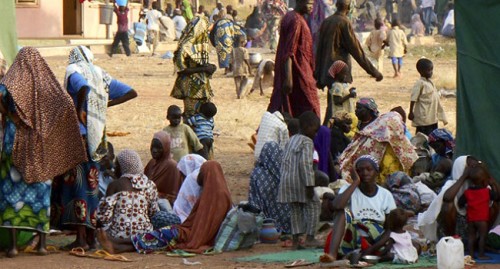 Mariam, like other peers suffering the same fate, finds succor in this camp, after activities of insurgency in Madagali Local Government Area of Adamawa State made them flee their homes in 2015 after being ravaged by terrorists.
During a visit to the temporary make-shift community along airport road, one could see the untold, glaring hardship, with look of despondency, not knowing where the next meal or succor would come from.
Narrating her ordeal was a tale of dashed hopes of resettlement and rehabilitation of their home in Madagali Local Government Area in Adamawa, North-east Nigeria.
According to her, several attempts at relocation to their base met a brick wall, following continuous insurgent attacks.
Mariam noted that the camp which had become home to her family and other settlers, was being neglected by the government of the day, noting that these was evident without access to potable water and sanitation facilities.
"We don't have any good source of water here, all we use is the stream that is a kilometer away; there were two occasions when two women going to fetch water were bitten by snakes.
"This is not the first time that this has happened, we had to take them to the health center in Karamajiji Lepers village, a distant community to assess first aid care for them.
Mariam, a mother of four, also bemoaned the lack of toilet facilities at the make-shift community, saying they had to make use of surrounding bushes to defecate in the open.
Another settler, Hannatu Peter, is worried about continued cases of occurrence of infection women suffer from lack of toilet, saying the cost of hospitalisation was taking its toll on them.
"We go to the stream, we don't have water here, even toilets, it is the use of bush, a woman was bitten by a snake while defecating in the bush, and another one was bitten when she went to pick firewood for cooking.
"We want them to help us, especially on this toilet and water issue, some women urinate anywhere and get infected, majority of us are having infections, to treat it in hospitals is expensive," Peter said.
Curious to know the hygiene situation of the community, I had the opportunity to witness poor living conditions, with the smell of open defecation permeating the air.
Without being told, one would believe that open defection practice in that community was the reason why a large number of the children had bouts of cholera.
The camp Chairman, Mr Joseph Jauro, noted that there was the need for immediate interventions from the relevant stakeholders, saying this was necessary to forestall future occurrences.
He recounted numerous cases of diarrhea and cholera cases and deaths among under-five children, saying this was been linked to poor sources of drinking water.
Jauro narrated the difficulty in getting water, adding that water vendors usually came around to sell water for some persons in the community.
"The issue we have in this camp is malaria, cholera and snake bite, Because of the bushes around, there are times when they come into your room.
"We don't have water and toilets here, some of us go to the bushes around to do their thing, there are times when we buy the water outside, one 20 litres of water is bought for N50.
"Some water vendors called 'mairuwa', usually come to sell water for us, we buy from them at N20 per 20 litres jerry can.
"There are times when you do not have the money to buy the water, you end up going to the stream to fetch the water the way it is.
"We want government to help us, to alleviate our sufferings in this camp, how can we call ourselves Nigerians when we do not have the basic necessities of life," he added. The chairman also called for the construction of a borehole, provision of electricity, health center and a school.
Highlighting the state of access to water and sanitation in Nigeria, an NGO, WaterAid, has called on tiers of government to develop cross-ministerial coordination for the implementation of water and sanitation policies and programmes.
According to the organisation's Communications and Media Manager, Oluwaseyi Abdumalik, only 13 per cent of Nigerians have access to basic hand washing facilities, with 157 million people lacking access to hand washing facilities.
She said promotion of hand washing with soap could reduce diarrheal disease by 48 per cent, calling on policy makers to prioritise nutrition-sensitive water, sanitation and hygiene interventions.
Earlier, an official of the National Task Group on Sanitation, Mrs Chizoma Opara, noted that Federal Government was working with some stakeholders to pass the hand washing messages round, with the provision of potable water.
She said the visit to the IDP camps was one of the activities to commemorate the 2018 Global Hand Washing Day, with the theme, "Clean Hands, a recipe for health".
She said hand washing is one of the avenues to break the cycle of transmission of diseases, saying that the group was carrying hygiene messages to eight IDP camps.
"We are aware of the large number of vulnerable persons in the camps, which is why we are carrying the hand washing messages to them.''
Opara said in 2017, the group carried out hygiene messages to schools and public places, noting that children have been known to lead behavior change among their peers and family members.
Courtesy: PAMACC News Agency