Dr. Godwin Uyi Ojo, Executive Director of the Environmental Rights Action/Friends of the Earth Nigeria (ERA/FoEN), while speaking on Monday (December 13, 2015) on the outcome of UNFCCC Climate Change Conference (COP21), frowned at Nigeria's new deadline date to halt gas flaring, saying that the idea is tainted with insincerity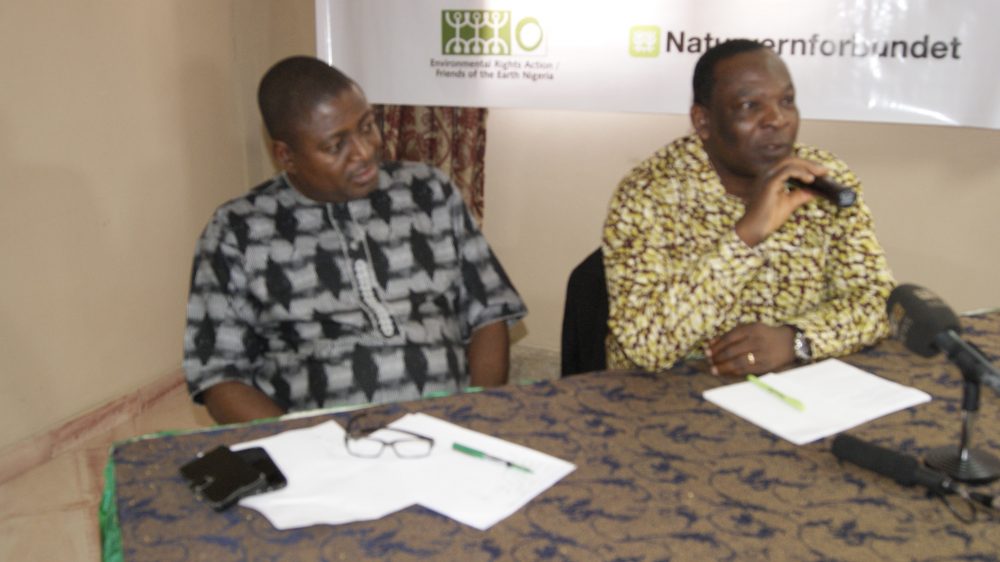 After more than 20 years of intense Earth Summit negotiations by the Conference of Parties (COP) of the United Nations Framework Convention for Climate Change (UNFCCC), Parties finally adopted a Treaty on how to conduct mitigation and adaptation measures to combat climate change. While mitigation is on how to cut back emissions preferably at source, adaptation is on how to cope with the impacts of climate change.  To the Environmental Rights Action/Friends of the Earth and our allies, the question begging for answer is this: 'Does this Treaty mark a significant shift toward curbing climate change?' The answer is capital NO. The Treaty is disappointingly a non-binding one because it favours voluntary mechanism rather than a legally binding mechanism. It is no more than kicking the Can down the road.
First, a key area of unfair treatment meted by developed countries to developing countries is in the weak ambition in curbing climate change. Although the agreement recognizes limiting temperature rise to under I.5 degrees, a position informed by science and pushed by global civil society groups but it has been subordinated within a 2-degree development pathway. Clearly equity and fair shares on the global carbon bank that should hold developed countries accountable has not been used to generate solutions.
Second, although national governments commit to public disclosure of emission reduction in reporting, monitoring and evaluation in relation to the uploaded intended nationally determined contribution (INDC) targets, yet there is no ambition to cut back emissions at source. Clearly, INDCs aggregate so far is on a 3-degree trajectory making it hard if not impossible to realise 2 degrees within the pledged commitments. For Africa, where the mean temperature rise is higher than the global mean, many of its countries will be roasted.
Thirdly, in terms of adaptation, although the treaty acknowledges historical responsibility by developed countries responsible for the release of carbon emissions into the atmosphere yet the finance that is required for developing countries to adapt is based only on voluntary mechanism of $100 billion from 2020 rather than legally binding. Also, what happens between now and 2020 remains unclear.
Fourthly, the loss and damage by catastrophic climate change from excessive floods, persistent droughts and storms often lead to serious harm to mother earth, destruction of livelihoods, and loss of lives. A legally binding mechanism for compensation from climate impact on loss and damage has been precluded from the agreement and this has let the developed countries off the hook. It has placed the burden of addressing climate change on the door steps of the developing countries rather than the developed countries.
Fifthly, the term de-carbonisation has been eliminated and substituted with a weak and vague term, carbon neutrality. The Treaty seeks to vigorously promote false solutions such as carbon markets, agro-fuels which competes with farmlands and food crops for fuel, reducing emissions from degradation and deforestation (REDD+), and carbon capture and storage (CCS) technologies that are yet to be proven and thereby poses serious risks.
Clearly, the voice of the peoples, farmers, fishermen and communities the world over have been compromised and the rights to food and water have not been guaranteed. The governments have reflected more the interests of the corporations rather than the citizens they represent.
Way Forward
Since real solutions lies in the people, civil society groups will continue to mobilise and build people power to alter the power imbalance currently in favour of corporations.
We recommend that:
there is need to kick big time polluters out of the COP process in entirety so that dirty energy companies involved in huge emissions are not part of the decision-making process.
since the Treaty has a limited and vague vision of reducing emissions we propose the urgent de-carbonisation of the economy and the energy sector by recognising and promoting an energy transition from oil, gas, coal and other fossil fuels by 2030. Governments should divest public finance, subsidies and loans for oil, gas and coal and these should be invested in renewable energy development.
the Nigerian government should immediately embark on a post petroleum economy and diversify the energy mix to renewable sources of energy. To this end, we hereby launch the Annex 0 group in contrast to Annex 1, and Non-Annex 1, and Annex II Groups. Annex 0 is an initiative to recognize the efforts of peoples, communities, nationalities, undertaken against the impacts of oil, gas, coal, and other fossil fuel extraction and to halt its expansion, protect the environment, and lives on planet earth.  A Register of Annex 0 membership is hereby opened for practical uses by 2016.
To conclude, two issues emanate from the Nigerian government response to environmental issues which lends credence that it is conducting environmental protection as "business as usual" rather than within the populist change agenda.  For example, as was the case in Copenhagen, the Nigerian government pledged to end gas flaring but did not put in place any mechanism to address this.
In Paris, 2015, the World Bank and Nigeria government's hatched another crooked plan to end gas flaring by 2030. We consider this as hypocritical, deceptive and World Bank's interference on national sovereignty in a country where gas flaring has been declared illegal since 1984. We call on the government to end gas flaring now and not to wait till 2030 when it will be too late.
Let me once more draw attention to another related issue within the government profess change agenda which has to do with the non-implementation of the August 2011 UNEP report assessment and recommendations. While political will to clean up Ogoni is important, the federal government should commence immediate action by putting their money where their mouth is. They should ensure Shell Oil Company lives up to its responsibility. So far, the Ogonis remain short-changed and their livelihoods destroyed.