Nigeria's forest cover nationwide is shrinking severely and, by 2030, we might experience 1% forest cover if something urgent is not done to address the development.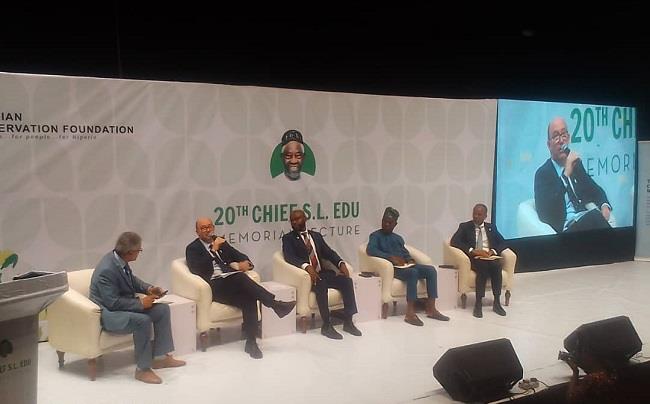 Chairman, Nigerian Conservation Foundation (NCF) National Executive Council, Chief Ede Dafinone, sounded this note of warning during the 20th Chief S.L. Edu Memorial Lecture in Lagos.
According to Chief Dafinone "40 years ago when NCF was formed, Nigeria's forest cover was declining at about 35% since independence to about 4% today and continues to decline", a situation he described as disaster waiting to happen.
"In response to that the NCF started an initiative a couple of years ago with the sole aim of taking the forest cover back to 25% by 2047," he stated.
On the sea level that is constantly rising by the day, Dafinone opined that this would surely get worse as global temperatures too is on the rise.
"Under the background of United Nations Decade of Restoration of the environment NCF has mapped out plans in ensuring not just protection but restoration of the environment," added Dafinone.
In her reaction, erstwhile Minister of State, Federal Ministry of Environment, Mrs. Sharon Ikeazor, maintained that the federal government is playing its active role by collaborating with various institutions like NCF in the conservation of the environment in line with the SDGs programme.
Rasaq Adekola, who represented Mrs. Sharon Ikeazor, said the government is conscious of the progress made so far and lots of action like national, regional and international collaborations in ensuring sustainable environment is achieved in Nigeria.
Adekola cautioned Nigerians on the issue of desertification in relation to cutting off the mangrove tree which is harmful to the environment and inhabitants.
"The issue of mangrove for instance where people cut them off without allowing them to dry and used as firewood. Unknown to those people, mangrove is a bigger reservoir of carbon than the terrestrial forest, the knowledge to understanding the need is inadequate so Nigerians need to understand that apart from the carbon dioxide, mangrove also store gasses such as methane, as a matter of fact, the largest store of methane," he maintained.
In his opening remark, NCF Director General, Dr. Muhtari Aminu-Kano, disclosed that the lecture also marks the celebration of the foundation birthed 40 years ago by late Chief Shaffi Lawal Edu in 1980 with the main event coming up in November this year.
Dr. Aminu-Kano maintained that before NCF no holistic environmental organisation in Nigeria existed, which makes the foundation the trail blazer.
Highlight of the event was the award of Chief S.L. Edu PhD Research Grants by Esimaje Brikinn of Chevron Nigeria Limited and unveiling of the e-book of Past Chief S.L. Edu Lectures.
By Ajibola Adedoye