Reacting to the suspension of the excise tax on single use plastics, including plastic containers and bottles by President Bola Tinubu, Mr Sulaimon Arigbabu, Executive Secretary of HEDA Resource Centre, believes that taxation alone cannot solve the plastic pollution problem. While calling on Nigerians to do away with the culture of single use plastics, he urged government to ban Styrofoam plates and declare a national week of action against plastic pollution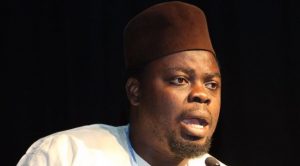 This government still has a whole lot of learning and coming up to speed about issues of the environment, about issues of climate change.
Its obvious that right from his campaign that Mr President has just one perspective of climate change – he sees it as an issue of international politics and diplomacy, international instrument for negotiation, and international justice, which is correct.
But its just one aspect of the whole gamut of the issues around climate change.
Look at the flooding alert that we have just gotten for 14 states in the country. We don't need international politics to deal with that, we need to deal with our own issues.
Look at the menace of plastic pollution in Nigeria. Two weeks or thereabout ago, we had flash flooding in Agege in Lagos that killed a couple of people. And largely this is due to plastic pollution, silting of our drainage system, inefficiency of the drainage system, but largely due to pollution, due to improper waste management and indiscipline on the part of both the citizens and those who have the responsibility to manage waste in the state.
And unfortunately, plastics play a major role in this crime that led to the flash flooding and the death of those people.
So, no doubt, plastic is a global menace and that is why the theme for the World Environment Day (WED) this year was "Beat Plastic Pollution". It is quite unfortunate that this tax that is meant to bring some succour has been suspended.
The fact is that Nigeria is a hydrocarbon-based economy, so once the Dangote Refinery takes off and other refineries that are moribund are brought back to life, part of the end product will be bigger production in plastics – that's not a problem.
The use to which we put this plastic is what is important. If it is single use plastic, there is a menace. The plastics that we use mainly in furnishing and some other things, those are a bit more durable, and I see a situation where even plastic at high-tech level becomes substitution to some other harmful resources that we use either in construction or whatever use.
But SUPs are a menace, we need to do away with the culture of SUPs, we need to do away with the culture of not taking responsibility. In the past, when you eat, you wash your plates so that you can use them again.
But this issue of SUP where you just have a culture of not taking responsibility for anything, you use it and throw it away and not caring where it lands. That is for HEDA Resource Centre, part of our recommendations to the government is, one, that there is need to ban the use of Styrofoam plates because this is the worst nuisance. Two, declare a national week of action against plastic pollution.
So, it is unfortunate that this suspension has come, but fortunately its just a suspension and so hopefully they are going to review it soon when the government has more information – not just information coming from manufacturers and the private sector, but information from all other stakeholders. I'm sure they will review it.
And it is not just the tax. The tax is not a silver bullet that is going to solve all our plastic pollution problems. There are so many other things that need to be done. So, I want to cut the government some slack that, yes, they have just come on and some of these issues may not be too clear to them even though they're not new to governance having managed a state like Lagos.
But give it to the President, he's not expected to know everything about everything, but he has appointed some special advisers and I expect some of them to be on top of these critical issues and I'm hoping that they're going to do better especially in terms in terms of issues around climate change, environmental degradation, and forestry.
For instance, we're even expecting that the last Ministry of Environment leadership that decided to bring back charcoal to the exportation list, these are things that need to be addressed because you can't be saying that you're doing forest conservation, you're doing reafforestation, and you're allowing indiscriminate destruction of our forest resources in the name of exportation of charcoal and timber.
Importantly, I hope that government will rescind its decision when it avails itself with better information.