Acting Director, Federal Department of Forestry, Federal Ministry of Environment, Mr Tiamiyu Oladele, has advised Nigerians to plant trees at home and in their farms, to ensure healthy living and stable environment.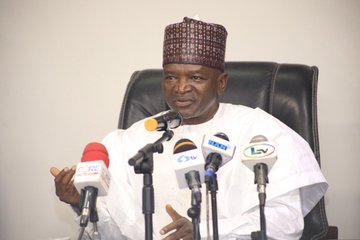 Oladele, who gave the advice in an interview with News Agency of Nigeria (NAN) in Abuja on Thursday, February 13, 2020, said the land mass covered by forest in the country at present, was less than six per cent.
According to the director, Nigeria is lagging in the attainment of the Food and Agriculture Organisation (FAO) 25 per cent standard of having.
He said plans were underway by the Federal Government to make seedlings available to the populace for planting.
"The food for trees is carbon dioxide, which they release as oxygen to us. If you go to the hospital and see somebody on oxygen for one hour and how much he pays for that one hour, you will appreciate what God is using trees to do for humanity.
"Without oxygen you cannot survive for 10 minutes and this oxygen is coming from trees and the more trees we have, the more oxygen we have around and the healthier we are.
"So, it is good for everyone to plant a tree, every home should have a tree, we are encouraging farmers to plant trees on their farms now, not to clear trees and plant crops, they should plant trees along with their crops to check erosion and protect their lands.
"It is advisable apart from the health issue, it helps to ameliorate climate change impact, and it reinvigorates our land for agricultural purposes.
Oladele emphasised the need for all Nigerians regardless of age to ensure that tree-planting is a regular exercise to boost the country's benefits in human health and stable climate.
"So, it is my advice that every person no matter your age should plant a tree yearly. If every Nigerian adult, let's say we have 100 million of them, that is 100 million trees annually, you know how much that amounts to.
"Government is very clear on it, we want to make seedlings available at the nearest place to everybody, where you can go and pick a seedling and plant even if it is in your house, if you have a farm you can plant on your farm.''
He said there is a sensitisation committee headed by the National Orientation Agency with the aim of sensitising Nigerians on the importance of tree planting.
Oladele said the forestry department also encourages schools to have environmental clubs, where the pupils and students could be involved in tree planting.
He said the department had a Memorandum of Understanding (MoU) with the National Youth Service Corps (NYSC) where tree-planting ambassadors plant trees and sensitise Nigerians to the importance of tree-planting.
By Okeoghene Akubuike