An environmental scientist, Mr George Ebisike, has advised Nigerians to dispose of waste properly to avoid environmental degradation as well water and airborne diseases.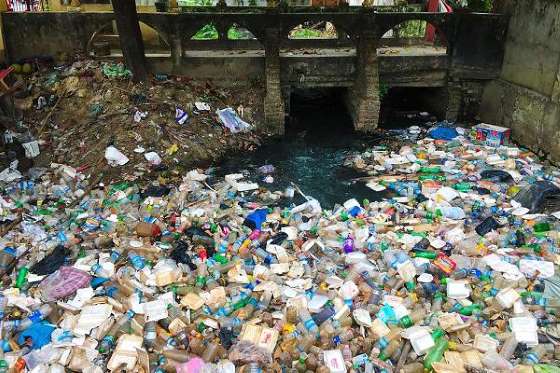 Ebisike, who doubles as a researcher, gave the advice in an interview with the News Agency of Nigeria (NAN) on Saturday, June 16, 2018 in Abuja.
He identified micro-plastics as one of the biggest dangers to man and animals hence Nigerians should be more cautious of proper waste disposal.
The expert said that in the course of humanity advancement, it was important that civilised citizens handle the challenges of waste in their environment in an ideal way.
He stressed that micro-plastics such as plastic bottles, water sachets and polythene bags had become extremely dangerous for the marine and human lives as all spheres of the environment are interconnected.
"Human activities such as littering of plastic containers, water sachets and polythene bags after use have led to blockage of drainages, flood, and air pollution when burnt leaving an unhealthy environment.
"Research has shown that lots of bio-plastics have been consumed by birds, fishes and livestock which are dangerous to the health of the species.
"Unfortunately science has not been able to carry out a research of what the effect or health implication will be when humans consume such livestock waste,'' he said.
Ebisike also urged Nigerians to manage the use of plastics while imbibing the culture of reducing single use plastics, whereby people purchase bottle or sachet water, drink it once and trash them.
He said countries around the world are changing the culture by encouraging people to carry their personal water bottles or water flask, to reduce the consistent use and disposal of several plastics.
He added that the recycling process of plastics usually takes a long time while most of such substances end in landfills or water bodies which in turn become harmful to aquatic animals.
Ebisike said this has however underscored the need for Nigerians to become more conscious of environmental health, as an unhealthy environment has several health implications to humans and animals likewise.
He said activities of man in industrial health, product longevity and management of bye products of industrialisation allowed the release of excess carbon in the environment in the past 200 to 300 years.
The environmentalist said the surplus carbon in the environment cannot be controlled as such has adverse effect on society with health implication on man and sustainability of certain species of animals.
Ebisike said governments at all levels have roles to play in terms of policy direction, behavioural change among citizens and creating the consciousness to drive technological transfer among young engineers.
"Through recycling, waste products can be converted into bio-fume which adds to the fuel we have from petro-chemical processes, thereby taking away lots of plastics from the environment.
"The end products will be put back into the system, reducing the cost of kerosene, creating opportunities for research in universities, while creating jobs for citizens.
"It is of utmost importance that the younger generation understands their responsibility to the environment while keeping abreast with modern technology used in managing waste products.
"Parents and teachers must inculcate the culture of separating wastes in an ingenious way, while discouraging burying at landfills as such becomes poisonous to the water table underneath the earth,'' Ebisike added.
By Talatu Maiwada