The fifth annual Tusk Conservation Awards were last week presented for the first time in Africa at a gala ceremony in Cape Town, South Africa and attended by three of the country's most eminent public figures – Archbishop Emeritus Desmond Tutu, former First Lady, Mrs Graça Machel, and former President FW de Klerk – who presented the awards on behalf of Tusk's Royal Patron, HRH The Duke of Cambridge.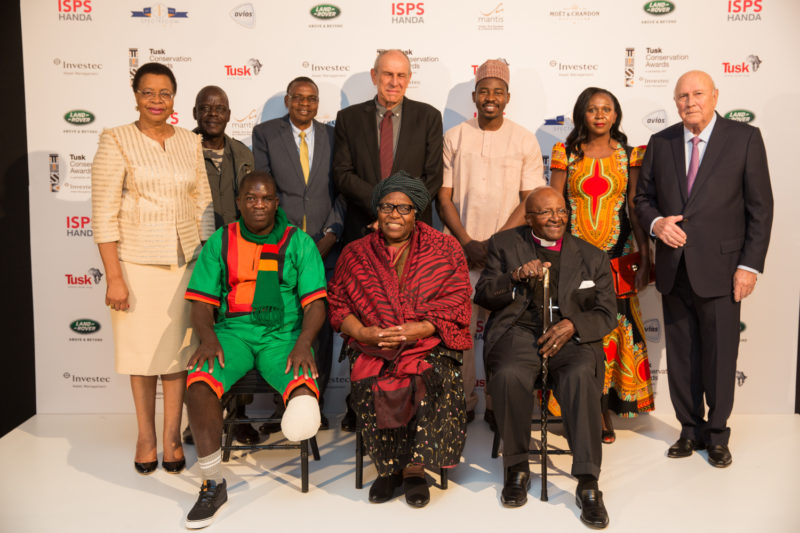 The Tusk Conservation Awards, in partnership with Investec Asset Management, celebrate the extraordinary work of dedicated conservationists from across Africa, whose work and lives might otherwise go unnoticed outside their fields.
Nachamada Geoffrey, Wildlife Conservation Society (WCS) manager at Yankari Game Reserve in Nigeria, was one of three finalists nominated for the Tusk Award for Conservation in Africa, sponsored by Land Rover.  The judges recognized Nacha's inspirational work leading ranger teams in Nigeria's Yankari Game Reserve to halt elephant poaching.
The two other finalists for the award were Serah Munguti from Kenya and Brighton Kumchedwa from Malawi. After much deliberation and heightened excitement the award was finally presented to Brighton Kumchedwa by Nelson Mandela's widow and former first lady, Mrs Graça Machel.
The judges recognized Brighton's ground-breaking work in Malawi over three decades in tackling one of the major illegal wildlife trade routes in Africa. The winner received a grant of £20,000 and the two runners up each received a grant of £7,500.
Governor of Bauchi State, Mohammed Abdullahi Abubakar, who attended the event, commented: "The conservation value of Yankari is now well known throughout Africa, based on this unrivalled wildlife we are developing Yankari as an important site for tourism in the country".
Andrew Dunn, Director of WCS's Nigeria Country Programme, said: "We were disappointed that Nacha did not win of course but his nomination is recognition of the significant progress made in Yankari over recent years.  The standard of the finalists was extremely high and I was so proud that Nigeria was represented at this important event."
Finalist Nachamada Geoffrey, remarked: "I was highly honoured to have been nominated as one of the Tusk finalists.  Although it has been tough and rough, our success at Yankari in stopping elephant poaching is due to the hard work and dedication of the rangers and I am proud to lead them in this important work."
Two other awards were presented at the ceremony: the Prince William Award for Conservation in Africa was presented to Rian Labuschagne by Archbishop Desmond Tutu, who said: "We are linked to one another, and here we realize just how much we're linked with all of nature.  We wish to congratulate you (the finalists) most warmly for making it clear that Africa can be beautiful".
The Tusk Wildlife Ranger Award jointly honoured the bravery and dedication of two men leading teams risking their lives day and night, on poaching's front line. Former South African President, FW de Klerk, presented the award to Solomon Chidunuka, based in Zambia's Northern Province and to Lucky Ndlovu from Kruger National Park, South Africa.
In closing the ceremony, de Klerk said: "It was humbling for all of us to learn about the extraordinary commitment, the bravery and the achievements shown by all tonight's finalists. Africa, indeed the world, owes them a huge debt of gratitude.
"What we have in Africa is so special. The challenge we face is formidable. We have to ensure that communities living alongside wildlife areas and reserves, as well as the wider population, can derive the very real, tangible benefits that can flow from preserving these increasingly threatened tracts of land and the species that share our planet. We have to make conservation relevant to people and to demonstrate its true value to humanity.
"Let us tonight therefore, renew our commitment to accept this challenge. Let all of us do all that we can to support Tusk and the work of all the conservationists represented tonight in this marquee. Let us take hands and say: 'What we have in Africa is precious. We will preserve it'."
Since he could not attend in person, Tusk's Royal Patron, Prince William addressed the audience via video and outlined the considerable challenges ahead for conservation in Africa. The Prince said: "I worry a great deal that our generation is not meeting our moral obligation to leave this planet in better shape than we inherited it.  Our children and grandchildren will not thank us if we fail in our duty to reverse the decline in so many species."
Dunn said: "The WCS is the largest and most effective conservation NGO in Africa. Based in Calabar, WCS has been working in Nigeria since 2001, and currently supports the conservation of 5 different sites in Bauchi and Cross River States. WCS saves wildlife and wild places worldwide through science, conservation action, education, and inspiring people to value nature."