A coalition of civil society organisations working on climate change and sustainable development under the auspices of the National Civil Society Framework on Paris Agreement and the SDGs (NCSFPAS) on Saturday, September 21, 2019 led thousands of youths, farmers and women in Port Harcourt, Rivers State, in commemoration of the Global Climate Strike.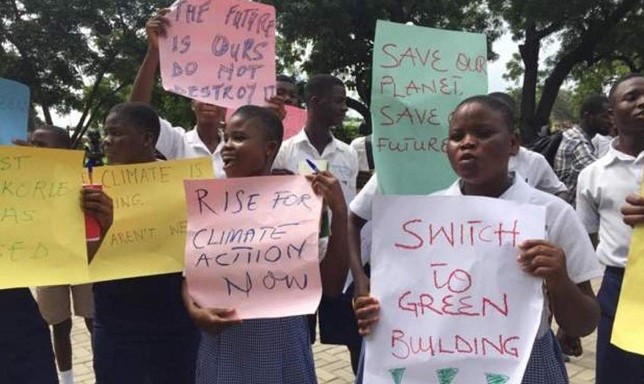 Led by Prime Initiative for Green Development (PIGD) in collaboration with Climate and Sustainable Development Network of Nigeria (CSDevNet) and the Pan African Climate Justice Alliance (PACJA), the Global Climate Strike, which began on Friday, September 20, 2019 at GRA Bus-stop (kick-off point) in Port Harcourt just ahead of a UN emergency climate summit will continue till September 27, 2019.
The strike is intended to join workers, youth, immigrant and Indigenous, as well as anti-poverty, climate and human rights activists in support of people, planet and peace over profit.
The Nigerian civil society actors will use the weak to raise awareness in communities and pushing for solutions to the climate crisis, and end soot pollution, gas flaring and oil spillage in the Niger Delta.
According to Tito Uzomah, Executive Director of PIGD, "our house is on fire as the climate crisis is an emergency but we're not acting like it. Nigerians everywhere are at risk if we let oil, coal and gas companies continue to pour more fuel on the fire."
"We need to act right now to stop burning fossil fuels and ensure a rapid energy revolution with equity, environmental clean-up and remediation with climate justice at its heart. We know it will require working together to succeed hence we are using the NCSFPAS framework to organise this climate strike," Uzomah added.
David Terungwa Michael, Chair of the NCSFPAS Thematic Group on Energy, says the climate crisis is an emergency and the group wants everyone to start acting like it.
He said: "Our hotter planet is already hurting millions of people.
"This week is historic to us as in over 150 countries, people are stepping up to support young climate strikers and demand an end to the age of fossil fuels. The climate crisis won't wait, so neither should we.
"As young people we have woken up much of the world with our strikes for the climate and now, millions of adults are joining in a huge wave of that will kick-start renewed action all over the world."
Chairman, Board of Trustees of Climate and Sustainable Development Network (CSDevNet), Dr Ibrahim Choji, in a message commemorating the Global Climate Strike, said: "The urgency of the climate crisis requires a new approach and a just response centred on human rights, equity, and justice.
"Our hotter planet is already hurting millions of people. If we don't act now to transition fairly and swiftly away from fossil fuels to 100% renewable energy access for all, the injustice of the climate crisis will only get worse."