The Nigerian government will on Friday, 25th September unveil the country's final status report on the implementation of the Millennium Development Goals (MDGs) at the United Nations headquarters in New York.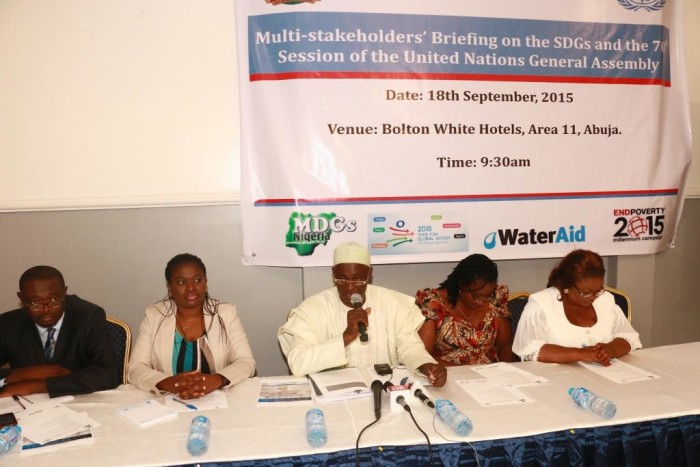 A statement issued by the Media Consultant to the Office of the Senior Special Assistant to the President on MDGs, Desmond Utomwen, stated that the Nigeria MDGs end-point report would be unveiled at the side-event hosted by Nigeria on Health, HIV/AIDS and Strengthening the Implementation of the SDGs during the General Assembly.
President Muhammadu Buhari, who will also be addressing the UN General Assembly for the first time since he was sworn in May; the UN Secretary General, Ban Ki-Moon; Chairperson of the African Union Commission, Dr. Nkosazana Dlamini Zuma; Permanent Representative to the United Nations, Nigeria Prof. Joy Ogwu; Assistant Secretary General and Special Advisor to the UN Secretary General on Post-2015 Planning, Ms. Amina J. Mohammed; Global Director, United Nations Millennium Campaign, Mitchell Toomey; and other world leaders are expected to be special guests at the event.
The MDGs end-point report chronicled the gains recorded in the implementation of the 15-year development framework as well as challenges and gaps requiring attentions in the Sustainable Development Goals (SDGs), which will be adopted by world leaders at the 70th Session of the United Nations General Assembly as the replacement for the MDGs.
According to the statement, the Director/Acting Secretary of Programme, Millennium Development Goals (MDGs), Mr Ogenyi Ochapa, while speaking at the multi-stakeholders' forum on the Sustainable Development Goals (SDGs) in Abuja last Friday, revealed: "OSSAP-MDGs with the support of our development partners has produced the Nigeria 2015 MDGs End-point Report to document the various MDGs key milestones and achievements, notable policy drivers of successes, main challenges and key lessons learnt at both the National and Sub-National levels. This report is one of the documents that we will be circulating at the UN General Assembly."
Ogenyi, who noted that Nigeria recorded appreciable progress in the implementation of the MDGs, added that the 17 goals and 169 targets of the SDGs are designed to complete the unfinished business of the MDGs.
"It is indeed gratifying to note that Nigeria has recorded significant progress in the achievement of the MDGs particularly in the area of universal primary enrolment, gender parity in education, reduction in the spread of HIV/AIDs, maternal and child mortality as well as prevalence of hunger."
The successor framework, SDGs are intended to end extreme poverty, transform lives, improve the planet and promote socio-economic development and prosperity. The Goals are designed to complete the unfinished business of the MDGs and address the economic, social and environmental aspects of sustainable development.