The Federal Government and the United Nations Industrial Development Organisation (UNIDO) have signed a $60 million new country programme for inclusive and sustainable industrial development in Nigeria for 2018-2022.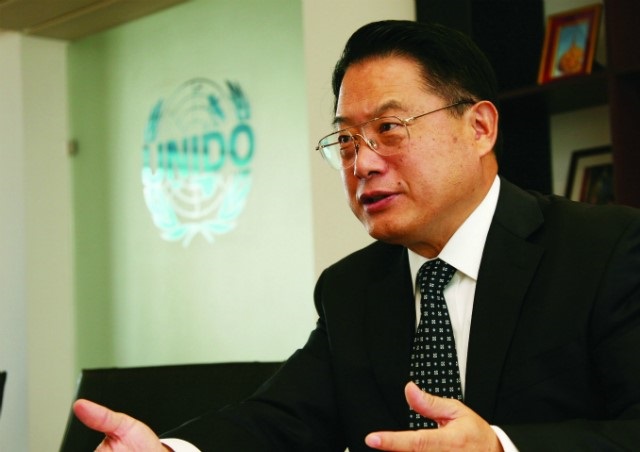 The programme is to guide UNIDO's programme/projects interventions in Nigeria during the period; build on the cumulative achievements of past Country Programme implemented by Nigeria/UNIDO; and to strengthen synergies by collaborating with other development partners, state and non-state actors, including the private sector.
Dr. Okechukwu Enelamah, Minister, Industry, Trade and Investment, signed on behalf of the Federal Government, while Mr. Li Yong, the Director-General, UNIDO, signed for his organisation.
The new country programme, the second in the series of UNIDO's support to Nigeria, is aligned to the priorities of the Federal Government as outlined in the Nigeria's Economic Recovery and Growth Plan (ERGP) and the Nigeria Industrial Revolution Plan.
It covers industrial governance, research and statistics; Micro, Small and Medium Enterprise development; Special Economic Zones, Industrial Parks & Private sector development; as well as innovation science and technology management.
Other key areas covered are agro industry and agribusiness development; minerals and metals development; trade capacity building; renewable energy development; and environmental management programme.
Enelamah, who expressed gratitude of the Federal Government and his ministry for UNIDO's collaboration, said the programme was designed to build on the cumulative achievements of the past Country Service Frameworks and Country Programme implemented by UNIDO.
He said that UNIDO was encouraged by the success of the first Country Programme which paved way for the new programme.
He listed some of the achievements of the first programme, which ended in June 2018, as:
support for the development of an industrial policy for Nigeria and for states including Bayelsa, Ebonyi, Oyo, Lagos, Abia, and Edo;
agribusiness and agroindustry development, including value chains development with installation of modern rice milling equipment in Ebonyi State and Benue State, and installation of palm oil processing mill in Akwa Ibom State;
renewable energy development with the identification of over 200 potential Small Hydro Power (SHP) sites in Nigeria; installation of SHP plants in Enugu State, Bauchi State, and Taraba State; technical support to 5 Megawatts rice husk (biomass) to energy in Ebonyi State; techno-economic feasibility studies and business plans on sawdust (biomass) to energy in 9 Local Government Areas in Ogun State and Ondo State. The SHP plant in Taraba State is the source of power for the Highland Tea Factory which has transformed from bankruptcy to profit;
development of textile and garments common facility centres in Abia State (for leather and garment), Kano State (for leather and leather goods) and Delta State (for leather); and
national quality infrastructure.
Answering questions on the direct impact of the programme on Nigerians, Enelamah explained that, among other benefits, industrial development means creation of more job opportunities.
The minister promised effective collaboration with UNIDO for the success of the programme, which will enhance the implementation of the ERGP which started well, and for which concerted efforts are being made to ensure it ends well.
Earlier, Yong said that the signing of the agreement was important for Nigeria as the country strives toward achievement of the Sustainable Development Goal (SDG) 9 which focuses on building resilient infrastructure, promoting inclusive and sustainable industrialisation.
He promised that UNIDO would collaborate with the ministry to mobilise funds and resources required to successfully implement the programme.
Welcoming Yong earlier on, the Minister of State, Industry, Trade and Investment, Alhaja Aisha Abubakar, said his acceptance to personally come for the signing ceremony, even at short notice, underscores the strategic place Nigeria has in UNIDO's agenda for eradication of poverty and inclusive growth.
"As you are aware, once Nigeria gets it right, the entire Africa Continent is in good stead to achieving UN Sustainable Development Goals," she added.