In his first major speech since taking office last autumn, the United Kingdom's International Development Minister, Andrew Mitchell, set out a new vision to increase global prosperity and reduce poverty through building partnerships with other countries.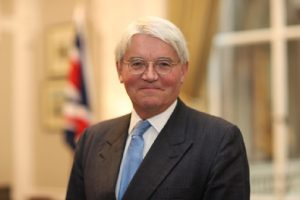 Using the United Kingdom's Foreign, Commonwealth and Development Office global footprint, which brings together development and foreign policy as a powerful force, the UK will work with countries, including Nigeria, to advance shared aims that benefit us all, like security and economic growth. He also identified linkages between issues, including the need to tackle poverty and climate change together.
The UK has been working in partnership with Nigeria for many years to reduce poverty and achieve the UN SDGs. Mr Mitchell was clear that this work will continue with renewed energy. This includes getting more girls into education, providing urgent humanitarian support to the millions who need it most, and supporting jobs and economic growth.
Under the renewed commitment set out in his Chatham House speech, Mr Mitchell said that the UK would continue to invest in areas that are fundamental to transforming the lives of girls and women in Nigeria. Over the last decade this UK effort, in partnership with the Federal Government and several states, the UK has supported education in 11 states and reached 8 million children. Since 2015 this has enabled an additional 1.5 million girls to access schooling.
This new commitment will also reinvigorate UK's partnership with Nigeria at national and state levels to help boost economic growth, address the impact of climate change and prioritise international health issues such as COVID recovery. It will also see the UK to play a central role in the fundamental reform of international financial systems, listening especially to African voices urging reform of the multilateral development banks. Countries need to access finance at scale to drive their own development and tackle climate change in the face of local contexts and global challenges.
Through this development, addressing conflict and insecurity will also remain a critical part of any effort to achieve the SDGs. In his speech, the Minister also spoke about how the UK will continue to proactively support Nigeria's response to its security challenges, and work in partnership to respond to shared threats.
He also announced a new brand identity for UK International Development, to demonstrate UK development is broader than aid, and is ultimately about listening to and working with countries by building mutually beneficial partnerships to progress and to prosper.
And in a bid to link the British public to the UK's development work, the Minister announced that later this year the Foreign, Commonwealth and Development Office will go out to tender on a new international youth volunteering programme, similar to the former International Citizen Service.
In his speech, Mitchell, said: "Placing partnership at the heart of the UK's offer shows that at its core, international development is not about charity, handouts and dependency. It is about listening to our partners and working together to advance our shared objectives."