The Federal Government of Nigeria says it has commenced the review of the National Environmental Sanitation Policy to improve and promote sound environmental sanitation practices in the country.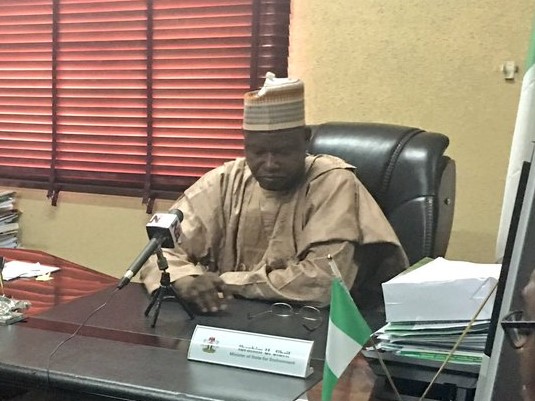 Permanent Secretary, Federal Ministry of Environment, Mr Leon Aliboh, said this on Thursday, October 4, 2018 at the National Critique Workshop on the Review and Update of the National Environmental Sanitation Policy, Guidelines and Action Plan in Abuja.
The policy was developed and launched by President Olusegun Obasanjo in 2005.
Aliboh, who was represented by the Director of Pollution Control and Environmental Health, Mr Charles Ikias, added that the ministry, in collaboration with the United Nations Development Programme (UNDP), developed the policy and its supporting documents.
"The policy document is now 13 years old and due for review. No wonder we are gathered here today to critique and update it for validation,'' the permanent secretary said.
He said that the policy adopted a sectoral approach to addressing the sanitation challenges in the country.
"This policy identifies various settings such as homes, schools, markets, abattoirs and addresses the then sanitation needs of these sectors.
"The needs include excreta disposal, solid waste management, pest and vector control, food sanitation and hygiene education in a holistic manner.
"The National Action Plan provides the operational framework for implementation.
"It enunciates strategies, programmes and time bound activities and assigns roles and responsibilities to the different tiers of government and other relevant stakeholders.''
According to him, the policy, due to multi-sectoral relevance and multi-disciplinary approach to sanitation, also enunciates an institutional arrangement comprising all tiers of government and public agencies for effective implementation.
"The advent of new sanitation technologies, innovations, emerging sanitation issues and challenges in the implementation of the document called for the review and update of the policy documents.
He said the review became necessary to meet present needs and challenges.
Aliboh said that with an effective and efficient framework to tackle the myriad of environmental sanitation challenges, sustainable development goals would be greatly achieved.
The Director, Abuja Environmental Protection Board (AEPB), Baba Shehu-Lawan, urged relevant stakeholders to implement the policy after its formulation and review.
Shehu-Lawan, who was represented by the Deputy Director of Environmental Health Service, Mr Ajueyitsi Simeon, called for all hands to be on deck to ensure implementation of the policy.
"It has been generally observed that the crucial stage after policy formulation/review is its implementation. Our policies are bedevilled with somersaults,'' the director said.
By Deji Abdulwahab