The Minister of Health, Dr Osagie  Ehanire, has confirmed Nigeria's first coronavirus (COVID-19) death.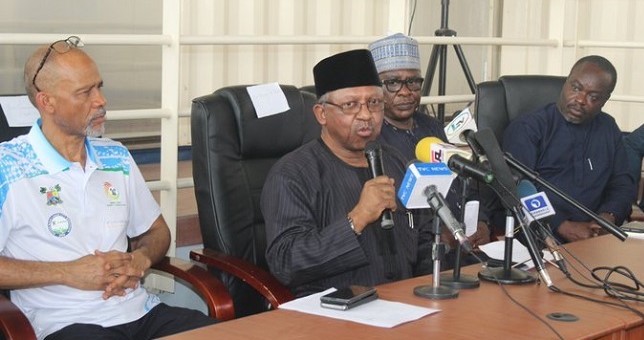 Ehanire also said that confirmed cases of COVID-19 has risen to 36 in the country.
The minister disclosed this at a news conference on Monday, March 23, 2020 in Abuja.
"We have recorded 36 confirmed cases of COVID-19 in Nigeria, of this confirmed cases, 25 are in Lagos, six are in FCT, two in Ogun State, one in Edo and one in Ekiti and one in Oyo.
"Of the 36 cases, 26 had travel history to affected countries in the last two weeks, six are contacts of confirmed cases and four no recent travel history or known contact.
"Sadly, we have recorded first death from COVID-19 in the country.
` This was a Nigerian who had underlying illnesses and died due to complications on the 22nd of March, 2020, in Abuja, he had recently returned from UK,'' he said.
The minister said in summary that as at 23rd of March, 2020; 36 confirmed cases had been confirmed in Nigeria; two had been discharged, one death recorded.
"Of 33 active cases, 32 are critically stable with mild symptoms and one patient is oxygen-dependent," he said.
He, however, said that Nigeria Centre for Disease Control (NCDC) was working closely with the affected states in the country to carry out intensive contact tracing.
"I urge health facilities to be on high alert from the state, local government and law enforcement authority, community leaders and private hospitals.
"They should work with NCDC on any close contact with someone who has been out of the country,'' he urged.
The minister said following the declaration of COVID-19 as pandemic by the World Health Organisation (WHO) and the increased spread of COVID-19, the Federal Government through the Presidential Task Force-19 had placed restriction on international flights.
"Restriction has been placed on all international flights from today, 23rd of March, 2020, with the exception of emergency and essential flights.
"More measures may be instituted by the Federal and State governments as the situation may arise.
"This is a call to Nigerians to take responsibility in preventing and spreading COVID-19.
"I urge all citizens, all businesses and media houses and all committed Nigerians to take ownership of this campaign by developing communication messages around the criteria,'' he said.
Ehanire emphasised on self–isolation for minimum of 14 days for travellers coming into the country, even when they feel very well.
He also advised Nigerians to practice social distancing as it reduced the risk of  being infected by someone unknown to them.
By Cecilia Ologunagba and Racheal Abujah