Nigeria has constituted a national preparatory committee to participate effectively at the Twenty-first Session of the Conference of the Parties (COP 21) to the United Nations Framework Convention on Climate Change (UNFCCC) holding this year in Paris, France in December.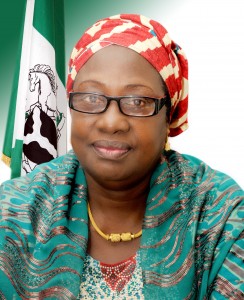 Tagged the National Technical Committee for Paris 2015, the eight-man team will articulate and develop the country's negotiating position at the COP, where the world will reach decisions on how to mitigate climate change by checking activities that promote it and, indeed, agree on a new climate deal. .
The committee members include: Mrs Nana Fatima Mede (committee chair and permanent secretary in the Federal Ministry of Environment), Dr Samuel Adejuwon (Director, Department of Climate Change in the ministry), Dr Martin Uhomoibhi, Prof Babajide Alo, Dr Niyi Onamusi, Prof Olukayode Oladipo, Peter Tarfa (Deputy Director, DCC) and Kayode Adeniran.
The committee's terms of reference include:
Coordination of national preparation towards Paris COP21/CMP11;
Articulating and developing the country's negotiation position;
Assemble and train a technical team of negotiators for the country;
Sourcing for and ensuring adequate funding for the preparation for Paris;
Developing a stakeholder inclusive programme and ensuring participation of corporate Nigeria;
Convening meetings of the Inter-Ministerial Committee on Climate Change;
Ensuring attendance and participation of country's representatives at all international preparatory meetings; and,
Preparing and submitting a comprehensive report of COP 21
Minister of Environment, Mrs. Laurentia Mallam, while inaugurating the committee in Abuja last week, expressed fears about the global climate decisions on the Nigerian economy.
According to her, such decisions may adversely affect the nation's economy because the country's main source of income is crude oil, a raw material that emits greenhouse gas in large quantity and contributes considerably to climate change.
She said, "Nigeria's attention should focus on practical and realistic Paris decisions, which do not only capture a common objective and recognise our different national circumstances, priorities and capabilities, but also raise ambition and launch a swift process of domestic proactivity and multilateral consultation and cooperation.
"More importantly, our participation should be very strategic, particularly as Nigeria's economy is largely dependent on crude oil as its main source of foreign earnings; and crude oil, as we know, is a major source of greenhouse gas. Hence any international protocol or decision arrived at in this respect may positively or negatively affect our economy."
A member of the committee, Prof Oladipo, said: "I think that it is a good initiative if you realise that the good outing that we had in Copenhagen (Demark) was facilitated by a coordinated committee approach that was put in place in 2009 by the then Minister of Environment (John Odey) and with the active role of the country's Ambassador to Denmark, Dr Godknows Igali. With this committee, we should be able to have in place a process work-plan that will itemise what needs to be done by who and when to ensure our effective participation in all the required meetings for COP 21. In addition, with the demonstrated interest of the ministry in putting the committee together, efforts will be made to make sure that adequate funding is secured for Nigeria's participation."
A climate change negotiator, Prince Lekan Fadina, said: "I commend the Ministry and DCC for the inauguration of the COP 21 committee. It is a step in the right direction because it will ensure an engaging and effective participation by the nation at the global forum."
Observers believe that the new development arose from the general concern that the country's participation in COPs for climate change since COP 15 in Copenhagen has remained largely low-key and poorly coordinated, a scenario that was reportedly brought to the knowledge of Mrs Mede, the new Permanent Secretary in the ministry. It was her determination to reverse the trend that led to the constitution of the NTC, it was gathered.
Prof Oladipo added: "The establishment of the National Technical Committee for COP 21 is an aspect of the Strategic Action Plan that I recommended to the Department of Climate Change while helping to put together a National Strategic Roadmap for Responding to Climate Change in Nigeria in which I advocated a NTC for the climate change COPs, and not just for Paris alone.
"Overall, once the committee is able to demonstrate its relevance by ensuring that Nigeria participates timely and effectively and works with the private sector and development partners to mobilise resources for its participation, it will be seen as a positive approach to addressing national response to climate change in Nigeria."