Nigeria is desirous of eradicating the use of polythene bags for recyclable paper bags and in the process generate wealth from waste, Environment Minister of State, Ibrahim Usman Jibril, has said.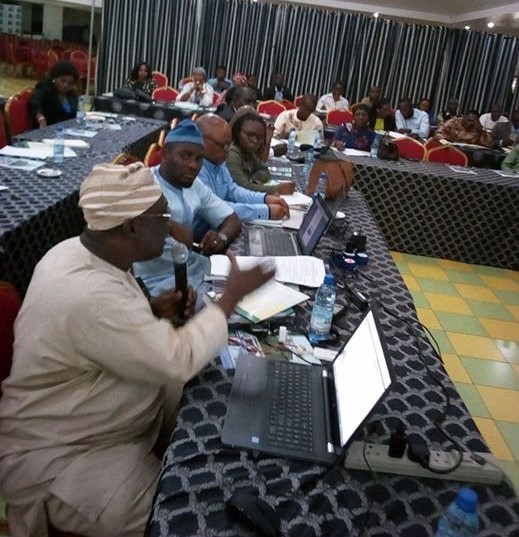 The minister said on Wednesday, August 8, 2017 in Abuja in his opening remarks at the 10th Global Environment Facility (GEF) National Steering Committee Meeting that it is the dream of the government to committedly upscale issues of the environment, including thematic areas such as climate change, biodiversity, ecosystems and ecology preservation, desertification, water, as well as forest and land management.
Used for containing and transporting goods such as foods and produce, polythene or plastic bag is a type of container made of thin, flexible, plastic film or textile. Plastic bags are considered a menace because, besides being non-biodegradable and difficult to recycle, some escape the garbage collection process and end up in streams, which then lead them to end up in the open ocean.
"We have taken as a matter of seriousness issues of environmental sanitation, while it is our dream to eradicate use of polythene bags for retention of drinking water to recyclable paper bags that can further be transformed to generate wealth from its wastes, soonest," Jibril stated.
Apparently reading the riot act, he added: "It is high time for us to get it right once and for all to avoid future environmental disasters that are grievous than those that we have experienced as well as ensure that we put a stop to environmental disasters that have bedevilled our rural and urban communities."
The minister underscored the need for the nation to engage its National Agenda and Sustainable Development Goals (SDGs) "so as to translate them to the attainment of the Green Economy and Sustainable Development".
Permanent Secretary in the Federal Ministry of Environment, Dr Shehu Ahmed, disclosed that the meeting's objectives are to evaluate progress made by implementing agencies, partners and stakeholders in ensuring that GEF-6 Projects in the country, which commenced July 2014, are developed and implemented in line with national priority, and to ensure proper articulation of projects towards GEF-7 Cycle.
According to him, almost all the projects under the new Cycle have been endorsed and that it is expected that the project documents (PIF) should have been transferred to the GEF secretariat to facilitate commencement of implementation.
Making a case for a National Environmental Action Plan (NEAP), Prof. Olukayode Oladipo of the University of Lagos, Akoka, stated that besides defining environmental priority actions that can constrain national development if left unchecked, the NEAP will help to identify the environmental challenges and needs of the country and propose strategic interventions to be put in place to address them.
"NEAP recognises the need to address the issues and challenges of national environment within a holistic framework that if properly implemented would ensure sustainable development in the country," Prof. Oladipo noted, adding that NEAP would likewise assist government to:
Identify, prioritise and possibly quantify national environmental problems;
Provide a state-of-knowledge overview of the environmental conditions in the country;
Propose solutions to identified priority environmental problems in the form of programmes and projects, studies, issues and actions, strategies and activities, institutional and legislative reform, funding requirements and human resources capacity building needs;
Establish a clear indication of government's priority areas with respect to the environment so as to guide and give proper orientation to donor intervention in this field.
In a presentation, Mr Oladipo Osibo of the United Nations Development Programme (UNDP) highlighted to some GEF projects being undertaken in conjunction with the UNDP.
While the "Niger Delta Biodiversity Project", a GEF-5 project, is approaching end-of-life, GEF-6 initiatives like "De-risking Sustainable Off-grid Lighting Solutions in Nigeria", "Sustainable Fuelwood Management in Nigeria" and "Third National Communication to the UNFCCC" are ongoing.
Under chemicals management, added Osibo, the "Sound Management & Disposal of PCBs" is at the project design stage, and is scheduled for submission in November 2017.
"Another GEF project on Pesticide Management has been technically cleared but still pending final approval," he said, adding that the "Small Grants Programme (SGP)" is aimed at "supporting community environmental initiatives and livelihood enhancement."
GEF Desk Officer, Mr. Festus Eguoje, said that the objective of the meeting is to provide a platform for issues in the implementation of the GEF-6 Cycle approved projects and harmonise experiences to build upon the country programmes for the GEF-7 Cycle proposals.