Up to two billion hectares of land are degraded. On average, 12 million hectares are lost every year and 169 countries are affected by land degradation, desertification and drought. In an unprecedented global campaign to save productive land, 112 countries, as of today, have agreed to make the Sustainable Development Goal target of achieving land degradation neutrality by 2030 a national target for action.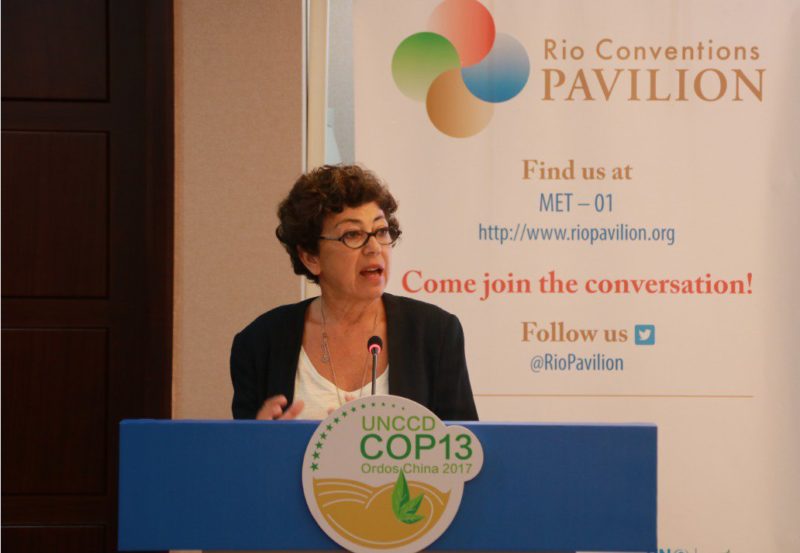 The world's largest and most populous nations, including Brazil, China, India, Nigeria, Russia and South Africa have committed to the national targets in a move that could see over 1.3 billion mostly poor people regaining food, water, energy and job security, and resilience to climate change. Conservative estimates put the cost of land degradation globally at $297 billion per year.
Under the land degradation neutrality target setting programme spearheaded by the United Nations Convention to Combat Desertification (UNCCD) and supported by 17 international partners, more than 60 of these countries have already established national land degradation baselines and set neutrality targets.
Joining the initiative signals a country's determination to restore degraded land to ensure the amoung of productive land available today is maintained going forward.
"Desertification is the joint mission of all mankind and the responsibility of the international community to ensure a beautiful planet," said Mr. Wang Yang, China's Vice Premier.
"Over the coming decades China will put an emphasis on the development of an ecological civilisation – including by combating desertification – to ensure better societal fairness and human well-being," he added.
Wang was speaking on behalf of President Xi Jinping at the Ministerial meeting of the 13th session of the UNCCD in Ordos, Inner Mongolia, China, where more than 80 ministers discussed pursuing land degradation neutrality as a viable response to the growing threats of desertification, drought, and sand and dust storms.
Desertification, land degradation and drought are threats to global security due to their impacts on number of livelihoods tied to the productivity of land – more than two billion. This year, drought led to the worst humanitarian crises since the Second World War. Distress migration driven by desertification in sub-Saharan Africa is expected to reach 60 million out to 2045.
"The population is growing at an extra 200,000 people every day, while 20 countries have declared drought emergencies in the last 18 months alone. We were clearly not sufficiently prepared for these challenges. Hundreds of millions of people go to bed desperate, hungry and thirsty as a result. Under business as usual scenarios, there is no future relief," said Monique Barbut, Executive Secretary, UNCCD.
She said the Convention, at its current Conference, "can offer the poor a new deal. By using our land resources rationally and acting before it is too late, there is enough for everyone to live well… We can be better prepared for drought and offer stable, green and land-based employment and development for millions of rural people. We can promote harmony between city and country and offer opportunity for all," Barbut added.
A priority issue for the ministers is the mechanism needed to ensure communities that are vulnerable and at risk of drought have the means to take early action. They will also consider how to address the new sources of sand and dust storms, how to motivate the private sector to invest in land-restoration, and motivate mayors and local and regional leaders to support the achievement of these targets.
The 13th session of the Conference of the Parties to the Convention to Combat Desertification (COP13) is taking place in Ordos, Inner Mongolia, China.
At a press conference with journalists, Mr Liu Dongshen, Vice Minister State Forestry Administration, said for some years now, China has restored more land than it has degraded. Last year, it registered a net surplus of more than 2,000 square kilometers. This year, the country has restored over 1,000 square kilometers above the net balance.
In addition to the strategic plan for 2018-2030, the ministerial declaration and the decisions COP13 will take on drought, land rights and sand and dust storms, he underlined the mobilisation of youth as an important issue from the Conference, which China will pursue going forward.
More than 4,000 delegates are participating in COP13, which runs until September 16.