The Minister of Water Resources, Alhaji Suleiman Adamu, says Nigeria is now on global stage with the accession to the UN Convention on Water in terms of transboundary water cooperation.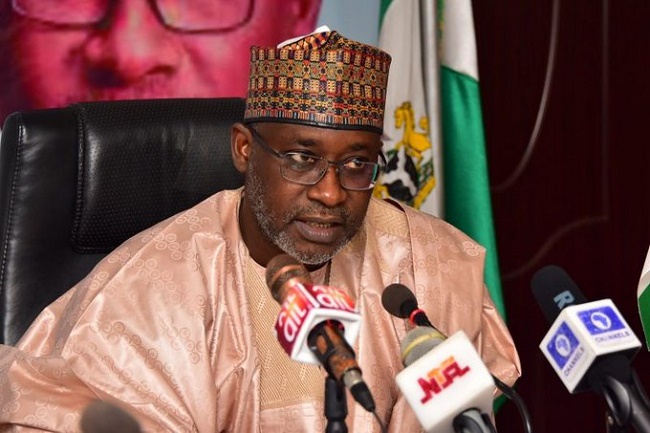 Adamu disclosed this in an interview in New York while explaining the importance of Nigeria ratifying the instrument of Accession to the UN Water Convention.
President Muhammadu Buhari ratified the Accession to the Convention in December 2022 and Nigeria also ratified the Amendment to Article 25 and 26 of November 28, 2003.
"Why the accession to the Convention is so important is that it has taken us to the global stage because those two authorities – the Niger Basin Authority and Lake Basin Chad Commission – are regional collaboration.
"But now we are part of the global agreement on transboundary water and therefore if they are conflicts that cannot be solved regionally, we are party to UN Convention, we will have access to technology and funding to support some programmes.
"We will also have access to diplomatic support where necessary and a lot of other things, it made it very important. This convention was formally for EU countries, but the UN has taken over, expanded it to include all countries,'' the minister said.
According to him, Nigeria is the third country in Africa to have acceded to the Convention, noting that the effort will also address future crisis in water management.
Adamu further explained that there has been talk around that the next world war could be fought over water.
The minister emphasised that the treaty would be very helpful and that it would help to douse conflict, if any existed in the future, citing the crisis between Ethiopia and Egypt over the Renaissance Dam.
Recently, the tensions among Egypt, Sudan and Ethiopia over the Grand Ethiopian Renaissance Dam (GERD) on the Blue Nile have escalated, particularly after Ethiopia announced that it had started filling the GERD's reservoir.
This is an action contrary to Egypt's mandate that the dam should not be filled without a legally-binding agreement over the equitable allocation of the Nile's waters.
The minister, however, said it was good that Nigeria had been championing international support for the recharging of Lake Chad, noting that the UN Water Conference is a very good platform to be heard all over the world.
"Nigeria has always been a champion in transboundary water cooperation. We were instrumental to the establishment of Niger Basin Authority, an association of nine countries that have linkage with River Niger.
"We were also instrumental to the formation of the Lake Chad Basin Commission. Nigeria is a major financial contributor to these two agencies for obvious reasons.
"For instance, if you take Niger Basin Authority, we are at the bottom, we are downstream end of the river, anything that happens upstream, the river has a lot of impact on Nigeria,'' he said.
Adamu, who attended his last UN Water Conference as minister in the administration of President Buhari as the tenure ends on May 29, emphasised on the need to prioritise provision of water and basic sanitation to Nigerians as well as commitment to transboundary convention.
"Water is becoming a security issue, is not only a humanitarian issue or a social issue. It is becoming a security issue. I'm happy that the world is realising that.
"I hope that this will strengthen collaboration and cooperation among countries and some kind of consensus will be reached on stronger collaboration to support and develop transboundary.
"I have to say this because we'll be asking the international community to come and join hands with us to support our vision for saving the Lake Chad but we'll be introducing water transfer project,'' he said.
The minister said that the humanity in the people should prevail and started prioritising water, noting that over 700 million people lack adequate water supply in the world.
"So, I said what point does it make to be spending so much on arms and armaments, and trying to colonise mass when we have not fully tapped on the resources that are here on planet Earth, and make life more meaningful for the people that live in here?
"I think we should concentrate our efforts to make humanity survive by the provision of basic water and also live decent lives in all the communities around the world by providing adequate sanitation,'' he said.
Meanwhile, Adamu has advised the incoming minister of the ministry to implement the Water Resources Roadmap to put Nigeria on the path of achieving the Sustainable Development Goals (SDGs) 6 by 2030.
SDGs 6 is about ensuring availability and sustainability management of water and sanitation for all by 2030.
The Water Resources Roadmap articulates the objective of the Federal Government in developing the nation's water resources towards the actualisation of the sector's potentials over a short term, medium term and long-term period.
Adamu said the roadmap articulates the Federal Government Plan for 15 years, from 2015 to 2030.
Adamu, who led a Nigerian delegation to attend the just-concluded 2023 UN Water Conference, attended his last conference as a minister in the administration of President Muhammadu Buhari as the tenure ends May 29.
"So, I'm hoping that our successors will key into the roadmap. They can fine tune it, but they should hold on to the principles and we need the new administration to give the same highest level of political consideration to Water, Sanitation and Hygiene (WASH).
"If the new government comes in with the same commitment as President Buhari has given to WASH, we will get a new set of governors that are even more dynamic and more interested in WASH matters.
"You know, I keep saying that lots of governments in Africa and especially in our country, don't understand the idea of development. Everybody wants his state capital, or his cities to look like Dubai.
"But what is the point in putting dual carriageways and flyovers and Airports where you can't even provide basic things. You cannot get a city with 24 hours water supply.''
Adamu said before Dubai got to where it is today, it conquered provision of basic amenities for its citizens, noting that water is the most important thing that is needed in development.
He said development has to do with a process of providing water, health facilities, schools and economic empowerment, adding that it is after this that you can advance in building physical infrastructure.
According to him, starting development from the top, rather than down, is not a right approach.
"So, I hope the successive administration will look at that, we should leave the vanity aside and just face the real issues. Deal with our urbalisation problems, our slums and deal with water problems.
"If we invest, you plan the investment, we don't plan, we need to plan if we plan the investment, you should understand that water is a dynamic thing, the population continues to rise.
"So, a governor coming into office should not be thinking of four years that he wants to achieve the project, if it cannot be done, then it's not his business.
"He's supposed to start that project and let successive administrations come and continue and continue to build on it because people are born people, people will die and the population continues to rise.''
He further advised the incoming minister to borrow a leaf from one the Mayors of New York, who signed 100 years commitment on water supply before he left office, noting that it is what serious leaders do.
By Cecilia Ologunagba