Rufus Ebegba, Director-General and CEO of the the National Biosafety Management Agency (NBMA), stresses that the recently passed Biosafety Act not only ensures biosafety in the country, but is a safety valve for harnessing the potentials of modern biotechnology safely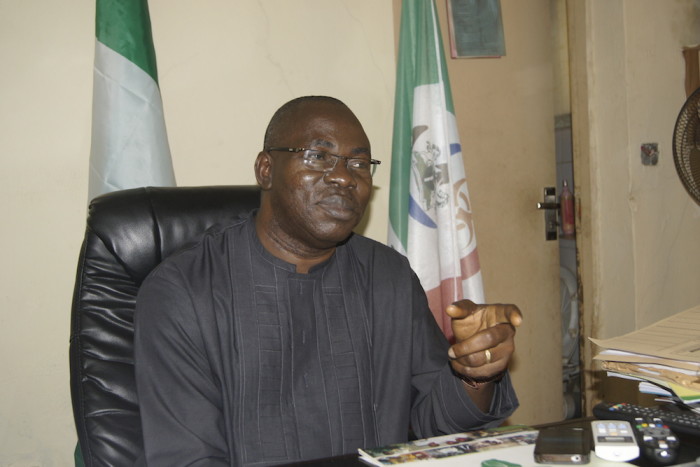 The development of a national biosafety regulatory framework for Nigeria dates back to 1994 when the first National Biosafety Guidelines were developed and the subsequent finalisation of a National Biosafety Management Act 2015. The process of the development of the Act followed a systematic public involvement from 2002 to 2015.
The National Biosafety Management Agency Act, established the National Biosafety Management Agency (NBMA), was charged with the responsibility for providing regulatory framework, institutional and administrative mechanism for safety measures in the application of modern bio-technology and the use of genetically modified organisms (GMOs) in Nigeria. The Act is in conformity with established national and International laws, procedures and rules that govern the safe adoption of the modern biotechnology practice and the safe use of GMOs globally. The NBMA Act is the only safety valve in the adoption of modern biotechnology and the deployment and use of GMOs for Nigeria's national economic development.
In view of the responsibility of the agency, and the immerse responsibility ahead for knowledge based regulatory regime a need to expand biosafety information through the media will give room for factual reporting and build public confidence in adoption of safe GMOs and encourage scientist and others within the sector.
The National Biosafety Management Act 2015 prescribes procedures for the application of the modern technology, risk assessment before the adoption and use of any genetically modified organisms and penalties for contravening the Biosafety Act. The Biosafety Act is therefore a safety valve for harnessing the potentials of modern biotechnology safely
The Act seeks to:
provide derived benefits from modern biotechnology under a legal framework for economic growth, improved agriculture, job and wealth creation, industry growth and sustainable environment,
minimise risks to human health.
confirm and harness the potentials of modern biotechnology,
protect and guard against any adverse effect of GMOs on biological Diversity and the environment.
guard against any socio-economic consequences.
give confidence in the practice of modern biotechnology, use and handling of GMOs and GM products ,.
reaffirm Nigeria's commitment to the principles of International agreements, treaties (CBD and in particular the Cartagena Protocol on Biosafety (CPB).
determine in advance when hazards to human health and natural systems will result if any particular GMO is released into the environment amongst others.
proper regulation of imported GM products, so Nigeria will not be a dumping ground.
The National Biosafety Management Agency implements the Act in the safe adoption of modern biotechnology, the deployment and the safe use of products of modern biotechnology for national economic development.
The objectives of the Agency include the following:
establishment and strengthening of the institutional arrangement on Biosafety matters in Nigeria;
safe guarding human health, biodiversity and the environment from any potential adverse effect of genetically modified organism including food safety;
ensuring safety in the use of modern biotechnology and provide holistic approach to the regulation of genetically modified organisms;
provision of measures for the case by case assessment of genetically modified organisms and management of risk in order to ensure safety in the use of genetically modified organisms to human health and the environment;
provision of measures for effective public participation, public awareness and access to information in the use and application of modern biotechnology and genetically modified organisms; and
ensuring that the use of genetically modified organisms does not have adverse impact on socio-economic and cultural interest either at the community or national level.
The National Biosafety Management Agency has the capacity to give Nigeria the desired holistic Biosafety in a transparent manner, so that the nation can benefit from modern biotechnology maximally without compromising safety to the environment and human health. It has developed various regulatory instruments as well as the establishment of biosafety laboratory for the detection and analysis of genetically modified organisms for effective biosafety management in Nigeria.
The absence of a Biosafety Law in the past greatly hampered safe research and development in modern biotechnology in Nigeria. The Biosafety Act has therefore opened the avenue for our research institutes to carry out their statutory functions under a legal biosafety regime. Nigerian modern biotechnology industry in general now also has a legal biosafety basis to operate.
The Agency is adequately positioned to manage biosafety in Nigeria. The staff of the Agency are well trained on biosafety regulation, some up to Masters level from foreign universities and short biosafety courses.
The Agency currently has the following regulatory instruments in place as part of Nigeria's Biosafety Preparedness :
Biosafety Policy;
Biosafety Act;
Biosafety Guidelines;
Nigeria Biosafety Application Administration Guidelines
Biosafety application forms;
Biosafety Containment Facilities Guidelines;
Accreditation of Institute application form;
certification of Biosafety containment Facility form,
Confined Field Trial Monitoring and Inspection Manual,
GMOs import/shipment form,
National Biosafety Risk Analysis Framework,
Decision document.
National Biosafety Communication strategy
National Biosafety Emergency Response strategy
National Laboratory for GMO detection and analysis
Cessation Order ,
Revocation Order,
Draft Biosafety regulations developed in anticipation of a biosafety Act:
GMOs import, Export and transit,
GMOs Packaging, identification and transport,
GMOs Commercial release,
Biosafety Liability and Redress,
GMOs Contained Use and Confined Field trial
The following decisions have been taken so far on biosafety approvals in Nigeria:
Accreditation of the following Institutes for modern biotechnology activities:
National Root Crops Research Institute, (NRCRI) Umudike;
Institute for Agricultural Research, (IAR) Zaria;
Federal University of Technology, (FUTA) Akure;
National Cereals Research Institute Badeggi
National Biotechnology Development Agency
Approved Confined Field Trials in Nigeria:
Bio-fortified cassava enhanced with pro-vitamin A, (concluded) – at National Root Crops Research Institute, Umudike
Bio-fortified cassava enhanced with Iron, (concluded) – at National Root Crops Research Institute, Umudike
Cowpea modified for resistance against Maruca insect pest currently at multi-locational level – at IAR,
African Biofortified Sorghum: bioavailability of iron, zinc, protein and pro- Vitamin A(on going) – at IAR
GM rice modified for Nitrogen use efficiency, water use efficiency and salt tolerance (Yet to Commence) -at National Cereals Research Institute, Badeggi
GM Cassava resistant to cassava mosaic virus and brown streak virus(Yet to Commence) – at National Root Crops Research Institute, Umudike.
Nigeria has now joined the league of the following African States with National Biosafety laws and Biosafety: South Africa, Egypt, Kenya, Burkina Faso, Ghana, Sudan, Mali, Cameroun and Tanzania.
I wish to use this medium to request operators dealing in modern biotechnology activities and genetically modified organisms to formalise their dealings with National Biosafety Management Agency on or before 30th of December 2015 as there are consequences for default. The Agency does not doubt the existence of GMOs suspects in Nigeria since Nigeria imports food products from counties where GMOs are being produced and consumed,
The public should trust the Agency's decisions and avoid being misled by unscientific information and acts capable of causing misinformation, public distrust and panic. The Agency would partner with all relevant sister Agencies in the discharge of its functions.