No fewer than three million toilets are needed to be constructed annually if Nigeria would meet the Sustainable Development Goals to scale up sanitation and hygiene before 2030, the United Nations Children's Fund (UNICEF) has said.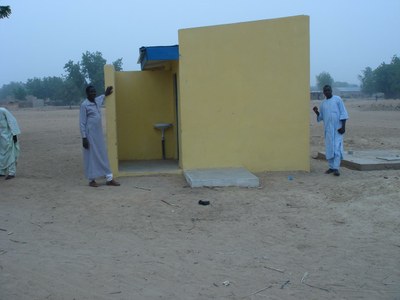 This was the thrust at a National Meeting for Operationalising the Open Defecation-Free (ODF) Campaign Plan in Abuja on Thursday, August 16, 2018.
Mr Farooq Khan, a UNICEF Water, Sanitation and Hygiene (WASH) Specialist, noted that the present deficit in toilets ought to be reversed, saying that if Nigeria would meet the SDG-six, it must increase budgets for sanitation.
He said that the goal of the ODF Nigeria National Campaign was for Nigeria to achieve its SDG targets on sanitation by eradicating open defecation first by 2025 and achieving Universal Access to Safely Managed Sanitation by 2030.
According to him, the strategic objectives of the Campaign is for the tiers of Government in all states to prioritise sanitation in its development agenda, through budgetary allocations and institutional framework.
He added that this could be further strengthened through advocacy and media dissemination of key messages such as "Poor sanitation results in economic loss".
"Sanitation is dignity and eradication of open defecation is feasible within limited resources."
Khan stressed that Nigeria ought to mandate relevant institutions to assign full time trained manpower to work on implementation of the National and State ODF campaigns.
He commended the Kano and Ogun state governments for signing agreements to improve access to water and sanitation.
Mr Emmanuel Awe, representative from the Federal Ministry of Water Resources, said although some states have shown interest in scaling up progress on sanitation and hygiene, many of them have not begun implementation of the ODF protocol to meet national targets.
Awe said that without an appropriate support from the Federal Government, the state governments in Nigeria may delay in implementing their State ODF Plans in time, using only their own resources.
"It is ideal for the state to develop their State Sanitation Scale Up plan and implement such plan using their own resources but, in reality, state leadership often are not likely to comply, primarily because sanitation is not their priority, or they have other pressing issues to address.
"It should also be noted that the Federal Government is committed to achieving the SDG which Nigeria ratified on behalf her people. However, the states are under obligation to implement the ODF plan in line with FGN commitment.''
According to him, the political economy analysis of sanitation in Nigeria clearly indicates that poor sanitation and Open defecation is primarily the issue faced by the poorest poor.
Dr Garba Abari, Director General, National Orientation Agency (NOA), stressed the need to create mass scale demand for improved sanitation by changing the social norms on sanitation and hygiene.
He decried the dwindling culture of sanitation, saying this trend needed to be reversed.
Abari called for all tiers of government to begin to pass the sanitation and hygiene messages in order to make for ownership by the populace.
The News Agency of Nigeria reports that the Multidimensional Poverty Analysis from the 2017 Multiple Indicator Cluster Survey (MICS) reports data reveals that 44.9 per cent of those defecating in the open are the less privilaged in the society.
These poor also happen to have very little appreciation of this as an issue affecting their lives negatively and hence do not raise their voice in demand for improved sanitation.
The data reveals that the poor often are voiceless and hence are unable to influence the state development agenda on their own.
By Tosin Kolade