Nigeria and the Kingdom of Morocco on Monday, June 11, 2018 signed three agreements, which included a regional gas pipeline that will see Nigeria providing gas to countries in the West African sub-region that extend to Morocco and Europe.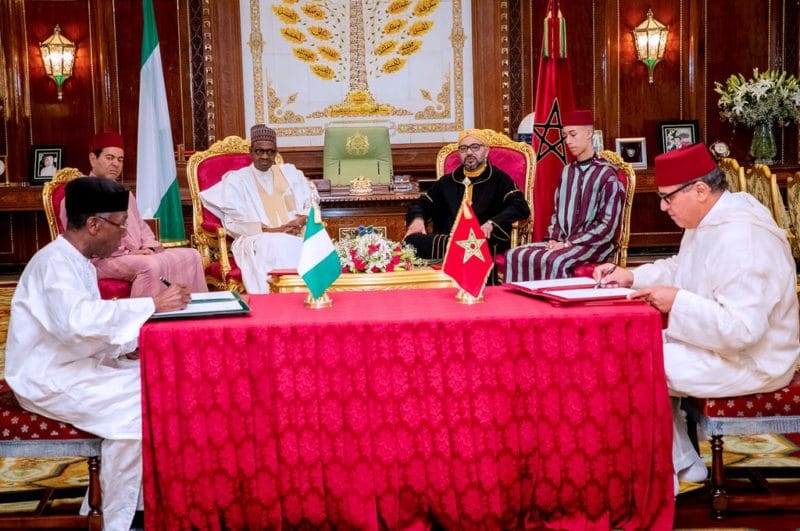 This information is contained in a statement by Malam Garba Shehu, the Senior Special Assistant to the President on Media and Publicity, in Abuja on Monday, June 11, 2018.
The presidential aide revealed that the signing of the agreements was witnessed by President Muhammadu Buhari and the King of Morocco, His Majesty King Mohammed VI.
He said that the agreements was a result of a meeting between the two African leaders  focused on strengthening economic relations in gas resource development, global investments and agricultural training and management.
Shehu explained that feasibility study of the agreement on the pipeline would be concluded by July 2018, while construction of the pipeline would be phased based on needs of countries over the next 25 years.
He added that the gas resource development agreement was signed by the Group General Manager, Nigerian National Petroleum Corporation, Mr Farouq Garba, and Mrs Amina Benkhadra, Director General of the National Office of Hydrocarbon and Mines.
The 5,660 km long Nigeria-Morocco Gas Pipeline (NMGP) will reduce gas flaring in Nigeria, encourage diversification of energy resources and cut down poverty through the creation of more job opportunities.
The NMGP will further encourage utilisation of gas in the sub-region for cooking, and discourage desertification.
Shehu also said that the two countries signed a Memorandum of Understanding for the development of a chemical plant in Nigeria for producing ammonia and its derivatives.
The agreement was signed by the Chief Executive Officer of Nigeria Sovereign Wealth Authority, Mr Uche Orji and the Chief Executive Officer of the Office of the Management of Phosphate in Morocco, Mr Mostafa Terrab.
Similarly, Minister of Agriculture and Rural Development, Chief Audu Ogbeh and his Moroccan counterpart, Mr Aziz Akhannouch, signed a cooperation agreement on vocational training and technical supervision of agricultural workers.
The agreement is expected to enhance local skills on better management of agricultural outfits in Nigeria.
The statement maintained that President Buhari, who was received by a large crowd from the airport to the Rabat Royal Palace, assured King of Morocco of Nigeria's full commitment to the actualisation of all the agreements.
By Ismaila Chafe