The President, Small Scale Women Farmers Organisation of Nigeria (SWOFON), Mrs Mary Afan, says Nigeria may not end hunger by 2025 if it does not invest massively in boosting agricultural production.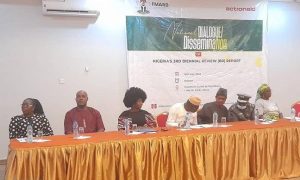 Afan made this known on Saturday, May 21, 2022, in Abuja on the sidelines of Non-State Actors Step Down training on post 3rd Biennial Review report (BR) organised by ActionAid.
Afan identified areas of investment to boost food production to include provision of farm inputs, grains or seedlings and fertiliser to small scale women farmers at a subsidised rate.
She noted that ending hunger by 2025 was one of the seven areas of commitment by countries under the Comprehensive African Agriculture Development Programme (CAADP) Biennial Review process or Malabo Declaration.
She frowned at the high cost of fertiliser at the moment, adding that 50kg bag of fertiliser that was sold for N8,000 in 2021 was now selling for N27,000.
Afan said the price of a bag of fertiliser was equivalent to two bags of maize currently sold at N15,000, describing the challenge as disadvantageous and discouraging to farmers.
She described the hike as inimical to the nation's target of food and nutrition security.
Afan said: "The hike will greatly affects food production as farmers cannot afford the outrageous price to engage in large scale farming because they only have a small portion of land.
"Normally, we used to get support from government for subsidised fertiliser but at the moment no such support, government's attention has shifted to 2023 election.
"Nothing like distribution of grains to farmers and as we speak, nobody listen to us, we are in a pathetic situation.
"Considering these challenges, there are no deliberate effort by our government to end hunger by 2025.
"However, if it really wants to end hunger there would have been machineries in place by increasing agricultural budget, supporting small holder women farmers, subsidising their inputs, seeds among others to.increase production.
"To address this crisis, government should also look at ways to increase irrigation farming so that farmers can have all year round farming instead of only rainy season as applicable in other countries," Afan stated.
The 3rd CAADP Biennial Report launched in March by the African Union Commission showed that Rwanda was the only African country that is on track in the seven CAADP/Malabo commitment areas.
The areas are ending hunger by 2025, enhancing investment financing in Nigeria, ending poverty through agriculture by 2025, and boosting intra-African trade in agricultural commodities services.
Others are enhancing resilience to climate variability and enhancing mutual accountability for actions and results.
CAADP is a continental framework for accelerating broad-based economic growth and progress toward poverty reduction and food and nutrition security through an agriculture-led growth strategy.
By Felicia Imohimi