Nigeria's dream of joining the league of countries using cutting edge technology to boost economic development appears to have come true following the signing into law on Saturday, April 18, 2015 the National Biosafety Agency Bill by President Goodluck Jonathan.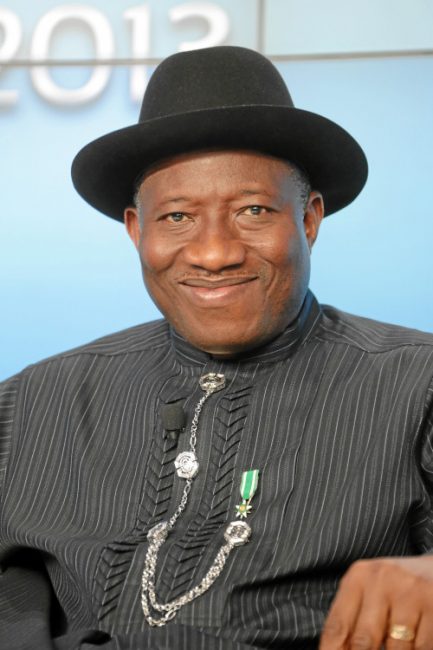 Observers have described the development as a milestone in the domestication of modern biotechnology in the country, saying that it will create more employment, boost food production and improve the prospects of farming.
Prof. Lucy Ogbadu, Director-General/CEO, National Biotechnology Development Agency, in a media statement described the National Biosafety Act as crucial in the management of modern biotechnology in the country.
She said: "Modern biotechnology has been identified as an important tool that can help countries to achieve food sufficiency/food security, industrial growth, health improvement and environmental sustainability while the Biosafety Act will give the legal framework to check the activities of modern biotechnology locally as well as imported GM crops into the country as well as providing avenue to engage Nigerian scientists/experts from different fields to identify and pursue solutions to our local challenges.
"The Biosafety Law also recognises the complex issues to be addressed by central authorities in the judicious application of modern biotechnology; it bases the deliberate release of GMO on Advance Informed Agreement (AIA)."
According to her, the issue of Biosafety Regulation in Africa is rapidly gaining momentum as more African Countries are embracing GMOs. Republic of South Africa, Burkina Faso, Ghana and Egypt already have biosafety laws and are currently growing and consuming GM crops. Kenya, Togo, Tanzania and Mali also have Biosafety laws.
"The African Union has developed a model biosafety law to assist member states develop their Biosafety Laws. However, to further strengthen Biosafety system in Africa, the AU-NEPAD-African Biosafety Network of Expertise project has been put in place to develop the capacity of member states in biotechnology and Biosafety. The ECOWAS Commission is also currently developing a common Biosafety Regulation in line with National Biosafety laws/Regulations for the sub-region," she added .
Rose Gidado, Assistant Director, National Biotechnology development Agency/OFAB Nigeria Chapter Coordinator, submitted that Nigeria can without delay commercialise Bt-cotton, Bt-maize, Herbicide Tolerant (HT)-soya beans, which are already in South Africa, Burkina Faso and Egypt.
"This can lead to increased yield productivity to ensure food security and industrial growth especially in the ailing Textile Industries. It will also promote the quantity and quality of cotton that the Nigeria can export to other international countries," she stated.
Gidado added: "The passage of this law will also ensure the much desired in-flux of foreign direct investment from notable world leading companies in Biotechnology thereby improving gross domestic product growth rate and increase job creation.
"The law will promote national security through the application of DNA finger printing for crime detection, paternity testing and identification. It will also promote active commercialisation of the research and development projects in our various universities and research institutes hence improves our economy as well as support the country to become one of the leaders in Biotechnology, particularly in Africa."
Prof Ogbadu said: "At this juncture I would like to thank and appreciate very greatly, the National Assembly Members for the timely passage of the Bill and President Goodluck Ebele Jonathan, for his quick assent. I have not also forgotten our strength and pillars of support: the Ministers of Science and Technology, Agriculture and Rural Development, as well as Environment (Dr Abdu Bulama, Dr Akinwumi Adesina and Mrs L.L. Malam respectively). We would ever remain grateful to you for this great and historical milestone achieved.
"Also on record, are our abled, tenacious and committed stakeholders: African Agricultural Technology Foundation (AATF), United States Agency for International Department (USAID), United States Department for Agriculture (USDA), Program for Biosafety Systems (PBS), Federal Ministry of Agriculture and Rural Development (FMARD), Agricultural Research Council of Nigeria (ARCN), Institute of Agricultural Research (IAR), Federal Ministry of Environment (FMEnv), National Root Crops Research Institute (NRCRI), National Agricultural Seed Council of Nigeria (NASCN), National Cereals Research Institute (NCRI), International Service for the Acquisition of Agri-Biotech Applications (ISAAA), Michigan State University (MSU), African Biosafety Network of Expertise (AU-NEPAD ABNE), All Farmers Association of Nigeria (AFAN), National Cotton Association of Nigeria (NACOTAN), Cotton Ginnery Association of Nigeria (CGAN), Niger State Government, Gombe State Government, Imo State Government, Katsina State Government, Universities, Biotechnology Society of Nigeria (BSN), Genetic Society of Nigeria (GSN), Nigerian Society of Microbiologists (NSM), Nigerian Institute of Food Science and Technology (NIFST), Nigerian Institute for Oil Research (NIFOR) and Cocoa Research Institute of Nigeria (CRIN), who guided us all the way through in driving this process to its logical conclusion.
"You stood strongly behind and beside us even when things became tough and hopeless, when there seemed to ne no way, you never gave up. Keeping hope alive is what has brought us this success. God will surely take us to the Promise Land!"