At a two-day project launch held from November 19 to 20, 20202 in Lagos courtesy of the Federal Ministry of Environment with Sustainable Research and Action for Environmental Development (SRADev Nigeria), Nigeria officially commenced activities aimed at eliminating lead use in paint.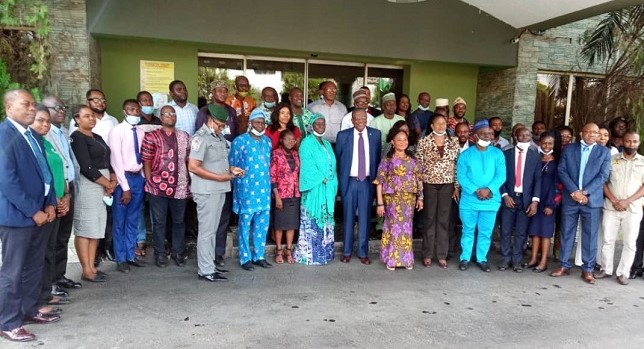 Lead is a cumulative toxic element particularly harmful to young children and pregnant women and, according to the United Nations, the continued use of lead paint around the world remains significant source of human exposure.
Under the lead paint component of a project funded by the Global Environment Facility (GEF) and being implemented by the UN Environment Programme (UNEP), 40 countries including Nigeria are to adopt new or strengthened regulation towards the elimination of lead paint.
The initiative, which borders on global best practices on emerging chemical policy issues of concern under Strategic Approach to International Chemical Management (SAICM), features the International POPs Elimination Network (IPEN) project executing partner.
According to Dr Leslie Adogame, Executive Director of SRADev Nigeria, apart from exposure from gold mining sites and Used Lead Acid Battery (ULABs) recycling facilities, lead in paints is another route of its introduction into the environment. He added that exposure can be caused because of inhalation or ingestion especially in children.
"In a study carried out between July and August 2016, a total of 54 cans of solvent-based paint intended for home use purchased from stores in Lagos, Nigeria, analytical results showed 74% of the samples had values higher than 90ppm as well as peak value of 160,000ppm.
"Moreover, it has been estimated that lead exposure accounts for 7-25% of the disease burden among Nigerian children, and a 50% decrease in childhood blood lead surveillance could save up to $1 billion per year," he said, adding that the economic cost due to lead exposure in Nigeria is estimated at $27.9 billion.
Adogame disclosed that lead compounds are intentionally added to oil-based decorative and industrial paints and other coatings as pigments to enhance colour, or as driers and anti-corrosives.
He added that non-leaded pigments, driers and anti-corrosive ingredients are widely available and in use in paint production as well as most oil-based paints, but that the unit cost is quite higher in comparison with lead substitutes.
Mr Jude Maduka, Executive Secretary, Paints Manufacturers Association (PMA), disclosed that paint reformulation using new/lead free raw materials is now more than necessary because of the need to:
Protect paint users/the populace from the dangers of exposure to lead.
Protect and sustain the environment and make it more eco-friendly.
Respect the law of the land on standards and phase out of lead from paint production processes.
Join the rest of the world in engaging in global best practices for emerging chemical policy issues of concern.
Produce quality paints that are competitive and can help paint manufacturers in to take advantages of the soon to take off Africa single market – Africa Continental Free Trade Area (AFCFTA.
"However, for Nigeria and indeed the paint industry operators to benefit from the single market, government should be ready on its part. The 'ease of doing business' it has been promoting since 2019 must become a reality – adequate electricity, good roads, rail transportation must be ready while government officials at all levels must be prepared to do the right things: play by the rules," stated Maduka.
In a presentation, the National Environmental Standards and Regulations Enforcement Agency (NESREA) listed alternatives to lead to include zirconium, metallic zinc, cobalt, metallic calcium and titanium dioxide.
It added that the National Environmental (Hazardous chemicals and pesticides) Regulations, 2014 that did not originally contain provisions on lead-in-paint is however currently being reviewed and lead-in-paint issues are incorporated into the regulations to address global concerns on it.
The agency submitted: "Lead is a toxic metal whose widespread use have caused environmental contamination and extensive public health problems in many parts of the world. There is no known level of lead exposure that is considered safe.
"In order to ensure that the use of lead is controlled and meet permissible limits, all hands must be on deck. We invite all stakeholders to support NESREA in her drive to ensure that chemicals including lead and lead compounds are produced and used throughout their life cycle in ways that do not impact negatively to human health and the environment in line with the SAICM requirements."
Dr. Sara Brosché, IPEN Global Lead Paint Elimination Campaign Manager, said that IPEN is very impressed with the progress Nigeria has made towards banning lead paint.
"I congratulate you for your leadership and showing the right way forward. Your efforts will benefit not only the children in Nigeria but the children, workers and everyone in the whole region. This is truly a praiseworthy achievement and something to be very proud of. So again, our heartfelt congratulations!
"We would now like to wish you a productive and blessed workshop, filled with vigorous debates, fruitful discussions and useful new information. We know that with your participation and the excellent organisation of SRADev, this will certainly be a big success and one more important step towards the imminent goal of banning and eliminating lead paint from Nigeria," Brosché said.
While attempting an "Overview of Status of Global and National Lead Paint Laws", Desiree Raquel Narvaez of UNEP said Nigeria is one of the eight countries in Africa with draft lead paint laws. He listed others to include Côte d'Ivoire, South Africa, Zambia, Ghana, Rwanda, Tunisia and Morocco.
Narvaez observed that a lack of mandatory regulation to regulate Nigeria's paint industry has resulted many domestic paint manufacturers not complying with international standard, as well as risk of losing market shares with growing industry competition.
Giving the rationale behind the 90 ppm lead limit, Narvaez said: "'Zero' lead content is not possible because some ingredients contain lead naturally. The lower the concentration of lead in paint, the more this is protective of human health. 90 ppm as the lowest, technically feasible limit, which represents the most protective limit currently possible. 90 ppm limit is promoted as an international limit."
As a way forward, Maduka said: "With the right policy and support by the Federal Government, the paint industry will survive the various challenges facing it. If the government can spend just 10% of its total annual expenditure on housing and maintenance, it will go a long way in increasing activities in the industry.
"Also, the government will be doing a lot good to the industry by evolving appropriate policy that allows stakeholders to benefit from opportunities that abound in the oil and gas sector. The current paint policy being championed by the Federal Ministry of Industry, Trade and Investment is a right step in the right direction and will address some of the challenges facing operators in the industry. Revamping of the automotive industry currently ongoing will add to increased capacity utilisation in the industry."