The Environmental Rights Action/Friends of the Earth Nigeria (ERA/FoEN) has eulogised the Nigerian delegation that attended the Eighth Conference of the Parties (COP8) to the World Health Organisation Framework Convention on Tobacco Control (WHO-FCTC) that held recently in Geneva, Switzerland.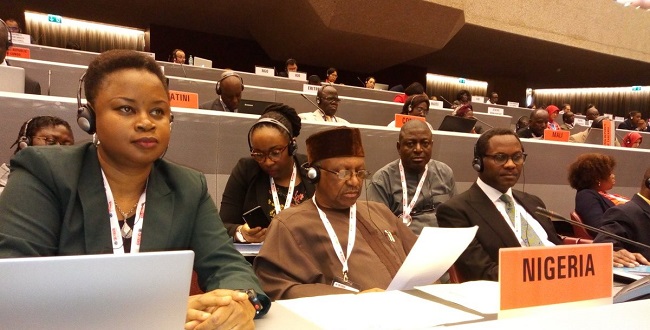 The ERA/FoEN in a statement issued in Lagos on Monday, October 15, 2018 said that, with the strong stance of the delegation throughout the talks on issues bothering on protecting the treaty from tobacco industry interference, Nigeria has taken its pride of place in the tobacco control community.
The delegation, led by Minister of State for Health, Dr. Osagie Ehanire, also had Director, Department of Public Health of the Federal Ministry of Health, Dr. Evelyn Ngige; National Coordinator of Non-Communicable Diseases, Department of Public Health, Dr. Nnenna Ezeigwe; and the Director-General of the Consumer Protection Council, Mr. Babatunde Irukera. The Nigeria Customs Service (NCS) and the Standards Organisation of Nigeria (SON) were also on the delegation.
The group stated that the Nigerian delegation was not only united in advocating that the tobacco industry be held accountable for tobacco harms but also became one of the standard bearers in ensuring that the treaty talks remained focused on stamping out loopholes that might be exploited by the tobacco industry to infiltrate country delegations.
ERA/FoEN Deputy Executive Director, Akinbode Oluwafemi, said: "The Nigerian delegation was exemplary. We anticipate that post-COP8 the federal government will move speedily to remove all the bottlenecks to effective tobacco control in the country, particularly the draft regulations for the enforcement of the National Tobacco Control Act."
Oluwafemi added that Nigeria stood solidly behind the review of the public badges policy which had hitherto been exploited by the tobacco industry to pressure delegates to take a soft stance on implementing the treaty.
"To demonstrate that heightened transparency and that no member of the Nigerian delegation had any conflict of interest that might influence their position on the treaty talks, Health Minister, Dr. Ehanire, compelled them to sign a mandatory declaration of interest form and insisted this would be the practice henceforth. This is unprecedented."
According to him, this decision drew applause from other Parties and informed the decision of non-governmental organisations under the Framework Convention Alliance to award Nigeria the orchid reserved for Parties that take courageous decisions on fully implementing the WHO-FCTC.
The ERA/FoEN boss noted that, with the strong statement in support of tobacco control that the minister made during his intervention at the treaty talks, Nigerians should expect expedited action in the processing of Nigeria's ratification of the trade protocol so that the instrument of the ratification can be deposited at the WHO.