Energy Commission of Nigeria (ECN), Frankfurt School of Finance and Management as well as United Nations Environment Programme (UNEP) are collaborating to disseminate results and knowledge learnt from the implementation of clean energy.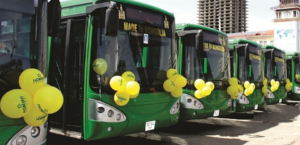 The ECN and other stakeholders brought this to the fore at a workshop on Thursday, May 11, 2023, in Abuja.
Speaking at the workshop, the acting Director-General, ECN, Mr Joseph Sunday, said Nigeria had the largest economy in Africa and the 30th largest economy in the world.
He said that this would not have been possible without the industrial sector, which this project is targeting.
Sunday said: "Among the main industrial sectors in Nigeria, the manufacturing sector is likely to have the greatest potential for clean captive power uptake.
"According to the World Bank Enterprise Surveys 2014 for Nigeria. 48.1 per cent of the enterprises in the manufacturing sector were identified electricity as a major constraint.
"Average losses due to electrical outages incurred by these firms were 18.3 per cent of annual sales.
"Only 3 – 4 per cent of the energy consumption of the Nigerian manufacturing industry comes from grid-connected electricity.
"This implies that over 95 per cent of electricity consumption of these sector come from fossil-fuel based captive power."
In his presentation, Tobias Panofen, Deputy Head, Frankfurt School – UNEP Collaboration Centre for Climate and Sustainable Energy Finance, listed four major components of the implementation on Clean Captive Installations for industrial clients in Sub-Sahara Africa.
Panofen listed the components to include baseline studies of awareness raising, economic and financial tools and assessment, realisation of one pilot project per country, knowledge dissemination and outreach accordingly.
"The experience and track record accumulated by the pilot projects will be spread at the national level, bringing clarity and visibility to the industrial sector.
"Reducing risks perceived by industrialists as well as financiers, while the market for captive installations matures and expands despite a lack of long-term financial support," he said.
In his presentation, Kumbirai Makanza, Powergen/Superpower Africa, Kenya, stated ways to surmount part of the challenges observed in the cause of the project implementation.
To do this, he said, the Corporate Power Purchase Agreements (CPPAs) and corporate lease-to-own schemes must enable end users to pay for C&I solar energy service overtime.
Makanza said this would alleviate much of the main barriers to adoption, adding that business model requires affordable capital to scale.
He said that receivable-based financing was one of the solutions on which the fund uses advanced proprietary data technology to accurately forecast the payment behaviour of existing customers.
Makanza said part of the solution-based by the company was the establishment of Ijebu Eye Hospital Pilot project in Ogun State.
He said: "'A 180kwp PV, 100KV PCS, 182kw BESS system hybrid energy was installed under a 10-year take-take-or-pay PPA contract.
"It is also used to identify and aggregate high value customers into a secure, predictable and high-performance securities."
The Project Manager, Frankfurt School of Finance and Management, Yamini Jain, said the Nigerian power sector faced many challenges.
She said some of the lessons learnt were: Strong drivers for captive solar energy system in Nigeria, Nigerian captive solar market being competitive for many commercial and industrial customers, among others.
In his goodwill message, the Principal Industrial Officer, Ministry of Industry Trade and Investment, Industrial Development Department, Mr Ike Obin, said the project would promote sustainable industrial growth.
According to him, it will also contribute to the reduction of greenhouse gas emissions in the region.
"We are committed to supporting the Energy Commission of Nigeria in its efforts to promote the adoption of clean captive installations in the region and encourage other stakeholders to join this initiative.
"We believe that this will help us achieve our common goal of building a more sustainable future for all," he said.
By Jessica Dogo