Chairman, Senate Committee on Agriculture and Rural Development, Sen. Abdullahi Adamu, says that only 40 per cent of Nigeria's arable land is under cultivation.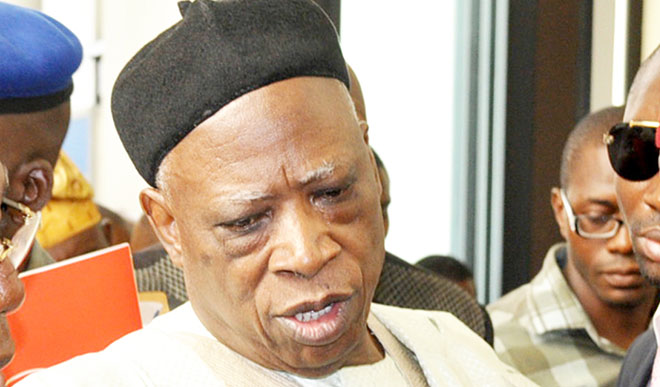 Adamu, who said this in an interview with News Agency of Nigeria (NAN) on Monday, October 23, 2017 in Abuja, called for increased investments in agriculture, as the situation had elicited serious concern.
He said that one good thing that the recent economic recession had done to Nigeria was that people from all walks of life were now going into agriculture.
On some reports that foreigners had taken over farming in the country, the senator said that the Nigerian economy was a free and open economy.
"We need large-scale farming to increase our agricultural output if we are talking about food security.
"Yes, we have been fed by peasant farmers, smallholder farmers in this country for quite a long time,'' he said.
Adamu noted that one of the reasons why the country had not been able to attain food security was because smallholder farmers had certain limitations, including how to use the little funds at their disposal in a pragmatic way.
"The smallholder farmer also has limits regarding the land he owns, how much money he requires to invest on it and the equipment he needs to some extent," he said.
Adamu said that, as a country, Nigeria had decided to transit from smallholder farming to medium or large scale farming activities.
He said that most farmers had some waiting period for them to mature, in terms of attaining all the requirements for large scale farming.
"In the interim, if foreign investors can come in, on terms that are acceptable by government through policy, there is nothing wrong with it," he said.
On reports of kidnapping of farmers in the northern part of the country, Adamu said: "I don't know if that is completely true or correct.
"I accept the fact that there has been some degree of exposure of insecurity in farms across the country.
"It is not something that is just in the northern part of Nigeria, but what I do know is that government is striving to check the development.
"I know government has taken very specific steps to combat it,'' he added.
The lawmaker said that government was deploying security outfits to farms, while that the Ministry of Interior was training young men and women to provide security in farms.
"We cannot be everywhere but at least, for a start, we cover substantially some of the farms where we know huge investments have been made, or where we know there is a menace of disruption of farm activities by these men of the terror world.
"Government is trying to make sure that the farms have some level of security. It is a national phenomenon and we are seeing it in that light: We are taking the steps that are absolutely necessary to contain the menace," he said.
While assessing the Anchor Borrowers Programme (ABP) of the Central Bank of Nigeria (CBN), Adamu said that unfortunately, the programme was not quite going round all the 36 states.
The Anchor Borrowers Programme is designed to create a linkage between companies that are involved in processing of key agricultural commodities and smallholder farmers, among other things.
Adamu said there was concentration of ABP projects in certain parts of the country, while some areas have yet to benefit from the programme.
"Like anything in the world, everything has teething problems in the beginning; we can forgive the concentration in one part of the country to the detriment of the other part.
"The good excuse we have is that the programme is just beginning and it has recorded some successes by the grace of God.
"The CBN is anchoring the ABP projects through its various intervention funds and this is doing a lot of good to us," he said.
By Naomi Sharang