For those still beclouded by their dreams, it is time to wake up from the slumber. It is no more an illusion that outburst of climate change keeps hovering over the continent and its manifestation is quite obvious and being felt across the globe. It is no longer news that the reality of climate change is staring at Africa in the face, what with different countries strategising ways to adapt to and mitigate the emerging phenomenon.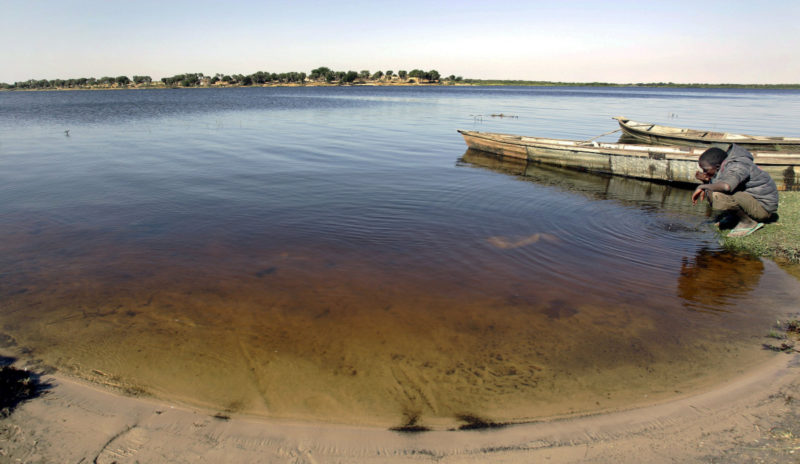 It is quite shocking and evident to note that Nigeria isn't excluded from these multifaceted climate change threats – adjudged to be deadlier than terrorism by environmental experts – which keep unfolding recurrently in diverse folds. It appears the Nigerian government is beginning to emerge from her lukewarm perception towards climate change. Some of the devastating impacts of climate change in Nigeria are increase in temperature and flooding, desertification and the perpetual shrinking of Lake Chad.
Most especially, there is wide apprehension that Lake Chad, a major source of livelihood for farmers, fishermen, and herdsmen in the extreme North Eastern part of Nigeria — strategically sharing boundaries with Chad, Cameroon, Niger and Nigeria — is fast shrinking and could soon totally fizzle out if proactive actions are not adopted.
Andrew Bomford, an investigation journalist, said in 2006: "Once, it was a huge inland sea, and just 40 years ago there was 15,000 square miles of water. Now the latest satellite pictures put it at just over 500 square miles."
My fear: that size might have further contracted.
No doubt, now that terrorism in the zone has been routed, absolute disappearance of the lake would fuel idleness, dwindle the wheel of economic growth, enhance robbery and other illicit acts that could renew crisis in the zone. However, absolute cooperation among the adjoining countries is crucially needed at this dire strait; this would play a prominent role by enhancing and fast tracking the Lake Chad resuscitation.
While receiving Director-General of UNESCO, Ms Irina Bokova, in Abuja recently, Nigerian President Muhammadu Buhari emphatically stressed the urgent need to revitalise the lake, by saying: "The failure to regenerate the Lake Chad would lead to another round of migration by people living in the area. Nigeria and other countries of the Lake Chad Basin lack the billions of dollars required to channel water from the Congo Basin into the Lake."
Implementation of this initiative is evidently hampered by Nigeria's current economic recession; knowing full well that other adjoining countries are also grappling to meet up with their wide financial obligations.
It will be recalled that revival of the shrinking lake formed a foundation of Nigeria's climate action plans – which was submitted at Paris. The pertinent question at this crucial juncture is, where does the funds come from? What are the funding options for developing countries? This has raised serious concerns and suspicion on sincerity of the developed countries who pledged towards financing climate change adaptation and mitigation in the developing countries – as unanimously promised in the 2015 Paris climate negotiations agreement.
If truly climate change impact is to be jointly tackled for optimum results, the developed countries need to synergise with developing countries towards stabilising and doing justice to the threats posed by climate change. Towards preserving the earth, this ought to the basis upon which COP21 agreements would further be consolidated – with premium emphasis on financing at the forthcoming COP22 to be held at Marrakech, Morocco in November.
By Odewale Abayomi Joseph; Climate Tracker, Nigeria; +2347068801344; @ODEWALEAbayomi)