The National Space Research and Development Agency (NASRDA) says Nigeria can generate $20 million from the launch of one satellite, if it develops its Assembly, Integration and Testing Lab (AITL).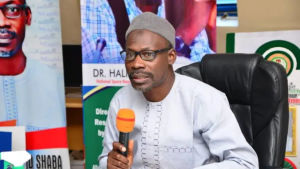 Dr Halilu Shaba, the Director-General of NASRDA, in an interview on Monday, October 2, 2023, in Abuja, said the agency was confident that the 25-year Space Policy Roadmap could be achieved.
Part of the content of the roadmap which included launching satellites into the orbit from Nigerian soil, Shaba said, was crucial to the development of Space Science and Technology.
He said that achieving such facility was a humongous project that required huge resources which their annual budgetary allocation could barely handle.
He explained that NASRDA was engaging in advocacies to local investors and other countries to see how partnerships could float the project because the government might not have the sole capacity.
"We are thinking out of the box because it can bring money and we are letting people know that this can bring money.
"The government can partner with the public on that because for you to launch any satellite, the initial deposit you give for the launch of the satellite minus the kilometres you cover is $20 million to launch one satellite.
"We are also at the equator and getting windows for launch are higher and then the distance to the orbit is shorter.
"If we can be a launching destination, it means that if we are launching 20 satellites from Nigeria every year, that gives you about $400 million,'' Shaba said.
According to him, let's start and then identify the other issues, and Nigeria will be launching destination for other African countries and the world.
The NASRDA boss further said they were talking to other countries due to their interest.
He added that they were making offers to some other countries that would want Nigeria to develop the AITL and grant them access over a period.
He said "They can come, we develop this together, we share the profit, they can launch and as well have a launch pad. Whatever option we are looking at, it has to be to the benefit of Nigeria.''
Shaba disclosed that the agency was developing on its Rocketry and Propulsion experience, although its profits were coming in trickles.
He said that the agency was exploring to engage every platform to educate Nigerians about Space Science and Technology.
Avenues being explored included expanding the scope of their social media engagements targeted at the youths and the banks for development of visibility tools, he stated.
"We are also looking at expanding broadband reach to rural areas which we got the approval from the Federal Executive Council in November 2022.
"We are already ahead with that, some of the equipment are here already and we are testing the broadband to see its speed,'' Shaba said.
According to him, when you talk of digital economy, you cannot remove satellite and we want our youths to identify with all these areas because we are open to anyone.
By Ijeoma Olorunfemi