Former Governor of Anambra State, Mr Peter Obi, has identified three things that the Federal Government must vigorously pursue if Nigeria must get out of economic recession.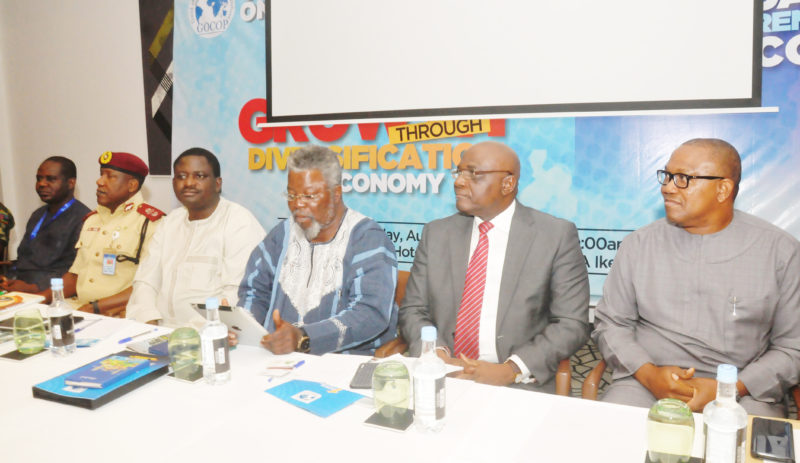 Mr Obi was a Guest Speaker at the 1st Annual Conference of the Guild of Corporate Online Publishers (GOCOP) held on Thursday, August 10, 2017 at the Renaissance Hotel, Ikeja in Lagos.
Speaking on the theme "Sustaining growth through diversification of the economy", he contended that the Nigerian economy is already diversified.
Buttressing this, the former governor said the non-oil sector is contributing about 80% to the nation's GDP, noting that the tragedy is that the oil sector however accounts for 90% of the foreign exchange earnings.
He listed three ways to put the economy back on the path of growth. According to him, government must as a matter of urgency embark on aggressive savings, diversification of the economy towards manufacturing and lastly investment in developmental education.
"Our economy is fully diversified because the non-oil sector is actually contributing about 80 per cent to our GDP today.
"But the tragedy of our economy is that 90 per cent of our export revenue is derived from just one sector – oil.
"Diversifying our economy through manufacturing and investment in education is what we require today to turn around our economy.
"And by aggressive savings we'll be able to get the resources to bring about micro economic stability to the country, defend our currency and be able to attract FDI and portfolio investments and unlock the resources to invest in our deteriorated infrastructure," Obi, who described himself as a trader and businessman, said.
Another Guest Speaker and Managing Director of the News Agency of Nigeria, NAN, Mr Bayo Onanuga, charged GOCOP to come up with code of conduct for online media practitioners.
He also charged the leadership of the Guild to pursue capacity building for members through workshops and seminars to broaden their knowledge.
The NAN MD assured that his organisation would collaborate with GOCOP in generating contents, not only text but videos and photographs.
On his part, the keynote speaker, Prof Akinyemi Onigbinde, posited that the nation needs to restructure the polity before talking about diversification of the economy.
"Let me say this, and it is with all sense of responsibility, that the proponents of this 'diversification' theory, with respect to the chronically ill Nigeria economy, are not being honest.
"Indeed, I dare say they are being mischievous, just as they insist on playing Nero as our Rome prepares to go up in flames. Truth is, for Nigeria, it may well be one-minute to midnight, if we continue to ignore the 'first principle' in nation-building.
"So, what is responsible for Nigeria's arrested development, to put it in a counter thesis to GOCOP request: Nigeria economy cannot enjoy a sustainable growth and neither can it be diversified because there is even no basis for economic growth.
"As I had earlier suggested, what economy are we to diversify? And As I had also insisted on, there can be no economy to be diversified, hence there will be no growth as to speak of 'sustainable growth.'
"But let us, however, say that Nigeria will continue to remain in a state of suspended animation, economically, so long as some sections of the Nigerian nation space feel short-changed by the Nigeria political economy, due, largely, to the operations of present structure of the Nigerian state.
"Truth is, so long as the centre holds a 'veto power' over the economic activities of Nigeria so-called federating units, so long will Nigeria manifest destiny remain dormant," Prof Onigbinde said.
Representatives of GOCOP key partners like FRSC, Mobil, NLNG, EFCC delivered goodwill messages calling for sustained relationship while the GOC 81 Division of the Nigerian Army, Major General PJ Dauke, presented a paper on counter-insurgency.
At the end of the one-day conference, the newly elected Executive Committee of GOCOP was inaugurated under the leadership of Mr Dotun Oladipo, Publisher, The Eagle Online.