It is crystal clear that the growing population, rapid urbanisation and rising standard of living have accelerated the domestic solid waste generation rate in Nigeria. The 2015 edition of the United Nations' World Population Prospect report stated that, "by 2050, the world's population growth rate will be 9.7 billion with the bulk of it coming from Africa". Nigeria being one of the 12 countries expected to account for half of the world's population increase by then must urgently start preparing for the rainy days because tomorrow can be too late to swing into action.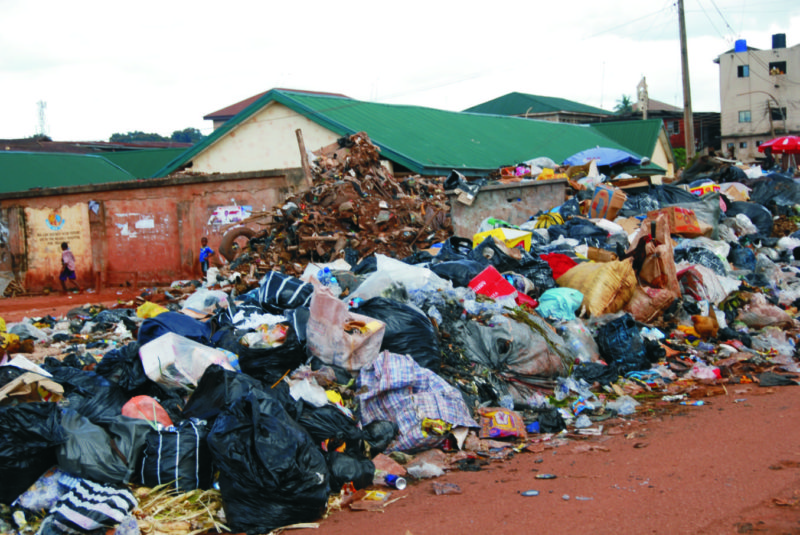 In the light of the above, one would realise that there is a direct relationship between population growth rate and waste generation – an increase in the former will proportionately lead to an increase in the latter phenomenon. Suffice it to mean that if proper measures are not taken to sustainably manage our wastes, we may wake up to the reality of seeing heaps of garbage and sewage materials everywhere. This we all know is an eyesore and detrimental to human health. It is quite unfortunate that, at this moment, there is no effective national waste management plan in Nigeria, which depicts the country's deficiency in proper waste handling.
Judging through the lackluster attitude of the government in sustainably managing solid waste in recent past, I would love to suggest six stages by which the government can improve on its effort through stakeholder involvement to enhance an enabling environment.
At first stage the government must develop a strong political will and commitment towards solid waste management, by creating the enabling laws and putting in place the necessary measures that will aid proper solid waste management. Formulating, implementing and evaluating necessary waste policies will no doubt be of benefit for the country and its people.
The movement of waste materials from generation point, towards treatment and final disposal must be of great concern. Citizens must be made to participate in the decision-making process so that they can have a sense of belonging and be part of the solution.
The second stage should look into proper waste handling awareness and sensitisation programmes, which should aim at changing the behavior of the masses on waste disposal. The government can sponsor jingles and enlightenment programmes so that the citizens will get to know that, as they are generating waste, they must also learn to separate them for easy collection. Research has also shown that family size, education and income level will determine household waste generation. Proving to us that the larger the size of your family, income rate and level of your education, the larger will be the amount of solid waste generated and vice versa.
The third stage is monitoring and catering for the collection, transfer and transportation of solid waste materials to various treatment stations. The role of the government is to position hundreds of vehicles, waste baskets and cans at strategic points with tags or imprints on them in order to separate different solid waste materials such as paper, plastic, glass, food, metals, polythene, batteries and electronics, amongst others, from mixing up and to ease disposal. However, collection of waste materials should not be limited to urban centres alone, but must also be extended to rural areas and urban slums. Public Private Participation (PPP) should be encouraged to carry out door-to-door services. Skilled workers with technical training on how to collect, manage and transport waste materials from strategic points to transfer station should have a good pay so as to encourage them and others that are interested in the job.
The fourth stage should be the construction of transfer stations, dump sites and availability of treatment materials. With the active involvement of Lagos State Government in solid waste management, it prides itself as the only state in Nigeria that has two transfer stations and the largest dumpsite in Africa known as the Olusosun dumpsite in Ojota. The Federal Government should learn from this state and make available proper sewage treatment through biological, physical and chemical processes to remove contaminants that may be detrimental to human and environmental health.
The fifth stage is turning waste to wealth through recycling and re-use of recyclables. Recycling clubs should be created in schools across the nation in order to put the spirit in young generations and, before we know it, recycling will become a way of life. Through appropriate separation of recyclables, the government and private corporations can easily turn waste to different new products that will be useful to all and help generate some money.
The sixth stage is creating market for recycled products. The government should encourage those that are into recycling business by buying and promoting their goods. By these collective efforts we can successfully achieve sustainable integrated solid waste management and have an enabling environment.
By Alabede Surajdeen (environmentalist and SDGs Advocate, alabedekayode@gmail.com, @BabsSuraj)