To fly into the Niger Delta is to marvel at seemingly endless trees. Africa's moist equatorial forest stretches from Congo to Gabon. Much is still pristine in Nigeria, the canopy closed. However, vast swathes have been despoiled by oil seepage and flaring. Joblessness and insecurity abound.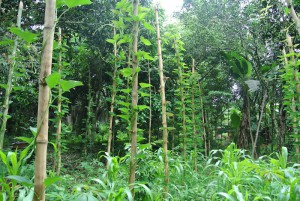 "The young boys are punching holes in the oil pipelines," exclaims Father Kevin O'Hara, who works in Bayelsa. His eyes brighten when Dr Ebenezar Asaah from the World Agroforestry Centre (ICRAF) tells him about rubber agroforestry — mixed stands of rubber, fruit trees and annual crops. "If you could offer them something to do in the way of agriculture, it would sure be fine," the priest says.
O'Hara is an activist, holding the petroleum industry and local government to account. A film of him showing the Dutch ambassador a three metre deep oil spill is on You Tube. He never goes up the creeks these days – too risky. Four days before we meet him at OXFAM Nigeria, Dutch nationals visiting a hospital are seized by armed men in a speedboat up one of the narrow waterways.
O'Hara is not the only one who wants farming to give new purpose to young men. In Delta State, Dr Suleiman Ikodo stands in a field of plantains, cassava and rubber and fruit trees. "If we improve the production base like this, Michelin and the other companies will bring back their factories, and unemployment and youth restiveness will go down," says the Rubber Research Institute of Nigeria (RRIN) scientist.
The plantains and cassava give farmer Ben Egbune income and food in the six years before the grafted rubber trees yield latex. Improved indigenous fruit trees such as African cherry and bush mango — eaten as a soup thickener by 60% of Nigerians daily — will yield early too. Egbune's 15 workers each earn $150/month plus meals. He has a nursery of 5000 rubber rootstock to which they will graft budwood. Seedlings sell for 100 Naira ($0.60) a piece.
The planting arrangement is 500 trees of rubber in lines of two with ten metres between them on a hectare. This allows 70% of the land to be used for food crops until the rubber canopy closes at six years. Even then, about 40% will still receive sufficient sun to grow food. Shade-tolerant medicinals, crops such as coco yam, and mini-livestock – snails, rabbits and bees – thrive under the rubber.
"We are not promoting rubber as such but rather the diversification of all smallholder economic crops like rubber, cocoa and coffee," says ICRAF's Dr Assah. "This is sustainable agricultural intensification and minimizes the hazards of monoculture – loss of biodiversity and build up pest and diseases."
Supported by the Common Fund for Commodities, ICRAF and RRIN have piloted rubber agroforestry in the Delta since 2009. It holds the potential to resuscitate Nigeria's rubber industry while creating jobs. Its early yielding grafted trees overcome farmer reluctance. Raised from seed, rubber would take 15 years and fruit trees about eight before producing – too long for most farmers.
The disengagement of youth comes up in every conversation. Not only do young males need work, but rubber needs them. "Those young ones who are meant to make the village lively have gone to the city or want quick money from harassing oil firms," explains Dr Ikodo.
Labour is the key limiting factor in production. "Immediately the oil boom started in the late 1970s, we started seeing a shortage. Our peasant farmers abandoned their plantations and went into non-agricultural work," says Professor Osayanmo Eguavoen, RRIN executive director.
But no one at RRIN or in government ministries in Abuja blames ordinary people. "Most farm activities are manual so there is drudgery and that discouraged them," says the professor. The Nigerian civil war (1967-70) and low prices also contributed to rubber's demise. The result is aged trees and the collapse of the value chain.
"There was even a time when farmers were cutting rubber to plant cassava," says Dr TJ Odeyemi, Director of Agriculture and Rural Development. "When we look at rubber, we can say it has suffered. We were doing well in the 1960s. But it did not receive adequate attention." Farmers once "controlled the whole activity from plantation to processing" says Eguavoen, but the smoke houses in which they hand mangled rubber sheets to sell to factories have vanished.
Forty years of neglect may be ending. Amid regret that rubber was left to flounder, there is a new zeal that is economic and political. Part is the momentum of Nigeria's Agricultural Transformation Agenda. But officials also say – we ignore rubber at our peril. "We are not taking any matter relating to rubber lightly. If we fold our arms about the Delta, what is happening in the north could happen there," says Dr JO Appanisile, director of commodities in the ministry of trade.
The French Development Agency is lending Nigeria $100 million to develop 30,000 hectares of rubber outgrower plantations in five Delta states, while ICRAF and RRIN are promoting varieties that can be harvested for timber when their latex-producing life ends. They are also training tappers —- unskilled ones can kill the tree — and installing Indian sheeting machines. "We look ahead to a time when farmers form clusters and process on the spot and take their destiny into their own hands," says RRIN director Eguoveon.
From one such cluster in Iguoriekha Farm Settlement in Edo state, a lorry is collecting "cup lumps" – latex that coagulates naturally in the cup on the tree. Large piles lie neatly on banana leaves. Young males record weights and heave basins of cup lump into the truck. Trained tapper, Oweh Goddy, 21, says he earns the equivalent of $95-200 a month, which he is saving for university.
Value addition can involve many like him. The cluster is slated to receive a sheeting machine and will build the shed to house it. Ribbed rubber sheets command a higher price than cup lump. Oil from the rubber seed can become soap, shampoo, putty, epoxy, a leather treatment and printing ink; the seed cake can be livestock feed and a soil amendment.
Rubber agroforestry can be part of the solution in one of Africa's most volatile regions; 70% of the 30 million residents of Nigeria's oil-rich Delta live in poverty – compared to 60% for the country as a whole.
By Cathy Watson (Head of Programme Development at the World Agroforestry Centre in Nairobi, Kenya)