Executive Secretary of the United Nations Framework Convention on Climate Change (UNFCCC), Patricia Espinosa, in an article she authored and published in the "Ministers Reference Book: Commonwealth 2017", says that the next two years must see major progress towards the low-carbon, sustainable development model which offers the only realistic path to security and well-being for all people.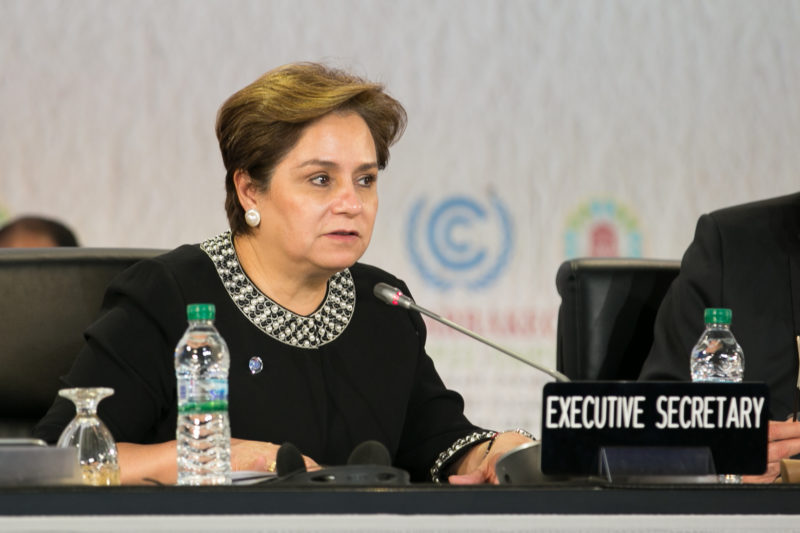 The Paris Climate Change Agreement and Sustainable Development Goals, universally agreed under the United Nations, stand as the international community's momentous commitment to turn humanity back from the cliff edge of extreme climate change and environmental collapse.
The challenge is like none that we have seen before because it encompasses every nation, every person and demands that all work together towards the common goal.
If this reads partly like an extract from the founding principles of the Commonwealth, it is meant to do so and reflects the strong lead that the Commonwealth has continued to take in pressing for the full implementation of both agreements.
Tipping Points – Right Action Now or Wait Until Too Late?
This existential, planetary-wide threat breaks down all old barriers and assumptions.
There is no safe hiding place for any country, developed or developing. The rich and secure for a while may dodge the direct impacts better than the poor and vulnerable but their ultimate fate will be the same, if we do not succeed.
The time to step up and accelerate common action on climate and sustainable development has come for two fundamental reasons.
First, and most decisively, the signals from planet Earth are telling us that the trajectory towards uncontrolled global warming is still rising.
In recent months, greenhouse gas concentrations in the atmosphere have surpassed record thresholds. The last three years in a row saw global temperatures rise to repeated record highs.
Extreme weather is hitting all parts of the world.
Seven countries in southern Africa have serious drought. In Madagascar, one million people need food support after several years of failed rains. In 2016, there were 15 weather and climate disaster events in the United States with losses exceeding $1 billion each. Middle East summer temperatures tick ever higher. A site in Kuwait hit 129.2 degrees F or 54 degrees C in July.
Second, the multiple and immediate challenges which countries now face cannot be allowed to dilute the unprecedented depth and breadth of global political will and the momentum to act by governments, cities, business and civil society that was captured in the UN climate and sustainability agreements.
In fact, it is only the very solutions to climate change and sustainable development that will ultimately reduce the rising problems which nations face today.
The benefits of this transformational change in the way humans produce and consume power and resources are widely recognised: new and stable lives and livelihoods, disappearing pollution and improving health, falling costs and quality investment returns to governments and citizens, lower levels of national insecurity.
2017 Offers Increasing Profile of Commonwealth Climate Leadership
The Commonwealth's major role as a cooperative forum of countries from all cultures and at all stages of development is brought into sharp perspective as Fiji prepares to take on the next Presidency of the annual UN climate change conference in November, in Bonn, Germany.
It is a significant reflection, for example, of the Commonwealth's reach and role that around two thirds of the Small Island Developing States in the UN are also members of the Commonwealth.
Fijian Prime Minister Josaia Voreqe Bainimarama has set out his priorities for the Presidency, calling for steeper cuts in greenhouse gas emissions and to ramp up the finance developing countries need to green their economies and build resilience to the inevitable impacts of climate change.
Small island developing states are, of course, among the most vulnerable to extreme weather and rising sea levels. Fiji only recently suffered more major flooding from severe rains.
Fiji's climate change conference presidency is an opportunity for the Commonwealth community both to highlight the urgency of climate action for the most vulnerable countries and to underline the common action that both developed and developing countries need to take together.
It is important, therefore, to emphasise how these two objectives are linked firmly under the stated principle that action on climate change encompasses every nation and demands that all work together towards the common goal.
For example, small islands have some of the most vulnerable coastlines and require urgent global climate action to stay as close as possible to the 1.5 degree Celsius limit of warming set out in the Paris Agreement as a preferred defense line against extreme climate change.
But climate science predicts that 1.5 degrees and above also threatens potentially severe damage to coastlines elsewhere, including in megacities of the world's biggest and most populated economies, from New York to Shanghai, from Rotterdam to Bangkok.
Storm and flood can turn an affluent neighborhood into a mud-soaked nightmare overnight just as easily as devastate a poor village and can bankrupt developed and developing country cities alike.
Similarly, a much faster and decisive shift of global finance flows into low-carbon solutions and resilient infrastructure is an immediate and urgent need for both the richest and poorest countries.
In this area, too, the combined expertise and experience of the Commonwealth members has much to contribute in concrete initiatives such as the Multilateral Debt Swap for Climate Action proposal, which would address both debt and climate change, and the pioneering Commonwealth Climate Finance Access Hub.
Strong Momentum Sustained So Far – Three Big Next Steps on Climate Action
It is encouraging that strong momentum has continued so far in the year after Paris.
There are three broad and interlinked avenues of effort which will get this unprecedented global job done most efficiently and quickly.
This includes national climate action by all countries across public and private sectors, intensive international cooperation and a comprehensive shift in public and private investment towards clean, renewable energy and resilient infrastructures.
Almost all countries submitted intended national climate plans in support of the Paris Agreement and almost 120 have now turned those intentions into firm plans under the Agreement – known as Nationally Determined Contributions (NDCs).
In addition, the first very long-term, emission reductions plans have started to appear, so far from Canada, France, Germany, Mexico and the US, in response to the Agreement's recognition that clarity and direction over decades is required.
These NDCs are the foundation of the Paris Agreement, the policy and investment plans for low-carbon, resilient development that go hand-in-hand with the core objectives of the Sustainable Development Goals.
It is most important that these blueprints are translated into cross-government policies and investment strategies that readily attract the resources and funding necessary to enable countries to reach the goals they have set for themselves.
It is in this way that NDCs can also provide a myriad of business opportunities – opportunities that revolve around every economic sector and every walk of life.
Meanwhile, global finance flows for climate action continue to rise and should reasonably soon reach one trillion dollars per year. More is needed and soon.
For example, China has recently said it will invest the equivalent of about $360 billion into renewable power by 2020, creating over 13 million jobs. This starts to approach the scale and speed of effort required.
Bloomberg New Energy Finance has reported that global clean energy investment fell 18% in dollar terms in 2016. One of the reasons is good: the cost of solar power continued to fall. It is also true that fossil fuel prices are at par or are higher than renewables in many markets.
But the reversal in trend is not. Emissions must peak soon and be rapidly decreasing by 2030 to have a chance of meeting the Paris temperature goals. Government policy retains a commanding influence over energy prices and it is essential that renewables are allowed a level playing field.
Removing all fossil fuel subsidies and requiring pollution costs to be fully factored into government, business and investment accounting are non-negotiable demands, if atmospheric concentrations of greenhouse gases are to fall fast enough.
Good news, therefore, that last December's climate change conference in Marrakech, Morocco, highlighted the growing alignment of government, private sector and civic climate action.
For example, a club of subnational governments, the Under2 Coalition, who have committed to reduce their emissions by at least 80 percent by 2050, announced their membership has grown to 165. It represents a third of the global economy and a population of around one billion people across North America, Europe, Latin America, Africa and Asia.
The Climate Vulnerable Forum of over 40 nations issued a Marrakech Vision committing themselves to ambitious aims, including 100% renewable energy between 2030 and 2050.
The international climate change negotiations under the UN also have a most important objective to deliver the rule book of the Paris Agreement, which is essentially the operating manual to deliver a transparent global accounting of emissions reductions, provision of climate finance, technology development and transfer, and adaptation needs.
Governments have indicated a fast track date of 2018 for completion of this rule book.
The details of the task are complex but the principle is simple: transparency builds trust that countries are delivering on their pledges which, in turn, generate the confidence for all countries to increase their own action on climate change to the best of their abilities.
Across each of these three avenues of effort – national plans, finance and international negotiations – I look forward this year to the continued support, expertise and commitment of the Commonwealth to help sustain high momentum and achieve long-term success.
The world wrote down the directions to a future of peace and well-being for all peoples in the words of the Paris Agreement and the Sustainable Development Goals. The destination is decades away, but only by speeding up now will nations reach it together.