The World Bank-Assisted Nigeria Erosion and Watershed Management Project (NEWMAP) in Edo State said on Friday, January 20, 2023, that it completed 15 major flood and gully erosion sites projects in the state.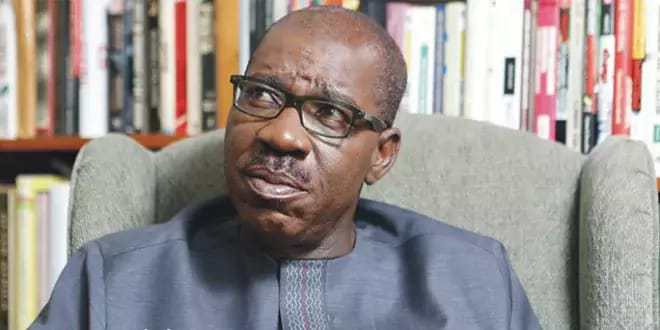 Managing Director, Edo NEWMAP, Dr Tom Obaseki, made this known during the inauguration of the Edo State Flood Erosion and Watershed Management Agency (EdoFEWMA) in Benin City, the state capital.
The inauguration of EdoFEWMA followed the winding down of NEWMAP erosion intervention programme in Nigeria.
Obaseki listed the benefitting communities across the three senatorial districts to include Gapiona, Oshiobgie-Auchi, Iguosa, Ekehuan, Urora, Fugar-Agenebode and Ewu.
Others are Emu, Ibore Emu-Ohordua, Ogiso, and Queen Ede.
He noted that, as part of the programme, Edo government constructed over 40km of secondary drains to check flooding and over 400km others through ministries and agencies.
The managing director added that the state government also constructed over 14 km primary storm water culvert drains and over four km earth storm water channels.
He commended Gov. Godwin Obaseki for prompt payment of the state's counterpart funds for the projects and efficient monitoring of the projects.
He noted that Edo came top in the execution of NEWMAP project, adding that while other states accounted for 4.2 per cent success in project execution, Edo accounted for 17 percent.
In his address, the governor attributed the erosion and flooding problems in the state to poor environmental management and decrease in forest areas
"As you know, due to neglect of our environment over the years, we are now witnessing many challenges that we did not see before, particularly gully erosion.
"The way we have lived in the last 20 years or more, I do not think we should continue that way. We behave as if our environment does not matter and nobody cares about land management.
"Communities sell land and do not care about planning. People build where they should not and the water that should flow through a natural path do not have a way to go through.
"Over the last 10 years, we have spent over 150 million dollars trying to repair what we have damaged ourselves," he said
According to governor, on inception of the programme the world bank made some money available through the Federal Government to states as soft loans.
"It will be paid back after 20 years at a very low interest rate of less than one per cent.
"State governments add their counterpart funding to the fund, identify communities that have serious ecological and environmental challenges and help them solve the problems," the governor said.
Obaseki gave the assurance that the new flood control agency would continue from where NEWMAP stopped to help the state with environmental sustainability and erosion control.
By Nefishetu Yakubu