The newly appointed Director General/CEO, National Biosafety Management Agency (NBMA), Dr. Agnes Yemisi Asagbra, has stressed the need to improve on the legacies of the outgoing DG/CEO, Dr. Rufus Ebegba.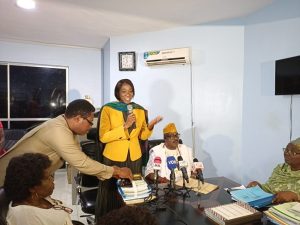 She stated this during the handover ceremony at NBMA Headquarters, Abuja, on Tuesday, May 2, 2023. The incoming DG/CEO applauded the outgoing DG for so much he had achieved within the last eight years and promised to sustain those legacies.
Dr. Asagbra said: "I am glad for the level of achievements and works you have done.
"You have truly laid a solid foundation for the protection of human health and environment from adverse impacts of modern biotechnology activities and their products.
"I will consolidate on all you have put in place. Under my watch as DG/CEO NBMA and with the power vested on the agency, I will resist every action contravening the NBMA Act. Let me make it known that it is only GMOs confirmed safe will be permitted in Nigeria.
"The goal of government establishing NBMA must be achieved; we must put all hands on deck. We will continue to protect the environment and human health while using cutting edge technology to boost the nation's economy."
She expressed belief in the capacity of the staff and promised to continue improving their skills by organizing more trainings and workshops.
"I have no doubt in the competence of the staff of the Agency. Your works speak volumes; the legal instruments, policy and guidelines developed over the last few years of existence reveals the unflinching determination of the management."
Dr. Asagbra also solicited support from the staff of the NBMA in order to enable discharge her duties accordingly.
She said: "I can't do it on my own, we have to do it together and, together, we will take NBMA to greater heights."
She assured the staff that she would always operate an open-door policy so that as a team they can lift the Agency to attain giant strides.
The outgoing DG/CEO, Dr. Rufus Ebegba, in a statement, revealed how fulfilled he was having put in the very best he could to bring to the present taste the state of biosafety and biosecurity in Nigeria; am proud of my staff.
"I called them colleagues as every one of them have been instrumental to the development of our national policy, guidelines and all other documents in relation to the protection of human health and environment from adverse impacts of modern biotechnology activities."
The handover ceremony had in attendance the incoming DG/CEO, the outgoing DG/CEO and all heads of departments and units and the newly appointed DG/CEO resumed work immediately by going round the offices to get herself acquainted with staff of the agency.