The Climate Change Summit has come and gone. The Summit was able to galvanise international action on climate change.
The UN Secretary-General, Ban Ki-Moon, told the gathering of over 120 world leaders who gathered in New York City that it has been a success. He said that event was a great and historic one, which never before had so many leaders gathered to commit to action on climate change.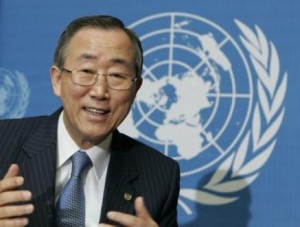 The uniqueness of the summit is that the private sector and the civil society joined in ensuring that climate change is put at the centre stage of global discourse. It has also been said that climate change is another global terror that must be urgently addressed.
The Summit saw the launching of dozens of new initiatives including:
Commitments by the worldwide financial sector to mobilise $200billon for climate change in the developing countries.
Governments partnering with oil and gas industry to reduce methane emissions.
Commitment to halve deforestation by2020 and eradicate it fully the following decade.
A number of network initiatives by various countries and organisations.
The Summit participants were hopeful that the global Climate Conference in Paris in 2015 would agree to a binding climate deal. Ki-Moon's post-summit comment gave hope to our future world. Let us look back on today as the day we decided – as a human family – to put our house in order to make it liveable for future generations.
The Summit in New York also witnessed other activities including the formation of Global Alliance for Agriculture of which Nigeria is actively involved.
The Summit has shown that the world can rise to what we can call a Climate Challenge.
By Prince Lekan Fadina (Centre for Investment, Sustainable Development, Management & Environment)