The new Director General of the National Biotechnology Development Agency (NABDA), Prof Abdullahi Mustapha, has tasked coordinators of the agency's Bioresources Development Centres (BDCs) to ensure realisation of their mandates.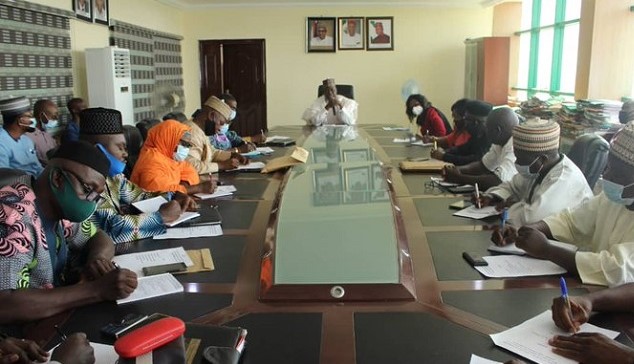 Mustapha, who gave the charge at an interactive meeting and familiarisation with the coordinators on Monday, Janauary 18, 2021 in Abuja, added that every BDC should have a bearing and focus, for a clear direction to achieving its mandate.
He disclosed that each centre must, therefore, have annual Work Plans and programmes, which shall be documented and published in an official journal of the agency.
The new NABDA boss said that this decision was informed by the need to stimulate hardwork and help to bring out the best in each of the BDCs.
According to him, whatever any centre is able to achieve every year, will "bring out the beauty'' of that centre and so BDCs should seek to blow their own trumpet through hard work, planning and commitment, provable through the internal official journal.
The director general, who emphasised on research as indispensable to problem solving, said every centre must engage in research that seeks to solve a particular challenging problem.
"A scientific institution is supposed to carry out research, analyse that research and bring out the output of that research for the main agency.
"This subsequently will be forwarded to the government as a guide to improving the wellbeing of citizens.
"We are a scientific institution and the result of our output will enable government, to be well positioned, so that our economy can be improved,'' Abdullahi said.
He further said that this explained why the BDCs were formed and that it was only through this that any centre would proudly boast of fulfilling its mandate.
Mustapha also tasked the centres on oil exploration areas, to work on biomediation and carry out research to bring out biomarkers with which to trace oil theft in Nigeria.
He admonished the centres to write good proposals which shall counter oil theft and also develop biomarkers in the Nigerian oiI industry, so as to provide, solutions to biomediation by which environmental clearing of the oil producing areas would be developed.
"I want to see these plans kick off,'' Mustapha told the coordinators.
Similarly, he tasked centres located in the northern states, to look into how to counter Sahara Desert encroachment, because it is an area worth looking into by the coordinators using their initiatives, as it would bring changes to the areas they are located.
The NABDA DG said the BDCs must be innovative and stop worrying about funding, because it could come from anywhere, not necessarily from the government, but most especially from research grants, which could easily be sourced from international organisations.
"The international organisations are very willing to collaborate with Nigeria,'' he said.
Mustapha stressed on capacity building and development, as well as collaboration between centres.
"I  want to see results coming out from the centres, and  I also need creativity, something that is new not copied from somewhere, original scientific findings,'' he said.
By Sylvester Thompson