The Summary for Policymakers for the upcoming IPCC Synthesis Report, under the current Sixth Assessment Cycle, will be approved by governments between March 13 and 19, 2023, in Interlaken, Switzerland, and the full report published on March 20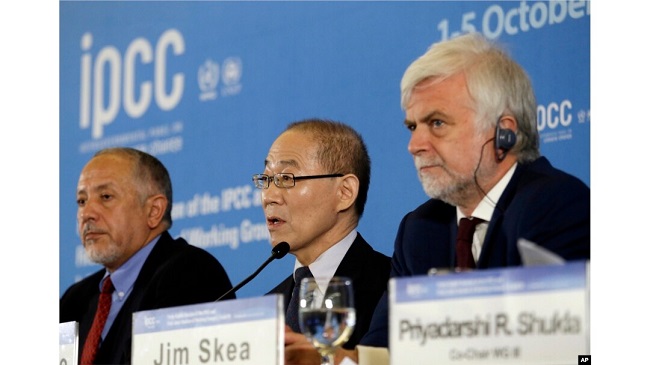 The Intergovernmental Panel on Climate Change (IPCC) Synthesis Report under the Sixth Assessment Cycle will be released on March 20 following negotiations by governments on the "Summary for Policymakers".
The report will gather and distil scientific evidence from the IPCC working group reports and special reports published between 2018 and 2022. It will be the last such report from the IPCC in this cycle until further reports are published under the next assessment cycle, which could be only in 2027 or 2028.
Culminating with this Synthesis Report, the science from the IPCC is crucial evidence to governments for this decade on the current state of the climate crisis. It must serve as a warning to polluters that their time is up.
The window of time to keep global temperatures below 1.5ºC is fast closing in. Current climate targets put the world on a 2.8ºC pathway by 2100. A rapid equitable fossil fuel phase out must be top priority for all governments while scaling up investments in renewables and energy efficiency measures. Wealthy nations must substantially increase their international climate finance based on their fair share.
Past reports under this assessment cycle have underlined the dire situation and stated unequivocally that greenhouse gases – from the reliance on fossil fuels, industrialisation and land-use – is driving up emissions and causing unprecedented levels of global heating.
Human actions have caused the last decade to be the warmest decade in the last 125,000 years. Sharpening inequities show that the richest 10% of households contribute about 36%-45% of global greenhouse gas emissions.
Communities in many vulnerable regions will experience the limits of adaptation even before 1.5ºC warming and sea-level rise poses an existential threat to some small islands and low-lying coastal areas. Nearly 3.6 billion people worldwide are now climate vulnerable.
Concerned civil society representatives have been expressing their views over the development.
Stephan Singer, Senior Global Specialist on Climate Science and Energy, Climate Action Network International, and Head of Delegation for CAN at IPCC, said: "The forthcoming IPCC report will present a sobering read of the current state of the climate crisis, but we know the solutions are on hand. This report should mobilise governments to envision and act towards transitioning into a fully renewable-energy powered society supported by strong energy efficiency measures, based on principles of justice and the protection of human rights.
"Investing in renewables means rapidly divesting from fossil fuels and nuclear energies and phasing them out by mid-century to ensure the least damaging pathway towards climate stability. The IPCC Synthesis Report must reiterate its recent findings that renewable energy, particularly solar and wind, are technologically, financially and economically the key means to fight climate change."
Harjeet Singh, Head of Global Political Strategy, Climate Action Network International: "Fossil fuels are driving up greenhouse gas emissions and causing unprecedented levels of global heating. The forthcoming IPCC report will shine a harsh spotlight on the fossil fuel industry through laying out the scientific evidence – highlighting its role in the current climate crisis. Previous reports showed the last decade was the warmest in 125,000 years and extreme weather is 15 times more likely to kill people in vulnerable regions.
"The question is: what will governments do with these facts? We demand a rapid and equitable phase out of all fossil fuels based on just transitions and scaling up finance for communities who are reaching the limits of adaptation and suffering the consequences of loss and damage."
Dr Stephanie Roe, WWF Global Climate and Energy Lead Scientist and Lead Author on IPCC Working Group III report on mitigation: "Distilling more than 10,000 pages of climate science from the three Working Group and three Special Reports, the IPCC Synthesis Report will present the most integrated and accessible assessment of climate change drivers, impacts, and mitigation and adaptation solutions in a decade. The evidence shows we are not yet doing enough to respond to this crisis. With current emissions still at their highest level in human history, we are way off course, and the window to limit warming to 1.5ºC is rapidly closing.
"The science also clearly shows that we have the solutions within our grasp. In some cases, we have started to implement these solutions, with various countries already achieving sustained emissions reductions, but action is not yet at the scale or speed we need. The sooner and more decisively we act, the sooner people and nature can reap the benefits of a cleaner, safer and more stable future."
Dr Stephen Cornelius, Global Deputy Lead for Climate and Energy, WWF: "Leaders must heed the science and act immediately with the pace and scale necessary to decarbonise our economies in time. The clock is ticking, and we are running out of time, and no countries are yet on track for a 1.5ºC pathway. An accelerated phase-out of fossil fuels is needed to limit global warming to below 1.5ºC and avoid the worst climate change risks. Nature is our secret ally in the fight against climate change.
"Natural systems have absorbed 54% of human-related carbon dioxide emissions over the past decade and have slowed global warming and helped protect humanity from much more severe climate change risks. We can't hope to limit warming to 1.5°C, adapt to climate change and save lives and livelihoods, unless we also act urgently to safeguard and restore nature. Nature is a non-negotiable part of the solution to the climate crisis."
Teresa Anderson, Global Lead on Climate Justice, ActionAid International: "The new IPCC report needs to be the trigger that moves the world from grudging acknowledgement to rapid action on climate change. Current climate impacts are already far worse than the last major IPCC synthesis report predicted just nine years ago.
"There is a flood of evidence that weather patterns around the world are going completely haywire, and that it is the poorest people who have done the least to cause the climate crisis who are suffering the most from droughts, floods, cyclones and rising sea levels.
"The report must send a clear message to the UN that it needs to make good on last year's historic decision at COP27 to create a new fund to help communities affected by climate-induced loss and damage. Furthermore, the IPCC must give unequivocal notice that any more delays in ending our fossil fuel addiction will drive our planet off the cliff. For too many years, the elusive promises of technofixes or carbon offsets have allowed the biggest polluters to string us all along. Enough is enough. The report needs to provide real clarity and courage for policy makers to finally take decisive action."
May Boeve, Executive Director, 350.org: "There are reasons to be hopeful, investment into renewable energy is at an all-time high, but the reality is that powering up on renewables will only have an impact if we power down fossil fuels. We can add as much renewable energy capacity as we like to the mix – but if we're not eliminating emissions that come from fossil fuel use, we're not getting anywhere. This report urgently demands a just transition away from fossil fuels and into publicly and community-centred renewable energy and it demands it at the speed and scale that the climate crisis demands."
Shaye Wolf, Climate Science Director, Centre for Biological Diversity: "This must be the last climate report that's met with consternation instead of action on fossil fuels. It's gut-wrenching to watch this planetary nightmare of climate disasters, mass displacements and wildlife extinctions unfold while President Biden backs more drilling, pipelines and fossil fuel exports. We have an abundance of alarming information. What we need is the political will to not just ramp up renewables, but finally break us free from deadly fossil fuels."
Lili Fuhr, Deputy Director, Climate and Energy Programme, Centre for International Environmental Law (CIEL): "The science is crystal clear: A rapid fossil fuel phaseout and rollout of renewable energies alongside energy efficiency and demand-side measures remain the most straightforward and most certain path to climate justice. Overshooting the 1.5°C limit, even temporarily, would bring catastrophic and irreversible impacts and must be avoided.
"We cannot 'fix the climate' if we fail to act on these clear messages today: the IPCC warns against relying on technofixes like carbon capture and storage and carbon removal technologies that are largely speculative, mostly ineffective, highly risky, and bring novel harms to communities and ecosystems. We need real climate action now; there is no time to waste with false solutions."
Kaisa Kosonen, Senior Policy Advisor, Greenpeace Nordic and Greenpeace IPCC Focal Point: "This is massive! A historical moment. It's been seven years since the Paris Agreement was signed and now the world's leading scientists are about to deliver their verdict on how governments have held up their end of the bargain. It's going to be sobering but the wake-up call needed to urgently correct our course."
"We're already in a deep mess, having triggered further irreversible impacts. But the report will also highlight the solutions we now have at a scale and affordability we've never had before. It's a watershed moment. Scientists will deliver their rescue plan in bold letters and colourful warning signs, line by line, and no government can claim they didn't get the memo."
Glen Klatovsky, CEO, Climate Action Network Australia: "It is at moments like this that we get a wakeup call, that urgency is required and there is no time left for stalling or back-sliding. In Australia we have an important role as one of the world's largest users and exporters of fossil fuels. Our nation has been heavily impacted by climate change and this will only accelerate. These impacts hurt our most vulnerable communities. We need the Australian government to lead on climate justice and we hope this new report will continue to galvanise the Australian public's demands for climate action."
Tzeporah Berman, Chair of the Fossil Fuel Non-Proliferation Treaty: "Millions of people are losing their homes and even their lives because of our continued expansion of oil, gas and coal. Our governments must stop pretending that we can ensure public safety and keep expanding fossil fuels. They must stop giving taxpayers dollars to big oil and gas companies who are making record profits. This IPCC report will show our house is on fire, so it is high time for governments to stand up to the oil and gas companies in order to stop throwing gas in the fire. This is why thousands of scientists have joined the call to governments for a Fossil Fuel Non-Proliferation to compliment the Paris Agreement."
Romain Ioualalen, Global Policy Campaign Manager, Oil Change International: "The forthcoming IPCC report will be yet another indictment of the failure of world leaders to confront the core driver of the climate crisis: the fossil fuel industry. If leaders were serious, they would be forcing the fossil fuel industry to wind down its polluting assets and taxing its obscene profits to invest in clean and affordable energy for all. We are likely to hear a raft of speeches about the climate emergency, including from the COP28 Presidency, but those words are meaningless if fossil fuel expansion continues unchecked, emissions keep rising, and climate impacts on the world's most vulnerable populations escalate. We need governments to step up and agree to phase out fossil fuels at this year's COP. Delays and industry propaganda are simply not viable options; we must act now for the sake of people and the planet."
Nathalie Rengifo Alvarez, Latin America Climate Campaign Director, Corporate Accountability: "Just look at the full report. The science and urgency will be unequivocal and deeply disturbing. It will paint a clear picture of what is needed. A swift and just transition to renewables. Fossil fuels need to stay in the ground. Emissions need to be rapidly cut to Real Zero. But the summary for policymakers will likely, as usual, read as though we are living on another planet.
"The fingerprints of major polluters will be all over the recommendations for action. They'll read as though we haven't already crossed devastating and deadly thresholds for life on Earth. This disconnect is intolerable and needs to be remedied by an immediate reset of the system that brought us here and by kicking big polluters out of climate policy."
Ellie Cohen, CEO, The Climate Centre: "This report once again states – in dire terms – what world leaders have known for a long time. The climate crisis is here, it's deadly, and it's driven by fossil fuels. The good news is that we also have the solutions at hand to build a world beyond oil, gas, and coal. In places like California and around the globe, we have the technology and the know-how to build an equitable, clean energy economy. The only thing holding us back is political will."
Ilyess El Kortbi, Ukrainian Spokesperson and co-organiser, Fridays for Future: "As a Ukrainian climate activist, I have seen first-hand the devastating impacts of fossil fuel dependence on my country and its people. Each year millions of people die from the climate crisis. The latest IPCC report leaves no doubt that we must rapidly and equitably phase out all fossil fuels to keep ourselves on a safe target of 1.5C compared to preindustrial levels. We need to stop relying on unproven, unscalable technologies as a substitute for real solutions. We must divest from fossil fuels and invest in renewable energies to break free from the grip of foreign powers."
Caroline Brouillette, Acting Executive Director, Climate Action Network – Réseau Action Climat, Canada: "Climate change is hurting people here and now, with the people who have contributed least to the crisis facing its worst impacts. Floods, heatwaves, wildfires and disastrous storms will continue to become more frequent and more extreme unless we take rapid action to phase out fossil fuels and phase in renewable energy. The question is: will this new IPCC report be the alarm bell that rouses our political leaders into finally standing up to fossil fuel interests?
"Countries like Canada, which have a historical responsibility and the resources to act, must move first, with real emissions cuts rather than reliance on unproven and costly technologies. The transition to a climate-safe future can bring serious co-benefits for our health, communities, economy and well-being – but we need to act now."
Mark Dia, Global Programme Director, Animals in Farming, World Animal Protection: "The IPCC AR6 Synthesis Report should serve as a dire warning to governments worldwide to take bold and swift action to address the pressing issue of emissions from our food systems. The harm industrial animal agriculture inflicts on our health and environment, as well as the cruelty to farmed and wild animals cannot be ignored any longer.
"We must embrace transformative solutions across all sectors to avoid the worst climate impacts. This is not optional. The time for action is now if we are to stand any chance of safeguarding the future of our planet and the well-being of future generations of people and animals."
Chiara Liguori, Climate Justice Adviser, Amnesty International: "This report will be yet another confirmation of the loss and damage that states' insufficient climate action has already produced and the threats that lie ahead if governments don't change course. They have no more excuses. States must adopt, in consultation with affected groups, urgent policy and legal changes to rapidly phase out fossil fuels and carry out a rapid energy transition in a way that reverses discrimination, oppression and inequality and protects and advances the rights of workers, communities reliant on fossil fuel-based economies, Indigenous Peoples and others whose human rights are at risk.
"Wealthy states must significantly increase their contribution to international climate finance, including significant resources towards adaptation and loss and damage faced by affected people in lower-income countries. For every single day in which states postpone or avoid action – or even worse take backwards steps – they take the conscious decision to deny people's human rights."
Yolande Wright, Global Director Child Poverty, Climate and Urban, Save the Children International: "The forthcoming IPCC report shows that urgent action is needed to limit warming to a maximum of 1.5°C. World leaders must make clear commitments to rapidly phase out the use and subsidy of fossil fuels. The world's 2.4 billion children are already bearing the brunt of the climate crisis – with those suffering from inequality and discrimination hit first and worst. We need children's rights and voices recognised at all levels in decisions and negotiations around climate finance, adaptation, and loss and damage. We must act on this evidence with courage and urgency – as if our children's lives depend on it – because they genuinely do."
Manfred Treber, Senior Adviser Climate/Transport, Germanwatch: "As we know from IPCC as the most authoritative scientific body on climate change the coming Synthesis Report summarises best available science in a conservative wording – as all Parties have to agree. We learn that now we are in a situation that only immediate effective mitigation action can prevent us to overshoot 1.5 degrees warming.
"Despite its strengths in providing a multiplicity of proposals to mitigate climate emission we have to state that the language of the AR6-Synthesis Report is not clear enough that there is a need for a Great Transformation in nearly every sector to avoid higher global warming than 1.5 degrees – incremental change is by far not enough."