Indigenous and local community women leaders from Africa, Asia, and North and South America gather in Brazzaville to strengthen the global solidarity movement for women-led initiatives to protect biodiversity and build climate resilience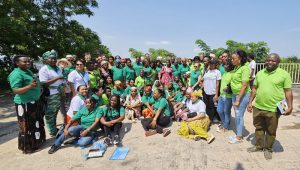 More than 200 participants from 20 countries gathered in Brazzaville, Republic of Congo (RoC) last week for the First Forum of Indigenous and Local Community Women in Central Africa and the Congo Basin.
The forum was organised by the Network of Indigenous Peoples and Local Communities for the Sustainable Management of Central African Forest Ecosystems (REPALEAC) with support from the Rights and Resources Initiative (RRI) and the Central African Forest Commission (COMIFAC) under the patronage of RoC's Minister of Justice, Human Rights and the Promotion of Indigenous Peoples.
Strengthening women-led conservation and climate resilience initiatives in Central Africa
Rosalie Matondo, the Minister of Forest Economy of RoC, chaired the event and welcomed donors, ministers, representatives from non-governmental organisations, and Indigenous and local community women to share experiences and learn how to scale up direct funding for women-led initiatives in Central Africa.
"We hope this is just the beginning of a very long partnership," said Rosalie Matondo at the opening ceremony.
The Congo Basin's ecosystem in Central Africa is the world's second lung after the Amazon rainforest, home to extraordinary biodiversity of crucial importance to global climate goals.
Aissatou Aissatou Oumarou, Mbororo leader from Chad, vice-coordinator of REPALEAC at the sub-regional level, and president of the forum, said: "We, as Indigenous Peoples, always live in harmony with nature: animals, plants, and people. Now, we are coming together as women and Guardians of Mother Earth to build our own road."
Dr. Solange Bandiaky-Badji, Coordinator of RRI's global coalition of Indigenous Peoples, Afro-descendant Peoples, and local communities said in her opening remarks: "We are here today because for too long, the incredible contributions of Indigenous and local community women for the protection and management of natural ecosystems in Central Africa and the Congo Basin have not received the attention they deserve. REPALEAC and RRI are committed to ensuring that this forum leads to concrete actions with an implementable roadmap."
Cécile Ndjebet, President of the African Women's Network for Community Management (REFACOF) said: "We don't need to prove Indigenous and community women's role in restoring and protecting nature; the evidence is already there. What we need now is to ensure that these women have direct access to conservation funds."
New Indigenous-led support mechanism for women and girls
The women of Central Africa and the Congo Basin worked together to build their own roadmap and Declaration that clearly expressed what they want and need to be able to continue protecting Earth's most biodiverse landscapes.
They also agreed to develop a new Indigenous-led funding mechanism to help donors channel this support directly to the region's women and girls.
They identified four priority areas through consensus decision-making:
Strengthen the technical and institutional capacities of grassroots organizations, associations, and networks of Indigenous and local community women;
Facilitate access to direct funding for organisations led by Indigenous and local community women;
Support women and girls' economic activities in the context of climate resilience and "do no harm" philosophy to protect the forests and landscapes of Central Africa and the Congo Basin; and
Monitor and evaluate progress toward the implementation of the roadmap, and share lessons learned.
Participants appointed Casey Box, Director of Global Strategy at the Christensen Fund, and Solange Bandiaky-Badji, Coordinator of the Rights and Resources Initiative, as mediators to mobilize funds and monitor the progress of donor commitments to support REPALEAC's implementation of the forum's roadmap in Central Africa.
"Communities can expect that donors will hear their voices, take the outcomes of their roadmap and declaration, and send them worldwide," said Casey Box. "We are committed to being open liaisons to support their mission and help bring more attention to their issues and needs."
This Indigenous-led mechanism, which will be overseen by REPALEAC in alignment with its 2018–2025 strategic plan, will empower Indigenous and local community women in Central Africa to make their own decisions about where and to whom funds go.
"There is incredible capacity in the room today. It is time donors also build capacity and start putting people, especially women and girls, first," said Casey Box during the closing ceremony.
International solidarity and knowledge exchange strengthens movement
In the spirit of global solidarity and knowledge exchange, members of the Women in Global South Alliance for Tenure and Climate (WiGSA), a new advocacy network of Indigenous, Afro-descendant, and local community women launched at CoP27 last year, and the Global Alliance of Territorial Communities (GATC) were invited to share lived experiences and lessons learned from around the world.
"We are here to learn from each other, for each other, and for our Mother Earth. We are not divided, but united," said Jenifer Lasimbang, an Indigenous delegate from Malaysia who previously served as State Assistant Minister of Education and Innovation.
Sara Omi, Embera leader from Panama, President of the Mesoamerican Territorial Women Leader Coordination, and member of GATC, said: "This forum has been essential to connect with Indigenous and local women across the world, to understand their needs, and to learn about their processes of resistance and struggle."
On the last day of the forum, dialogue between international donors and participants led to several commitments to help further just and equitable development for women and girls in the region.
The second Forum of Indigenous and Local Community Women of Central Africa and the Congo Basin will be held in 2024 to take stock of funds committed and progress made on implementing the roadmap to continue strengthening women's engagement in biodiversity conservation and climate resilience.