A new network of African journalists working for major media in four key elephant range countries will increase conservation coverage on the continent, and amplify African voices in the international debate about wildlife protection.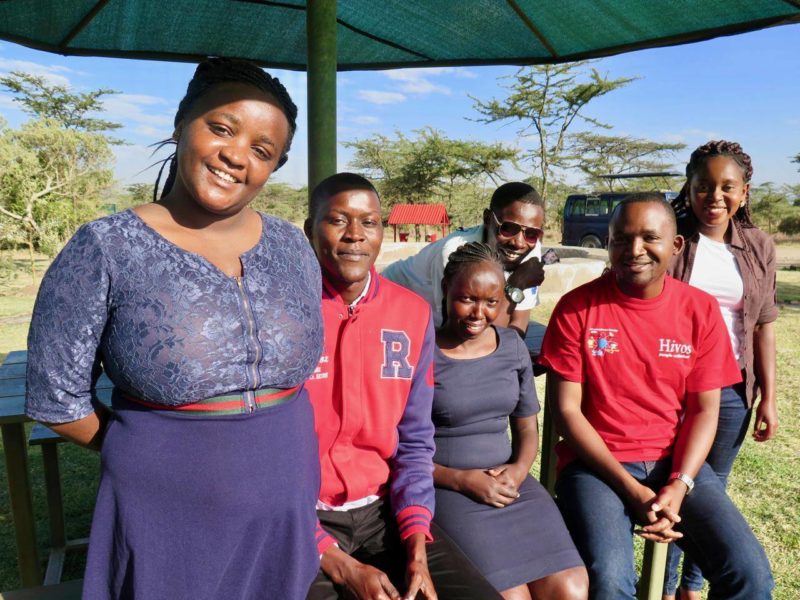 The Giants Club African Conservation Journalism Fellowships gathers professional reporters in Botswana, Gabon, Kenya and Uganda, which together hold more than half of Africa's remaining 415,000 elephants.
Coverage of conservation issues in African media is increasingly frequent, and increasingly comprehensive. The Fellowships are designed to accelerate that trend.
There is a growing editorial appreciation in Africa that "conservation" stories encompass more than reporting on endangered wildlife. This is an emerging sector earning Africa significant international attention, which has huge potential economic, environmental and social advantages.
But "conservation" is also an issue riven with misunderstandings, poorly understood nuances, and conflicts.
As Africa's population doubles in the coming 30 years, public pressure will increase for land to be used for farming or human settlement. In that context, protecting habitats for wildlife can be interpreted as wasteful.
But bringing meaningful international investment from businesses like renewable energy or eco-tourism means that land can earn local people and national exchequers significantly greater dividends than, for example, subsistence farming.
That is what the organisation that I work for, Space for Giants, believes and aims to achieve.
It does so by facilitating the deals that bring investment to these landscapes, and by securing their assets – wildlife, and natural habitats – by working to thwart poachers and reduce the costs to local people of living alongside wildlife.
With assets safe, more investment comes, and more dividends flow.
What does all this have to do with journalism? I'm a former reporter. For more than a decade I was the Daily Telegraph's correspondent based in Nairobi.
I believe that news stories that give facts and present others' experiences accurately are the best way to inform people about any issue. Then their choices about where they stand on that issue are built on the strongest foundations.
I'm now Communications Director for Space for Giants. It is to the organisation's credit that it recognises it can achieve its vision of a secure future for elephants and their landscapes forever not only by training intelligence-led anti-poaching units, strengthening poaching prosecutions, or building fences to keep farmers' crops safe.
It can also do so by helping to accelerate the growth of strong, independent, science-led journalism about conservation issues across Africa. That's where the Giants Club African Conservation Journalism Fellowships come in.
Already, the first six of what will become 24 Fellows have joined the programme, from Kenya. They are Jeckonia Otieno of The Standard, Evelyn Makena of People Daily, Janet Murikira of Baraka FM, Dan Kaburu of K24-TV, Caroline Chebet of The Standard, and Collins Omulo of the Daily Nation.
The programme will soon expand to Botswana, Uganda and Gabon, three of the eight countries in Africa where Space for Giants now operates. In total, we are aiming for 24 Fellows in the first year.
The Fellows will continue to work for their newspapers, and television and radio stations, with a renewed focus on tracking down and covering more conservation stories.
I will help to connect them to new contacts to provide context and information for their reporting, and encourage greater discussions around topics among African audiences. Anyone working in that sphere can contact Space for Giants to be put directly in touch with the Fellows.
But I believe we also need more African voices heard in global discussions about conservation, especially about protecting Africa's wildlife and wild spaces.
That's why you're reading this. And it's why on the Giants Club pages of independent.co.uk you will soon be seeing regular news and features directly reproduced here from the Fellows' reporting in Africa.
The Giants Club is an initiative of Space for Giants that unites the Presidents of those four countries – Botswana, Gabon, Kenya and Uganda – with global businesses, philanthropists, influencers, and conservationists. Its patron is Evgeny Lebedev, the owner of ESI Media, which includes independent.co.uk.
Evgeny funds the Fellowships, and is giving space here for us to bring the best of the reporters' work to an international audience. How that issue is seen on the continent is very different from how it is seen elsewhere, as the reporting you will start to see here is likely to illustrate.
By Mike Pflanz, Communications Director, Space for Giants
Courtesy: independent.co.uk