Nestlé Nigeria has provided 14 million litres of potable water to host communities annually, as part of its corporate social responsibility programme in Ogun State and the Federal Capital Territory (FCT).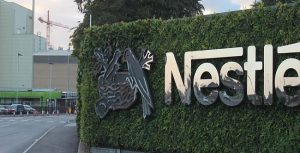 Ms. Victoria Uwadoka, Corporate Communications and Public Affairs Manager at Nestlé Nigeria, said this at the virtual opening of the 2023 edition of the Advancing Health, Nutrition and Environmental Awareness Programme on Tuesday, June 20, 2023.
The programme is in collaboration with Lagos Business School (LBS) Sustainability Centre.
Uwadoka said the organisation saw the need to give back to communities around its facilities, saying 16 new Water, Sanitation and Hygiene (WASH) facilities were constructed towards promoting access to water and hygiene for host communities in three years.
According to her, the organisation works to make impact in individuals and families, communities and the environment through shared value and collaboration.
She noted that this was done by enabling healthier and happier families by offering tastier and healthier choices, inspiring people to lead healthier lives and food fortification in promoting health and nutrition indices in Nigeria.
"We are helping communities to develop thriving, resilient systems to enhance livelihoods, increase household income and responsible local sourcing of products.
"Through this, there is a legitimate demand and steady source of local produces from farmers and this has led to an increase in household income, 98 per cent of women and 82 per cent of men testified."
The corporate manager also said the organisation was implementing sustainability awareness programmes to promote environmental protection in the area of end producers' responsibility and consumer responsibility.
This, Uwadoka said, was being carried out in partnership with waste recycling companies, to ensure that plastics were disposed properly, saying collective responsibility from all stakeholders was crucial.
She however called on the media to do more to educate the public on social and behaviour change, to build sustainability awareness and to protect the environment.
Earlier, Ms. Theresa Akpoveso, Programme Manager, LBS Sustainability Centre, said the media was society's window to the world.
According to her, the programme is aimed at equipping the print, broadcast and online journalists with the fundamental knowledge and trends on Shared Value/Sustainability; Nutrition, Health and Environment.
"It is also for skills to develop compelling stories, video contents and podcasts.
"They would also learn the use of solution based storytelling techniques for environmental, health and Nutrition to keep readers, listeners and audiences engaged.
"The programme content will revolve around themes in Solutions Journalism, Nutrition, Health, Environmental Protection, Climate Change and how this applies to business, agriculture and society in general."
Akpoveso said it was an opportunity for journalists to understand how these issues played out in the corporate environment, agriculture sector and affect people in general.
Ms. Oreva Atanya, from the LBS Sustainability Centre, spoke on Corporate Sustainability and Shared Value: Implications for Sustainable Development.
According to her, everyone everywhere has a responsibility to play to ensure sustainability in all areas of the society.
She listed challenges around climate change, environmental pollution, food insecurity as having huge impacts in sustainable development of a nation.
"The society has to always look at the sustainability mindset in all things, the media can also use solutions journalism to address sustainability issues."
By Tosin Kolade