Residents of Ofante Community in Olamaboro Local Government area in Kogi State rolled out their drums recently at the commissioning of a public water project implemented by the Nigeria Environmental Study/Action Team (NEST) under a climate change initiative tagged the Africa Adaptation Programme (AAP).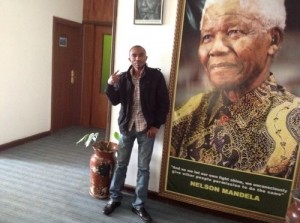 A climate change and  development expert, Samson Samuel Ogallah, however warned that it is not yet over as the community is still being faced with other developmental  and climate change-related challenges. According to him, the impacts of climate change in the community is not only in the area of water stress, but also in other aspects such as the declining agricultural yield, increase temperature and unpredictable rainfall pattern that have rendered this naturally endowed agrarian community vulnerable to climate change.
Urgent intervention is needed to reduce the vulnerability of the community and build their resilience to the impacts of climate change, Ogallah added, pointing out that, as one of the communities rich in oil palm, economic trees and natural resources like iron-ore and large quantity of cement deposit, access to market through construction of good roads to link the community to wider market would boost the economic activity in the area, thereby providing alternative livelihood option to climate change adaptation.
Obviously elated at seeing the project becoming a reality in the community, Ogallah recalled a similar intervention when relief materials were provided to the community in 2011 when it was hit by rainfall havoc that rendered many homeless, while stressing the vulnerability of the community to the adverse impacts of climate change.
He called on the Kogi State Government to reciprocate the good gesture demonstrated by NEST through replicating similar projects in the community and road construction that opens up the community to wider market.
Ofante Community is strategically located in Kogi state as it boarders Enugu and Benue states, contributing to the micro-economic development of both states.  Ogallah underscored the need for the Kogi State Government to develop an overarching climate change adaptation strategy and action plan, even as he underlined the urgent need to convene a Kogi State Environmental Summit to address the various environmental problems confronting the state.
Speaking during the grand breaking ceremony, Executive Director of NEST, Professor Chinedu Nwajiuba, called on the community to make effective use of the water facilities provided to them as, according to him, the organisation would continue to deliver on its mandate of touching the lives of many rural communities across Nigeria through its pro-poor development strategies.  He was full of praise for the Ofante Community for its hospitality, show of commitment and sustained cooperation with NEST through the duration of the project.
Traditional Chief in the community, Chief Oguche Ekpa; home branch Chairman, Ofante Self Help Association (OSHA), James Oguche; and spokeperson of the community, Dickson Itodo, all thanked NEST for coming to the aid of the community and promised to make effective use of the facilities provided for the benefit of all the people.