The National Environmental Standards and Regulations Enforcement Agency (NESREA), on Wednesday, August 11, 2021, sealed off three factories in Ondo State, for illegal operations and violations of environmental laws of Nigeria.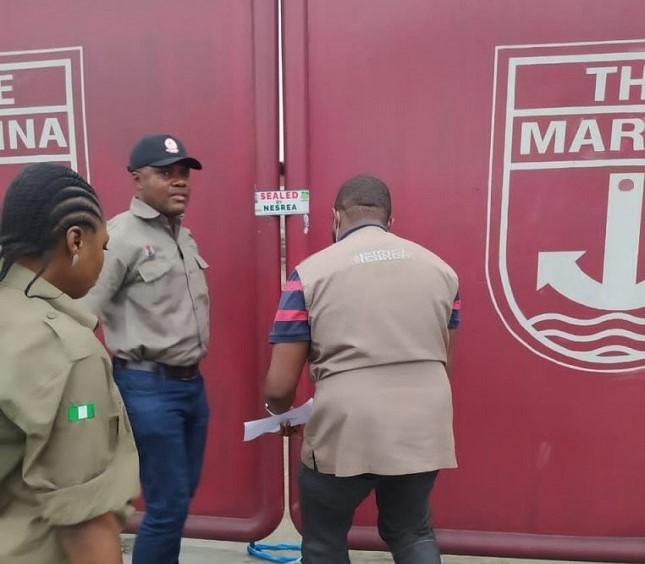 Speaking in Ore, shortly after the operation, Mr Kolawole Joshua, Head, Conservation Managing Division, NESREA, said that owners of the facilities would soon be charged to court as a deterrent to other defaulting companies.
The sealed facilities were Cocoa Products Limited, Ile Oluji, Hightech Construction Company, Ore and JHX Company, Nigeria Limited, also in Ore.
NESREA is saddled with the responsibility of enforcing all environmental laws, guidelines, policies, standards, and regulations, to ensure a cleaner and healthier environment for Nigerians.
The agency also has the responsibility of enforcing compliance with provisions of international agreements, protocols, conventions, and treaties on the environment.
Joshua, who emphasised that the agency had been consistent in its sensitisation, compliance monitoring and enforcement over the years, said that NESREA would not relent until its stated goals were achieved.
He pointed out that NESREA took the decision to seal-off the companies as a last resort, after every effort to dialogue with them failed; and they refused to respond to several warnings and advisory letters from the agency.
"We, as a body, regulate activities of industries that are into production of goods and services, and experience has shown that most of their activities have negative impact on the society because of their non-compliance with extant laws of environment.
"So, where we see that any of their activities has become a concern to the environment, that is if they are doing something that is injurious to health of citizens, the agency quickly responds by notifying them.
"The law has provided that we notify them for up to three times at considerable intervals, and where the company decides to be recalcitrant or does not want to comply, the agency is left with no choice than to enforce compliance," Joshua said.
According to him, activities of the three sealed companies are not regulated, and they have not adopted the extant rules in their operations.
He said: "They do not audit their activities, they operate indiscriminately, neither are they licensed to do what they do.
"Now the agency is demanding that they work in compliance with the rules and laws of the land. They have been served several letters, but they refused to yield to the agency 's advice, so, we are left with the only option of enforcement.
"As we have sealed off their premises, the agency will be waiting for them to respond positively to the action of the government by trying to do what they have refused to do. But usually, we take such matters to court.
"And where we find out that they have broken the seal, it is a double charge for such a company."
In a related development, NESREA says it has sealed off eight factories in Osun for violating environmental safety standards.
Prof. Aliyu Jauro, NESREA's Director-General (DG), disclosed this to newsmen in Osogbo, the state capital, on Wednesday, during the agency's inspection and enforcement tour across of some communities.
Jauro, represented by Mr Aremu Agaka, NESREA's Director of Inspection and Enforcement, said the sealed factories failed to comply with the agency's environmental regulations.
He said they failed in keeping their environment clean and in the treatment of their hazardous wastes.
Jauro, however, explained that the penalty to be paid by the sealed factories and industries would depend on the nature of the offence committed by each.
"The defaulting entities cannot unseal their businesses without the permission of the agency since they failed to comply with the provision of our mandate.
"We have served them letters of notification on several occasions warning them of untreated hazards within their localities which is dangerous,'' he said.
Jauro said that the ongoing inspection and enforcement exercise was being carried out in the 36 states of the Federation.
Earlier, Mr Muhammed Chukwuweinzu, NESREA Coordinator in Osun, advised the public and residents of the state to ensure their environments were always kept clean.
Chukwuweinzu also warned them against throwing waste into water channels to avoid flooding.
He said the agency would not rest on its oars in sensitising the public on the dangers associated with environmental hazards.
Also, NESREA has sealed seven companies operating in Rivers State for non-compliance to operational guidelines of the agency.
South Souuth Zonal Director of the agency, Mr Ayuba Jacob, made this known on Wednesday shortly after a routine exercise by a combined enforcement team of the Port Harcourt Zonal headquarters.
Speaking on behalf of the Chief Executive Officer (CEO) of the agency, Prof. Aliyu Jauro, the Zonal Director said that the exercise was part of a nationwide strategy aimed at achieving a clean and safe environment in Nigeria.
"Today, no fewer than seven facilities have been sealed by our officers, the affected facilities have violated our extant environmental regulations and neglected our numerous warnings.
"This exercise will serve as a deterrent to others who had yet to comply to the agency's operational guidelines.
"The affected facilities were specifically food and beverage, chemical, metal and other facilities whose operations have been polluting the environment. They shall remain shot down pending conclusion on their environmental audits," he said.
The Director, therefore, enjoined Nigerians to contribute to a safe environment by reporting facilities that indulge in activities which are detrimental to the environment.
"This exercise is an ongoing process, and the Agency will, without further warning, go ahead to sanction any facility that falls below regulatory standards," he said.
Worried over non-compliance by defaulting companies, the NESREA boss said that several sensitization and warnings have been directed to operating companies prior to the enforcement exercise.
"The level of impunity exhibited by these erring facilities must not be allowed to continue.
"Despite series of notification via 'Concern Letters and Abatement Notices' to these industries and facilities, they had yet to carry out their operations and activities in line with set standard.
"On that note, the Agency is carrying out a nationwide enforcement exercise to bring an end to gross negligence and non-adherence to set standards and regulations by operating companies.
"We are determined to clamp down on any industry or facility whose operations poses a threat to the environment," he added.
NESREA is an Agency of the Federal Ministry of Environment saddled with the responsibility of enforcing all environmental laws, guidelines, policies, standards, and regulations in Nigeria.
The agency is also responsible for prohibiting the use of equipment or technology that undermine environmental standards especially as it affects air quality, surface and underground water quality and even noise pollution.
Similarly, NESREA has sealed the premises of seven factories in Enugu State for allegedly violating environmental regulations.
The Enugu State Coordinator of the agency, Mr Pele Egbagiri, said this in an interview with newsmen on Wednesday after sealing the premises.
Egbagiri listed the factories to include Nalin Paint, Impact Pharmaceutical, Aniuzo International Limited, dealers in palm kernel and vegetable oil, Jutech Construction Company and Mater Purisima, producers of snacks.
Others are Sharon Paints and Veetek Nigeria Limited, dealers in PVC pipes and electrical appliances.
He said the factories were sealed due to audit failure after expiration, adding that the audit should be done every three years.
He expressed concern that the affected facilities failed to renew theirs after series of warnings by the agency.
Egbagiri said the companies also failed to renew their operational permit, which ought to be an annually exercise.
He, however, said the premises would be unsealed once they complied with the regulations.
He said the agency was saddled with the responsibility of enforcing all environmental laws, guidelines, policies, standards and regulations in Nigeria.
According to him, the agency has embarked on a nationwide enforcement to end the gross negligence and non-adherence to set standards and regulations by some industries and facilities, which activities posed serious threats to the environment.
Egbagiri said the impunity exhibited by the erring facilities must not be allowed to continue.
He said the exercise was ongoing and that "the agency would without warning go ahead to sanction any facility that fell below regulatory standards".
He urged Nigerians to serve as environmental watchdogs by reporting facilities, which operations were detrimental to the environment.
The NESREA boss said: ''We prohibit processes and the use of  technology that undermine environmental quality.
"We also enforce compliance with provisions of international agreements and treaties to which Nigeria is signatory.
''Since inception, the agency has carried out numerous projects to enable it meet its mission of inspiring personal and collective responsibilities in building an environment-conscious society for the achievement of sustainable development in the country.
''It is worthy to note that besides its robust mandate, the agency's compliance monitoring and enforcement activities were structured and carried out based on the provisions of 33 national environmental regulations.
"Over the years, the agency has reached out to the regulated community through its compliance monitoring and enforcement activities to encourage voluntary compliance and advise them on how best to carry out their operations.
"It is worrisome that despite repeated sensitisation, some of these facilities and industries have refused to comply with the provisions of the environmental regulations.
''In spite the series of notifications of concern letters and abatement notice issued to these industries and facilities to enable them to carry out their operations and activities in an environment-friendly manner, some of them have refused to comply.''
By Olajide Idowu, Ikuru Lizzy and Ifeoma Aka