The National Emergency Management Agency (NEMA) says the water level in River Niger is almost at nine centimetres which will ultimately lead to flooding in Lokoja and other eight local government areas in Kogi State.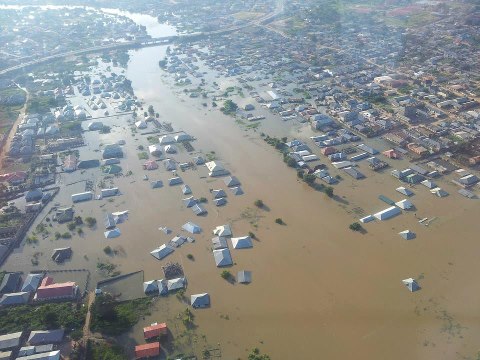 Mr Bitrus Samuel, Head, NEMA Operations in Abuja and Kogi, who raised the alarm on Thursday, August 30, 2018 in Lokoja, said that the flood might come anytime from now, urging those living on river banks to evacuate.
Samuel said that the impending flood was due to intensity and duration of high rainfalls currently being witnessed in different parts of the country.
He, however, said that the agency and other stakeholders were yet to determine the exact time and day the flood would hit Lokoja which he described as a receptacle of floods from other rivers.
"Flood usually comes in the night when people are fast asleep," Samuel said, asking people living on flood plains to leave.
According to him, the ground has become saturated that its percolation and absorption levels have reduced considerably.
Aside Rivers Niger and Benue, he said that other rivers across the country had started overflowing their banks due to distortion in pattern of rainfall and charged Nigerians to prepare for more floods this year.
Samuel later met with other stakeholders to discuss their level of preparedness for the impending flood, evacuation plans and rescue strategies being put in place by them and the state government.
He charged them to immediately commence education and enlightenment of residents on the impending flood which he said had greatest damage potential of all disasters.
The NEMA official advised the state government and other stakeholders to immediately identify high grounds, establish camps and pre -position drugs, foods and non-food items in readiness for the flood.
Samuel also called on them to discourage violation of town planning laws, check dumping of refuse in rivers and poor drainage system and control location of settlements along river banks to mitigate effects of flooding.
At the meeting, the state Deputy Governor, Mr Simon Achuba, said that the government had responded promptly and adequately to disasters, adding that the impending flood would not be an exception.
Achuba, who was represented by the Deputy Chief of Staff, Mr Idris Omade, directed immediate activation of their emergency management committees, asking them to organise similar stakeholders' meetings.
The Executive Secretary of the Kogi State Emergency Management Agency (SEMA), Mr Alhassan Ayegba, said that the organisation was fully at alert and that it was expanding its frontier of response to emergency.
Ayegba also stated that officials of the agency and other relevant ministries, departments, and other stakeholders had been deployed to communities that could likely be affected to educate and sensitive residents to the impending floods.
The News Agency of Nigeria (NAN) reports that stakeholders from fire service, Nigeria Medical Association, Red Cross, security agencies, paramilitary agencies, religious groups, relevant ministries and agencies attended the one-day meeting.