The National Emergency Management Agency (NEMA) and other response and security agencies have begun emergency rescue operations on a four-storey collapsed building in Jabi, Abuja.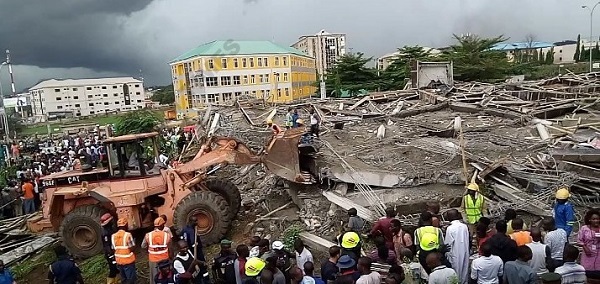 The News Agency of Nigeria (NAN) gathered from eyewitnesses that the building collapsed at about 1.30 p.m on Friday, August 17, 2018 with some construction workers trapped, including children and food vendors.
An eye witness account told NAN that there were over 15 workers in the building, six persons were rescued so far and one dead.
Speaking to NAN, Dr Onimide Bandele, NEMA Deputy Director, Search and Rescue, said that operations were ongoing, adding that some victims had been brought out of the collapsed building.
He said that eyewitnesses informed rescue operators that some construction workers were still trapped under the building.
"Search and rescue operation are ongoing and as at now we cannot say how many persons have been rescued.
"It is not a figure I can quote because it is at variance with what eyewitnesses saw.
"Our efforts are to ensure that we get to the roots of this and ensure that no life is lost."
The FCT Minister, Muhammad Bello, who also visited the scene commended rescue operators for their prompt response to the scene of the incident.
He said it was his earnest prayers that the trapped construction workers would come out safe and alive, adding that health personnel were on ground to take casualties.
He assured that, after the rescue operations, proper investigation would be conducted into the building collapse.
An eye witness, Mr Tersoo Achin, stold NAN that the four-storey building had been there for over 15 years.
Achin said that construction work began on the site only three months ago, adding that six persons were rescued from the collapsed building, and one is dead out of more than 15 workers there.
As at the time of filing the report, no official response on the incident.
By Lizzy Okoji and Nana Musa