The Niger Delta Development Commission (NDDC) on Tuesday, February 9, 2021 called for collaboration with the U.S. Government to produce a revised Regional Development Master Plan for the region.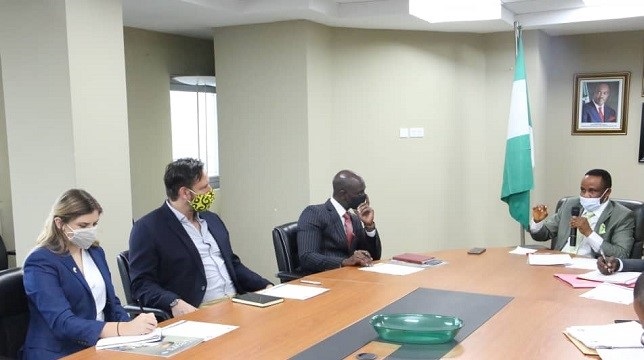 NDDC's Interim Administrator, Mr Effiong Akwa, told a delegation from the United States Consulate in Lagos, who visited NDDC headquarters in Port Harcourt, Rivers State, that the regional master plan which had a lifespan of 15 years expired in 2020 and as such, needed to be reviewed.
This is contained in a statement by the commission's Director of Corporate Affairs, Ibitoye Abosede.
"So, we appeal to the U.S. for a partnership to produce another master plan that will be tailored to address the needs of Niger Delta people and American citizens in the region.
"The Niger Delta as an oil-rich region, should be looking beyond its oil wealth, as the region has great potentials in agriculture.
"Our people are predominantly fishermen and farmers as agriculture is the strength of the region.
"So, we can feed the world in collaboration with America," Akwa told the U.S. delegation.
Akwa appealed for  support of the U.S. Consulate in Nigeria in ensuring that U.S. oil and gas companies remitted payments due to NDDC promptly as stipulated by law.
The NDDC boss further sought the support of the U.S. government in its Postgraduate Foreign Scholarship Programme for students.
"We have been sending out our graduates to foreign universities for post-graduate trainings, but unfortunately we have not received anything in return to encourage us.
"We have not received sufficient appreciation from the various universities in terms of waivers and complementary scholarships.
"If we sponsor 20 students, the universities should be able to give us scholarships for additional two students or grant us a waiver to help sustain the programme," he noted.
Akwa also urged the U.S. government to open an office in Port Harcourt to reduce cost and stress of travelling to Lagos to transact business with its consulate in Lagos.
According to him, the COVID-19 pandemic is an eye opener on the need to improve the region's health sector.
"So, we need assistance to leverage on the health sector, recognising that health is wealth.
"The consulate can help train our health workers to cope with the pandemic having in mind that the region needs to be vaccinated against the virus.
"The U.S. can also help in providing vaccines," he stated.
The statement quoted the head of the U.S. delegation and the consulate's Political and Economic Chief, Mr Brandom Hudspeth, as saying that Nigeria and the U.S. were close allies.
He described the two countries as close partners working together to improve lives, especially in the Niger Delta.
"So, the U.S. will continue to work with NDDC to strengthen collaboration on strategies to improve peace and security to facilitate the sustainable development of the Niger Delta," he assured.
By Desmond Ejibas