The Nigerian Conservation Foundation (NCF) has reiterated its commitment towards ensuring that the decline in the population of vultures in the country is addressed to allow the birds play the role they are created for in the environment.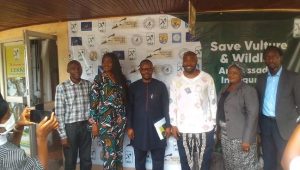 This was the submission by the Director General, NCF, Dr. Muhtari Aminu-Kano, during a Save Vulture and Wildlife Campaign organised by the foundation in Lagos on Thursday, May 12, 2022.
Dr. Aminu-Kano, who was represented by the Director of Business Development and Communication, Mr. Uchenna Achunile, disclosed that though NCF being a foremost non-governmental organisation has been around for over 40 years it's recent research has shown that "there is a stable decline of the vulture species around the world and in Nigeria".
"We are losing these species to threats such as religious beliefs, illegal trading and so on. Knowing the important roles this species plays in our environment, we decided to set up a project that will prevent these species from going into extinction," he stated.
The NCF boss added: "The project which started in 2017 in sensitising the public in preservation the vultures and the adverse effects its extinction may cause to human existence and the economy. In expanding the scope, NCF initiated the Save Wildlife Campaign and, to help in driving this, Save Wildlife Ambassadors were selected over the years and these individuals have helped in propagating the idea of the need to save the wildlife."
Senior Conservation Manager of NCF, Mr. Ayodele Alamu, underscored the need for the Save Vulture and Wildlife Campaign, describing it as "very germane to human existence".
Alamu said: "In Africa, we have about 11 species of vultures, six of them are critically endangered. A particular species is so endangered that that out of 20 we have only two left, which literally means that about 95 percent of those vultures are ripped out of the face of the earth. It means that we have only 5 percent left.
"Vultures prevent the spread of bacteria and viruses and this is because their bodies have a way of breaking down bacteria and viruses from the carcasses they feed on without necessarily spreading it to human population. That is why they are called the 'Clean Up Crew'."
To help in achieving this, the NCF is engaging several stakeholders in government establishments, traditional leaders, Nigerian Police, Nigerian Custom Service, and other enforcement agencies.
Celebrities like Mariam Longe, Seun Akindele and Yvonne Jegede were unveiled as the Save Vulture and Wildlife Campaign Ambassadors with special awards and recognition given to them.
By Adedoye Ajibola Saheed