The Nigerian Conservation Foundation (NCF) has called on traditional leaders to use their revered institutions in charting a path for the protection and restoration of the nation's environment.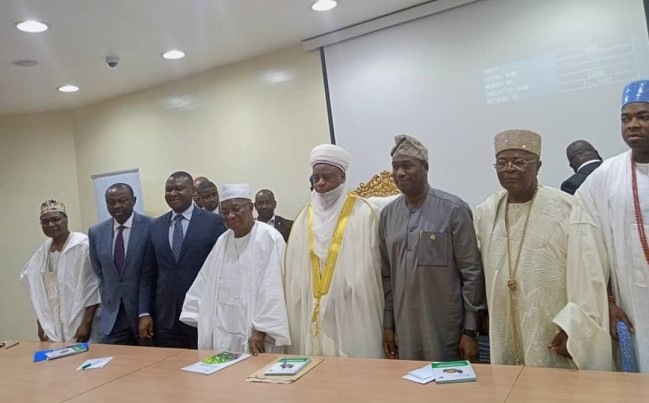 The organisation made the call at the 18th Chief S.L. Edu Memorial Lecture that held in Lagos on Thursday, January 16, 2020. Held in collaboration with the family of Chief S.L. Edu and supported by Chevron Nigeria Limited, the lecture had "The role of Traditional Leaders in Protecting and Restoring the Nigerian Environment" as its theme.
The guest lecturer, Muhammad Sa'ad Abubakar, the Sultan of Sokoto, said that the human society should take care of the environment with every sense of responsibility as a caregiver because the environment has left its pristine state.
His words: "Desert encroachment is occurring at 600 meters per annum and the figures are rising daily. This has resulted in land losses and dwindling food production (at a time) when population is growing."
The Sultan of Sokoto declared that leaders of traditional societies are the major stakeholders in environmental preservation and their leadership is considered critical and indispensable to the whole system. He reiterated that the failure to manage the environment has led the nation into the present environmental disaster.
Chairman of the occasion and the President, Board of Trustees, NCF, Izoma Philip Asiodu, in his opening remarks, reminded that "at independence Nigeria had 35% forest cover. Today, we have 4%".
Special Guest of Honour, Mr. Babajide Sanwo-Olu, the Governor of Lagos State who was represented by his deputy, Dr. Obafemi Hamzat, stressed the need to have a paradigm shift in the nation's approach to treating the environment.
He said: "We must decide, as a people, how we want to live our lives. But it is the intention of this government to lead the conversation. We must decide to leave a society better than we met it for the good of our children. If not, we have done a total disservice to them."
Chief host, Dr. Muhtari Aminu-Kano, the Director General of NCF, in his welcome address, explained that NCF sets the tone for the year by organising the lecture that explores issues of urgent importance and new area that should get attention on conservation in Nigeria.
Mr. Esimaje Brikinn, General Manager, Public Government and Policy Affairs, Chevron Nigeria Limited, in his speech, described the topic for this year's lecture as apt as, according to him, it speaks to traditional leaders as active agents of behavioral change in terms of sustainable development and advocates of multi-stakeholder partnerships in support of the environment.
"This is particularly critical and coming at a time when climate change has become of great concern to our environment and our existence. Chevron Nigeria Limited is glad to be associated with NCF's enduring vision on nature and environmental protection," he stated, adding that Chevron's 20-year partnership with NCF which has produced commendable projects was geared towards conserving the environment and building Nigeria's economy.
The event was also used to award research grants to two Ph.D. students who were selected out of 53 applicants. They are Elizabeth Shade Fadipe who is a conservation biologist from the University of Jos, and Mustapha Sani Bunza, studying conservation and biodiversity in the University of Ibadan. The award was presented by the guest lecturer.
In attendance were HRM, Oba Adeyeye Ogunwusi, the Ooni of Ife, who was represented by HRH, Oba Olalekan Fasesin, the Aladeokin of Oriade-Ife; HRH, Oba Adedotun Gbadebo, the Alake of Egbaland; HRH, Oba Saheed Elegushi, the Elegushi of Ikateland; HRH, Oba Shefiu Olatunji Adewale, the Olu of Epe, Alhaji Ajagbemokeferi, the Chief Imam of Oriwu Central Mosque, Ikorodu and other traditional leaders.
Also in attendance were Alhaji Ahmed Joda, member NCF BoT; Mrs. Yetunde Emanuel, member, NCF BoT; Chief Ede Dafinone, Chairman, National Executive Council, NCF; Mr. Desmond Majekodunmi, Chairman LUFASI Park; HRH, Erelu Abiola Dosunmu; Mrs. Olivette Smith who represented the US Consulate General; Prof. Olanrewaju Fagbohun, Vice Chancellor of Lagos State University, represented by Mr. Abiodun Denloye; and NCF council members.
Others include representatives of Access Bank Nigeria Plc; Heritage Bank Ltd; Enville Environmental Consultants Ltd; Ecobank of Nigeria Ltd; Ampak Nigeria Ltd; Xtylenspec Ltd; Krestonouc Ltd; Lagos State Ministry of Environment and Water Resources; Lekki Estates Residents and Stakeholders Association (LERSA); Imo State Zoological Garden, Imo State; Women in Nature Conservation Organisation; Vulnerable Women Liberation Empowerment Organisation; lecturers and students of tertiary institutions.