The Nigerian Conservation Foundation (NCF) in collaboration with the Imo State Government, Federal Ministry of Environment and National Association of Zoos and Wildlife Parks (NAZAP) commemorated the World Wildlife Day (WWD) with the theme "Sustaining all life on earth" at Owerri, Imo State, on Tuesday, March 3, 2020.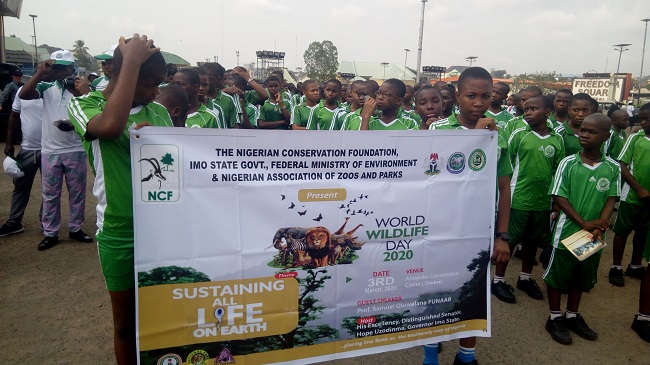 Activities of the day commenced with a rally from the Imo International Conference Centre to Ahiajoku Convention Centre where a reception was held. The rally, led by government officials and members of NAZAP, entailed the participation of 15 secondary schools.
Mrs. Sabina Onwuchi, the Acting Permanent Secretary, revealed in her introductory remarks that wildlife consist of animals, birds and insects that are in their natural habitat and they are nature's gift to mankind.
She said further: "All efforts to protect wildlife (flora and fauna) should be intensified and every threat to the survival of wildlife species should be discontinued."
Senator Hope Uzodinma, the Governor of Imo State, who was the Special Guest of Honour, said that this year's event presents cogent challenge of a sober soul search on how people have related with, preserved or destroyed nature in our lifetime.
He said: "Habitat degradation manifests in many forms. Among them are relentless mining, both lawful and unlawful, uncontrolled logging, development of industrial plantations, highway and urban development, unbridled fuelwood exploitation and a host of other human activities."
He promised to upgrade Imo State Zoological Garden and Wildlife Park to an international standard for ecotourism and research.
Dr. Muhtari Aminu-Kano, Director General of NCF who was represented by Mr. Stephen Aina, Coordinator of Species Recovery & Conservation Programme, said in his keynote address that mankind constantly interact with nature and is surrounded by it. Therefore, the quality of human life on earth is greatly impacted by the environment and can be measured by environmental indices that are expressive of quality.
Therefore, human health and environmental health are synonymous, he added.
"The natural environment in its pristine state is typically peaceful and calm and this possibly the reason why dwellers in the rural places are more peaceful and peaceable compared to their urban counterparts."
Mr. Francis Adeoye, President of NAZAP and General Manager of Imo Zoo, appreciated the willingness of the stakeholders in participating in the event.