The National Assembly has been called upon to urgently intervene in the Ogoni clean-up process.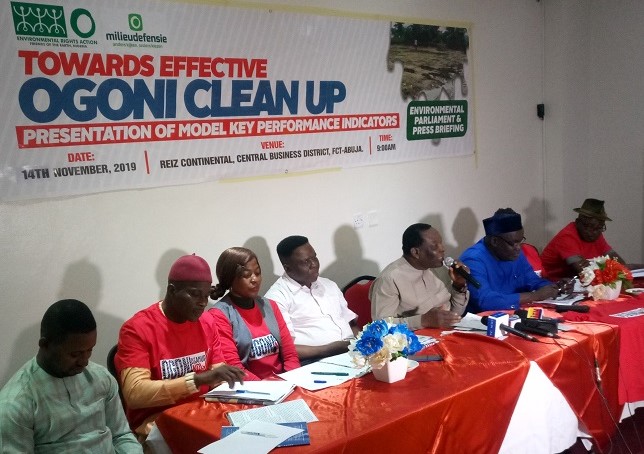 Dr. Godwin Uyi Ojo, Executive Director, Environmental Rights Action/Friends of the Earth Nigeria (ERA/FoEN), who made the submission on Thursday, November 14, 2019 in Abuja, stated that this should be done by directing appropriate committees of the National Assembly to provide oversight functions on the clean-up process.
Speaking during the Environmental Parliament and Media Briefing on Key Performance Indicators for the Ogoni Clean-up and need for National Assembly to exercise oversight functions on the clean-up process, Ojo accused the Hydrocarbon Pollution Remediation Project (HYPREP) of procuring unqualified contractors for the clean-up.
According to him, the clean-up process lacks a robust Key Performance Indicators to measure the quality of remediation.
"The NASS oversight function will prevent the dissipation of public revenue and at this early stage and halt the drift of HYPREP towards the fate of similar laudable interventions in the Niger Delta that went into private pockets instead of addressing the needs of the people and the environment," he said.
He urged the legislators to adopt the HYPREP gazette and rework it with appropriate modifications and pass it into law to provide legislator backing with independent status.
"This will ensure a more robust and legally binding supervision of HYPREP and the funds committed to it," he added.
Dr Ojo went further: "While we urge the early release of the $600 million due to it by 2020, HYPREP failed to demonstrate capacity to spend thereby requiring an overhaul.
"To re-iterate, if urgent and decisive action is not taken to refocus HYPREP we may have another white elephant intervention in the Niger Delta region like others before it that have failed to turn the fortunes of the region around for the good of long suffering communities in the region.
"In a nutshell, the structure and operations of HYPREP should be urgently reviewed by the National Assembly to ensure proper oversight of its activities."